Solinftec is expanding its facilities in the USA to meet the demand for cutting-edge technology and aims to quintuple its presence in North American soil through its robots, showcased at FIRA (Salinas, CA) from September 19 to 21.
Salinas, CA, USA, September 2023 - Solinftec, a global leader in artificial intelligence solutions and sustainable agricultural practices, is at FIRA USA in Salinas, CA, to showcase results after a year of commercial pilot scaling in the Corn Belt. The company is also showcasing the latest in the Hunter solution, which is integrated with the Solix Ag Robot and is ideal for the region's specialty crops.

Part of the Solix Ag solution, the Hunter is a nocturnal robot that combines the functionalities of a sprayer with wavelengths of light, in order to attract and eliminate insects through electro waves. The Hunter traverses the fields at night with the aim of combating pests before they reach the egg-laying stage.
Solinftec has additionally strengthened its partnerships with American agricultural cooperatives Carroll FS, Co-Alliance, and Premier Ag, whom have tested the technology during the '23 growing season. Through these alliances, Solinftec aims to expand its presence in the United States fivefold.
The company is also announcing investments of $5 million directed toward its manufacturing efforts, including its factory in Indiana. With the expansion, Solinftec will have the capacity to produce up to 800 robot units annually. The company already has 300 farmers waiting for the Solix and has opened a waiting list for more interested parties. For additional information visit Solix.
Around 20 robots traversed the Corn Belt in the USA in 2023 and proved the effectiveness of the Sprayer solution, reducing herbicide volumes in US crops by up to 95% through targeted applications and weed elimination in their early stages. As it is an affordable technology, costing around $50,000 per complete unit, the benefits are even greater for farmers.
"Co-Alliance, Carroll FS, and Premier Ag are at the forefront of agricultural technology in the United States and, by adopting Solix, they have realized the potential to change how they price services for American producers," says Leonardo Carvalho, Global Strategy Director of Solinftec. "In the traditional model, American cooperatives purchase agrochemicals directly from agricultural pesticide companies and offer spraying services along with the product that will be used in the field," he explains.
"Through these partnerships, we have demonstrated our ability to democratically serve various businesses, enabling agility in decision-making, delivering a significant reduction in agricultural pesticides, and providing sustainability to our clients' businesses as a new way of managing the American Corn Belt," adds Guilherme Guiné, Head of Operations for Solinftec in North America.
In addition to these cooperatives, WHIN (Wabash Heartland Innovation Network) is also a Solinftec partner and will continue to use the technology among its associates in the upcoming season.
About Solinftec:
Solinftec is on a mission to revolutionize large-scale food production, committed to offering cutting-edge solutions like artificial intelligence ALICE AI and Solix Ag Robotics. Solinftec is a global company founded in 2007 that has become a global leader in artificial intelligence and robotics services for agriculture. The North American headquarters are located in Lafayette, IN.
Featured Product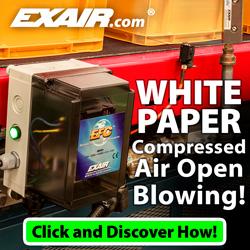 Compressed air is a limited resource that is generated in-house for the benefit of many operations within the manufacturing environment. Learn how to ensure all point of use applications are using your compressed air in the most effective and efficient way possible. Learn how much it costs to produce that compressed air and how Engineered Nozzles can help you use your air more effectively and efficiently.