Get Smarter with Sat2Farm App—Now on iOS!
New Delhi, 14th September 2023: Satyukt Analytics, a leading global ag-tech company, is thrilled to announce the expansion of its cutting-edge satellite-driven product, the Sat2Farm mobile app, to iOS users. This move is set to revolutionize farming practices, providing precision farming advisories to enhance crop yields and minimise input costs for farmers worldwide.

The Sat2Farm Application, previously available on Android, offers detailed farm-level information covering extensive areas with real-time data minimizing the necessity for labour-intensive farm management tasks. This cost-effective approach supersedes traditional methods and plays a pivotal role in advancing precision agriculture and sustainable crop management. It enables farmers with varying land sizes, from small to large holdings, to embrace precision farming practices. With over 1 lac acres already benefiting from the Android version across the globe, this iOS launch opens up new possibilities for farmers, Farmer's Producer Organizations (FPOs), government departments, agri-input, and agri-output companies.
Around 6.9 billion smartphone users exist in the world today with 85.88 % of people having smartphones. In 2023 smartphone penetration rate of India reached 71% and is estimated to be much higher in the next decade. As of 2023, there are over 1.46 billion active iphone users globally, constituting approximately 21.67% of the total smartphone user base worldwide. Apple has significantly ramped up its iPhone production in India, soaring from a mere 1% in 2021 to 7% in 2023, and has ambitious goals to manufacture 25% of iPhones by 2025 in India. The increasing trend in smartphone penetration worldwide, coupled with the expansion of iOS availability, greatly enhances the potential for Sat2Farm to tap into a broader and more diverse market spectrum.
Sat2Farm offers a comprehensive suite of features designed to empower farmers with precision farming tools. These include the ability to assess soil health, monitor crop health, access real-time soil moisture data, and receive accurate 15-day weather forecasts without the need for physical intervention. Additionally, the app provides valuable insights through its pest and disease advisory system, allowing farmers to proactively address potential threats to their crops. The app utilize satellite data to detect essential soil macronutrients such as N, P, K, Soc and pH values accessible within a click, eliminating the need for physical soil sampling. This sets the app apart from any other similar offerings in the market.
The Sat2Farm App features collectively contribute to significant benefits for farmers, including a remarkable 25%-30% increase in crop yield, a substantial 50% reduction in the usage of pesticides and fungicides, a 50% boost in farm income, a 30% improvement in crop water productivity, and a 5-10% reduction in agri-input costs. Perhaps most notably, Sat2Farm eliminates the need for capital expenditure (CapEx), making it an accessible and cost-effective solution for farmers seeking to optimize their agricultural practices.
Dr Sat Kumar Tomer, and Dr. Yukti Gill co-founders of Satyukt Analytics Private Limited, emphasized the app's significance, saying, "Sat2Farm empowers farmers to transform their day-to-day agricultural practices using satellite-based precision farming. We are committed to helping farmers increase their income while also promoting sustainable agriculture."
About Satyukt Analytics
Founded in July 2018, Satyukt Analytics is a trailblazer in decision analytics, leveraging state-of-the-art technology in satellite remote sensing, machine learning, and big data analytics to address critical challenges in various industries, including agriculture. Their groundbreaking products play a pivotal role in revolutionizing crop insurance assessment, offering rapid evaluations, damage estimates, and prompt payments. Satyukt excels in processing microwave/SAR satellite and sensor data, making it a leader in providing actionable earth observations for sustainable development.
Satyukt's impressive portfolio includes four distinct products: Sat2Farm, Sat4Agri, Sat2Credit, and Sat4Risk, each offering specialized solutions to different sectors of the agricultural industry.
Looking ahead, Satyukt Analytics has ambitious plans to expand its service area to encompass one million acres, furthering its commitment to providing innovative, actionable insights to farmers and businesses worldwide.
Featured Product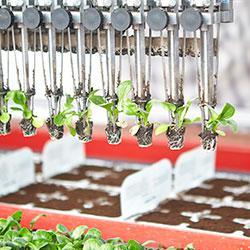 "Smart farming" is an important part of the answer to this existential question: Extremely high efficiency in food production through the targeted use of the latest technology, computer-supported and - where possible - fully automatic. Seeds are individually and precisely placed; fruits carefully picked by mechanical grippers; fertilizers and plant protection products applied in small doses and in a targeted manner. These operations require a large number of small electric motors that are both robust and powerful.