The Green Digital Economy Platform (GDEP), endorsed by Dr. Moeldoko, Indonesia's Presidential Chief of Staff, is a significant step for Indonesia and Korea toward championing sustainability, fostering digital well-being, and advancing the digital economy.
The official launch of the Green Digital Economy Platform (GDEP), an innovative international initiative was announced today. The launch, endorsed by Dr. Moeldoko, Indonesia's Presidential Chief of Staff, is a significant step for Indonesia and Korea toward championing sustainability, fostering digital well-being, and advancing the digital economy. The GDEP is spearheaded by HumanX, a global partnership promoting human-centred technology, in collaboration with the Maju Tani Movement in Indonesia, and the DQ Institute.

Professor Nam-Joon Cho, Dr Kim Sang-Hyup, Dr Moeldoko, Dr Soonmin Bae, Dr. Yuhyun Park, CEO Choi Jin-Young
Professor Nam-Joon Cho, Dr Kim Sang-Hyup, Dr Moeldoko, Dr Soonmin Bae, Dr. Yuhyun Park, CEO Choi Jin-Young
This launch follows the 24th ASEAN-Republic of Korea Summit held on 6 September 2023, which made an agreement to promote green and digital economy, science, technology, and innovation, and carbon neutrality in the region.
The GDEP is a business collaboration platform that aligns digital economy and sustainability by pioneering the "cross economy" model, extending beyond the traditional "circular economy" framework. By leveraging Korea's technological advancements, Indonesia's vast market and resources, and global R&D and investment, the GDEP is poised to drive transformative digital innovations across agri-tech, climate-tech, and carbon trading. The multifaceted impacts on the digital economy and sustainability will be monitored through the Digital-ESG Index, led by the Taskforce on Digital-Related Financial Disclosure.
Dr. Moeldoko stated, "Through the GDEP, we aim to empower 62 million Indonesian farmers with AI and digital transformation, positioning Indonesia as a global leader in agri-tech innovation." He emphasized the significance of sustainability and the digital economy, particularly in addressing food security. Dr. Moeldoko who also serves as the Chairman of the Indonesian Farmers' Association (HKTI) has recently become the "Father of the Maju-Tani Movement of Indonesia". This grass-root movement, led by the young generation in Indonesia, aims to transform traditional agriculture into a highly profitable agri-tech sector.
North Kalimantan, Indonesia, has been designated as the platform's testing ground, playing a crucial role as a national and global hub for knowledge dissemination. Through the GDEP, farmers will receive digital literacy and digital skill training while gaining access to cutting-edge practices and technologies, including meta-farming.
Dr. Yuhyun Park, the founder of HumanX and DQ Institute, expressed, "Our objective is to establish an innovative collaboration platform that empowers Indonesian farmers to experience significant threefold economic benefits by integrating digitalization and engagement in carbon trading, thus substantially broadening their sources of income."
Dr. Kim Sang-Hyup, the Chairperson of the Presidential Commission on Carbon Neutrality and Green Growth, who co-chairs with Han Duck-Soo, the Prime Minister of Korea, said, "Indonesia is an important strategic partner of Korea. As we celebrate the 50th anniversary of diplomatic partnership, both countries need to forge concrete economic collaborations to collectively pursue carbon neutrality and digital innovation, bolstering the green economy. Hence, this collaboration holds significant meaning."
The GDEP will engage a broad network of multi-stakeholders in both countries to translate the vision into reality, fostering a landscape ripe for innovation and sustainable growth. The investment in the platform is expected to exceed USD $1 billion.
The GDEP aims to establish an innovation ecosystem that connects Korean and Indonesian businesses and international R&D partners and investors. Its overarching mission is to champion sustainability, foster digital well-being, and advance the digital economy, anchored on the following three pillars:
Technopreneurship: Through strategic collaborations with technology R&D, intellectual property (IP), and expertise from leading Korean and international universities and companies, coupled with foreign investments and government support, the GDEP aims to foster an environment where both Indonesian and Korean MSMEs and startups can thrive, potentially attaining 'unicorn' status. This is guided by the principle of the cross-economy.
Carbon Credit Trading: Leveraging the Digital-ESG Standards, the GDEP will implement a framework for carbon offsets valuation and carbon trading. This strategy is designed to ensure that stakeholders derive extended benefits from their carbon trading efforts.
Impact Monitoring: The integration of the Digital-ESG Index plays a crucial role in monitoring portfolio performance. This metric will not only assess real-world impact but also provide valuable insights into the nation's progress in the fields of the digital economy and sustainable practices.
About HumanX
HumanX is a global partnership of academic, business, and investment communities that are committed to advancing human-centric AI and technology. It is initiated by the DQ Institute with the objective of revolutionizing the global landscape of AI and technology innovation and investment, guided by the principles of Digital-ESG (DESG) Standards. HumanX cultivates a robust ecosystem by fostering strategic collaborations among conscious investors, innovators, and partners through three pillars: setting the standards, investing the funds, and monitoring the impact.
More information: https://humanx.global/; https://www.dqinstitute.org/
About Maju Tani Movement
The Maju Tani Movement is a grass-roots movement to transform traditional agriculture with digitalization while promoting sustainability. It first proposed the concept of Meta Farming where everyone can become a farmer even without land through connecting farming with digital technology. The primary objective of the Maju Tani Movement is to inspire the young generation to become farmers while promoting agri-technology.
More information: www.MajuTani.id, 24 hours chat : +62 811-1062-007
Featured Product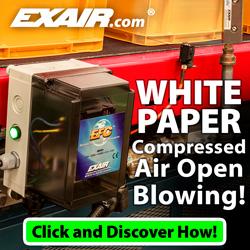 Compressed air is a limited resource that is generated in-house for the benefit of many operations within the manufacturing environment. Learn how to ensure all point of use applications are using your compressed air in the most effective and efficient way possible. Learn how much it costs to produce that compressed air and how Engineered Nozzles can help you use your air more effectively and efficiently.