-Paired Power has partnered with Monarch Tractor to deliver solar electric charging for its all-electric MK-V tractor at Kaerskov Vineyard and Carr Winery. -Paired Power's solar chargers are ideal for agricultural properties, offering grid independence, easy installation, and a reduction in operating costs that are eligible for multiple federal, state, and local incentives.
Paired Power, a leading provider of solar-powered electric vehicle (EV) charging products, and Monarch Tractor, maker of MK-V, the fully electric, zero-emissions, driver-optional, connected tractor, are announcing their partnership to power Kaerskov Vineyard with 100 percent clean, off-grid energy for its farming operations.

Since July, Monarch's electric, driver-optional tractor at Kaerskov Vineyard (managed by Carr Winery) has been running successfully using Paired Power solar energy EV chargers - enabling the Santa Ynez Valley, CA-based vineyard to significantly reduce its utility cost and its reliance on the fossil fuels that often power the grid.
The coupling of Paired Power solar chargers with Monarch's MK-V tractor is a revolutionary green solution that makes operational expenses considerably less expensive for day-to-day farming practices, while reducing annual emissions by over 54 metric tons of CO2e emissions versus traditional diesel vehicles. Farmers who have integrated an MK-V tractor into their daily operations get the benefit of advanced collision prevention, human detection, and power take-off protection while reducing over 60 percent of the farm's expense on fuel and service. In addition to charging Monarch's tractor, Paired Power's charging stations will also charge a swappable battery cart during the day, providing the tractor with a full recharge for night-time operation.
"Our mission at Monarch is to elevate overall operations, improve farmer profitability, and pave the way for sustainable farming," said Praveen Penmetsa, co-founder and CEO of Monarch Tractor. "Pairing the all-electric MK-V with renewable charging infrastructure like Paired Power's solar solutions brings us closer to a farming future that is powered by clean energy solutions. We are pleased to partner with Paired Power and Carr Winery in taking this step toward more environmentally friendly farming practices."
This is the first project to use an off-grid, solar-powered DCFC (Direct Current Fast Charger) to charge a swappable Monarch MK-V tractor battery for fleet operations, marking a significant step in promoting sustainable farming practices and reducing greenhouse gas emissions in the agricultural sector.
"Carr Winery and Kaerskov Vineyard are committed to sustainable farming practices, and we are eager to utilize electric tractors powered by renewable energy on our properties to reduce emissions and avoid impact to the grid," said winemaker Ryan Carr, the operational partner of Kaerskov Vineyard. "By partnering with Paired Power and Monarch Tractor, we are taking significant steps towards reducing our environmental impact."
Across the agricultural industry, the availability of electrical charging infrastructure on properties has been widely touted as one of the most promising ways to reduce the agricultural industry's 20 percent contribution to greenhouse gas emissions. However, the shift faces challenges because many agricultural sites are located at the end of grid distribution lines, which can create an unstable supply of electricity to charge electric machinery. Upgrading power lines to stabilize the supply coming from the grid can be costly and result in years of delays due to lengthy permit and utility approvals, as well as supply chain limitations. But, commercial and industrial solar power has become more accessible thanks to a significant reduction in costs and various government and utility incentives for which Paired Power's charging products are eligible.
"We are thrilled to partner with Monarch Tractor and Carr Winery to provide a path forward for sustainable farming practices," said Tom McCalmont, co-founder and CEO of Paired Power. "Our high-powered solar charger was designed with fleet applications in mind, as we know that providing a convenient means to charge electric tractors will be essential in the adoption of electrified farming. Our charging solutions are scalable to ensure that we can continue to provide easy renewable charging as electric fleets expand."
The installation of Paired Power's chargers at Kaerskov Vineyard was made possible by Santa Barbara County's Air Pollution Control District's Clean Air Grant and CalCom Energy - a leading installer of solar energy solutions.
To learn more about how Paired Power and Monarch Tractor are forging a more sustainable and efficient future in the agricultural industry and beyond, visit pairedpower.com and monarchtractor.com.
About Paired Power
Paired Power is a leading provider of solar-powered EV charging products, including its pop-up solar canopies. Since its founding in 2015, the company has been dedicated to providing flexible and affordable EV charging solutions that can be installed in less time and at a lower cost than other solutions in the market. The company has a proven track record of creating flexible and solar-powered, off-grid EV charging canopy solutions for a variety of markets, including municipalities, workplaces, and public and private fleets. The company's SunStation products are the world's first 100 percent solar EV chargers designed to deliver more clean, renewable power to EVs than is available from the grid. Visit www.PairedPower.com for more.
About Monarch Tractor
Founded in 2018, Monarch Tractor's MK-V is the world's first fully electric, driver-optional, connected tractor set to enhance farmers' existing operations, alleviate labor shortages, and maximize yields. Monarch Tractor is committed to elevating farming practices to enable clean, efficient, and economically viable solutions for today's farmers and the generations of farmers to come. With cutting-edge technology, global reach, and an experienced team, Monarch is delivering meaningful change for the future of farming. For more information, visit www.monarchtractor.com.
About Carr Vineyards & Winery
Carr Winery is a handcrafted winery sourcing from Santa Barbara County vineyards and drawing on a traditional winemaking style to capture the essence of the grape varietal and region since 1999. Carr Vineyards is a full-service vineyard management company providing the design and installation of new vineyards and consultation and revitalization of older vineyards. With 25 years of experience in the wine industry and over 100 acres under management across Santa Barbara County, Carr Vineyards ensures each vineyard is meticulously cultivated to produce low yields, hand harvested and farmed using only organic practices. For more information, visit www.carrwinery.com.
About Kaerskov Vineyard
Established in 2013, Kærskov Vineyard is situated in the heart of the Santa Ynez Valley on farmland that has been in the Kærskov family since 1855. With nutrient-rich earth and ideal climate conditions, Kærskov Vineyard aims to grow some of the best grapes in the Santa Ynez Valley, including Syrah, Grenache, Mourvèdre 04, and Viognier 01. Visit kaerskovvineyard.com for more information.
Featured Product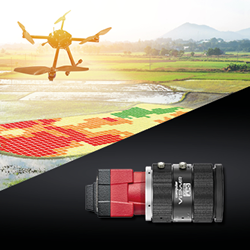 Allied Vision's compact and light weight Alvium SWIR (short wave infrared) cameras are the ideal choice to build cost-effective OEM systems used in embedded and machine vision applications. The cameras support a spectral range from 400 nm to 1700 nm at high quantum efficiencies. This allows to capture images in both the visible and SWIR spectra with a single camera and enables users to reduce overall system costs! Equipped with Sony's IMX990 and IMX991 SenSWIR InGaAs sensors, Alvium SWIR cameras deliver high image quality and frame rates. This makes them well suited for drones or handheld devices used in various industries such as, agriculture, mining, solar cell inspection or medical.