New features help farmers analyze yield performance, transparently evaluate applied products, and simplify participation in regenerative agriculture programs like ForGround by Bayer
Climate FieldView™ customers are gaining access to new features, including the ability to evaluate the performance of crop protection products and fertility applications more easily and more transparently.

One of FieldView's most used features, Field Region Reports help farmers analyze seed performance and management practices in specific regions of their fields. After harvest, farmers will have the opportunity to analyze yield by application when using the feature. Whether evaluating a field trial or seeking to understand a yield-limiting factor for an area within a field, this latest enhancement aims to bring greater performance transparency to applied products like herbicides, fungicides, and fertilizer. Available after U.S. harvest within the FieldView app on iOS, additional enhancements to this new feature are expected later this fall.
"Our goal across Bayer Crop Science is to deliver a best-in-class experience for farmers. One of the ways we do this is by improving FieldView's capabilities to maximize their investments," said Brandon Rinkenberger, Head of Global Customer Experience and Enablement for Bayer's Crop Science division and Chief Customer Officer at Climate LLC. "Making it easier to tabulate and analyze results helps our customers validate their input decisions, giving them confidence that translates into higher ROI and stronger operations."
Building on new reporting capabilities announced earlier this year, farmers can now generate Yield Analysis reports, export as a PDF or CSV file, and share them with whoever they choose directly from their FieldView app on iOS. Users can also access all reporting capabilities from a centralized home screen in the app.
New capabilities in the FieldView™ Cab app - such as improved seed drill compatibility, better cloud sync, and the ability to create tillage maps - support greater efficiency of field activities and the adoption of regenerative practices across farm operations.
Many farmers are paying attention to emerging carbon credit markets, and they're gaining interest in programs that can reward them for the regenerative agriculture practices they use to raise a crop. ForGround by Bayer is a new platform for U.S. farmers that offers payments and other incentives to U.S. farmers expanding or transitioning to reduced tillage or cover crop practices. Farmers can use their FieldView account to enroll in ForGround for free, which also provides access to a team of sustainable systems agronomists, as well as discounts and rebates from input and machinery providers.
Along with streamlined enrollment, FieldView is making it easier for customers to participate in ForGround. Now after inputting tillage type, depth and coulter angle in their FieldView Cab app, farmers using a FieldView™ Drive can identify precisely when and where a tillage implement is lowered or raised, and they can generate a live map that displays the tractor's path, tillage depth, and acreage tilled. This new feature also allows them to track and compare fuel used during the tillage operation. The fuel usage maps will be available on other activities in coming releases.
FieldView is the flagship product of Climate LLC, the digital farming arm of Bayer. Initially launched in the United States, FieldView is now used on more than 220 million subscribed acres globally, giving farmers a deeper understanding of their fields so they can make more informed operating decisions to optimize yields, maximize efficiency and reduce risk. Contact your local FieldView dealer or visit FieldView.com for more information.
About Bayer
Bayer is a global enterprise with core competencies in the life science fields of health care and nutrition. Its products and services are designed to help people and the planet thrive by supporting efforts to master the major challenges presented by a growing and aging global population. Bayer is committed to driving sustainable development and generating a positive impact with its businesses. At the same time, the Group aims to increase its earning power and create value through innovation and growth. The Bayer brand stands for trust, reliability and quality throughout the world. In fiscal 2022, the Group employed around 101,000 people and had sales of 50.7 billion euros. R&D expenses before special items amounted to 6.2 billion euros. For more information, go to www.bayer.com.
Featured Product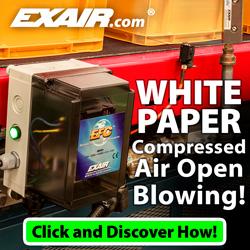 Compressed air is a limited resource that is generated in-house for the benefit of many operations within the manufacturing environment. Learn how to ensure all point of use applications are using your compressed air in the most effective and efficient way possible. Learn how much it costs to produce that compressed air and how Engineered Nozzles can help you use your air more effectively and efficiently.