-The Banc Funds Company led the investment round with additional funding from new and existing investors. -This investment supports Bushel's continuing efforts to digitize paper processes and payments, fuel expansion opportunities to serve ag retailers, and develop more tools that enhance business relationships in the agricultural supply chain. -Development efforts will focus on creating additional value for the Bushel Network, comprised of more than 2,600 grain and ag retail locations and 100,000 farmers.
Bushel, the leading digital platform connecting farmers and agribusinesses, successfully closed an oversubscribed $26 million funding round led by The Banc Funds Company with further support from new and existing investors. In addition to The Banc Funds Company, other investors in this round included 50 South Capital, The Andersons, Inc., Cargill, Germin8, Lewis & Clark AgriFood, The Scoular Company, and Conti Ventures (an investment group within Continental Grain Company).

Bushel is an independently-owned software company that develops digital tools for farmers and agribusinesses in the agricultural supply chain. Bushel's software digitizes, permissions, and accelerates the flow of information, transactions, and payments through secure mobile and desktop applications.
This investment will support Bushel's continued development of software products and features that create value for farmers, grain buyers, ag retailers, protein producers, and food companies. Some of the company's key initiatives include:
Acceleration of digital payment adoption, including streamlining money movement through settlements, ag lending, invoice payments, and other financial activities.
Elimination of manual data entry in Bushel Farm, a next-generation farm management software (FMS) focused on profitability and data-driven decisions for farm operations.
Value creation through integrations and connections among participants in the Bushel Network, a collection of more than 100,000 farmers and 2,600 grain and ag retail locations. Today, Bushel's platform securely manages account-related data for more than 45% of farm-originated grain in the United States and Canada annually, an estimated 10 billion bushels.
"Bushel's connectivity with thousands of farmers, grain elevators, and ag retailers presents a unique opportunity to embed digital payment functionality across the granular, paper-based, agricultural industry. As the agricultural industry modernizes payments, we believe the financial opportunities are substantial, and we are proud to partner with such a dynamic and innovative team as they continue to strengthen the company's product offerings," said Christopher Hopkins, Fintech Portfolio Manager at The Banc Funds Company. Christopher also joined Bushel's board of directors.
"We appreciate the strong support of our investors, who recognize the value Bushel is bringing to agriculture," Jake Joraanstad, Bushel CEO said. "With this funding, we will strategically allocate capital to maximize our growth and success, further enhancing our product offerings and delivering even greater value to our customers."
Creating value through the Bushel Network
Since its previous funding round in April 2021, Bushel introduced additional industry-leading software products and services that address inefficiencies, drive increased revenue through more grain procurement offers, reduce costs from outdated payment methods, and enhance the customer experience throughout the agricultural supply chain.
Launched a digital payments network: Bushel Wallet facilitates fast and secure payments between agribusinesses and farmers, leading the modernization of the industry. According to the 2023 Bushel State of Farm Report, 80% of grain payments are still paid through paper check.
Launched a next-generation farm management software (FMS): Following the acquisition of FarmLogs in 2021, Bushel Farm is now the only FMS that connects to grain sales data, creating fast, accurate profitability insights.
Improved offer management in agriculture: Grain buyers in the Bushel Network receive an average of 42% of grain sale offers from farmers placed through mobile devices. Bushel usage statistics also show higher fill rates for offers submitted via mobile devices than those submitted to grain buyers over the phone or in-person.
Expanded agribusiness and farmer customer base: Bushel has seen significant adoption of its services by leading companies in the agriculture sector, as well as individual farm operations. Enterprise customers such as Scoular, The Andersons Inc., and ADM are leveraging the Bushel platform to enhance productivity and efficiency.
Continued commitment to security: Bushel is SOC 2 Type II compliant, reaffirming its dedication to safeguarding confidential information and customer data in agriculture.
"As agriculture continues its march towards a digital revolution, Bushel is committed for the long haul, serving the ongoing and ever-changing needs of the entire supply chain," Bushel President Ryan Raguse said.
About Bushel
Founded in 2011, Bushel is an independently-owned software company and leading provider of software technology solutions for farmers, grain buyers, ag retailers, protein producers, and food companies. Since its launch in 2017, the agriculture platform has grown rapidly, powering more than 2,600 grain and ag retail facilities across the U.S. and Canada with real-time business information for their producers. The platform is used for more than 45% of grain origination in the United States and Canada, resulting in one of the largest technology network effects among farmers and grain buyers in the U.S. Headquartered in Fargo, N.D., the Bushel platform includes its flagship mobile app, websites, trading tools, digital payments and money facilitation, market feeds, API services, farm management software, and a professional services division focused on agriculture. Bushel complies with SOC 2 standards and debit card transactions over PCI-certified networks.
Featured Product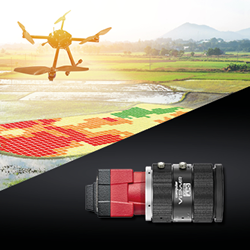 Allied Vision's compact and light weight Alvium SWIR (short wave infrared) cameras are the ideal choice to build cost-effective OEM systems used in embedded and machine vision applications. The cameras support a spectral range from 400 nm to 1700 nm at high quantum efficiencies. This allows to capture images in both the visible and SWIR spectra with a single camera and enables users to reduce overall system costs! Equipped with Sony's IMX990 and IMX991 SenSWIR InGaAs sensors, Alvium SWIR cameras deliver high image quality and frame rates. This makes them well suited for drones or handheld devices used in various industries such as, agriculture, mining, solar cell inspection or medical.