Annual Awards Program Recognizes Innovation in Agricultural & Food Technologies Around the Globe
Sacramento (DAVIS), Calif., August 17, 2023 - Biome Makers, a leading agtech company in soil health analysis and microbiome technology, today announced it has garnered the "AgTech Data Analytics Solution of the Year" award in the 4th annual AgTech Breakthrough Awards program conducted by AgTech Breakthrough, a leading market intelligence organization that recognizes the top companies, technologies, and products in the global agricultural and food technology markets today.

With the world's largest taxonomic database of microorganisms of 14 million, Biome Maker BeCrop® Technology provides soil health intelligence and recommendations. Integrating advanced genomics, microbial network science, and machine learning, the technology is able to analyze the entire soil microbiome and provide ecological insights.
BeCrop® offers invaluable insights into specific functions performed by microorganisms, enabling farmers, crop advisors, ag input manufacturers, and retailers to make data-driven decisions for over 180 crops across 45 countries, ensuring optimal soil health.
Through the robust BeCrop® Portal, user-friendly reports break down complex microbiome network properties into visual illustrations of soil functions. This equips growers and consultants with actionable insights to save costs, mobilize the existing nutrients reservoir, predict disease risks in time to act, and select the most effective inputs based on the soil microbial profile.
The company uses a proprietary DNA Sequencing workflow and Intelligent Computing to monitor the most relevant bio-indicators. BeCrop® connects soil needs to inputs and illuminates the path towards regenerating soils.
"BeCrop® delivers insights that can drive improved crop yields, provide better recommendations, increase carbon sequestration, and water conservation practices. Our 2022 Impact Report showcased a 20% reduction in agrochemical fertilizers and a 15% increase in agricultural carbon sequestration for farmers utilizing BeCrop®," said Biome Makers CEO and co-founder Adrian Ferrero. "Thank you to AgTech Breakthrough for understanding that our technology sets the standard for soil health assessment. With BeCrop®, we are revolutionizing agriculture and paving the way for a more sustainable and resilient food system."
The mission of the annual AgTech Breakthrough Awards program is to conduct the industry's most comprehensive analysis and evaluation of agricultural and food technology categories, including Internet-of-Things (IoT) and Artificial Intelligence (AI) based agricultural technologies, farm management, indoor farming, food quality, data analytics and many more. This year's program attracted more than 1,750 nominations from over 15 different countries throughout the world.
"BeCrop® is a reliable source of soil health intelligence and recommendations that makes it our 'AgTech Data Analytics Solution of the Year' winner. As we face the loss of one-third of arable soil worldwide, BeCrop® shines," said Bryan Vaughn, Managing Director, AgTech Breakthrough. "BeCrop® plays a pivotal role in transforming agriculture for a more sustainable future by empowering the industry to leverage comprehensive soil data and AI to understand the critical role of soil microbiomes in food production."
About Biome Makers
Founded in California's Silicon Valley in 2015, Biome Makers is one of the foremost global AgTech leaders, setting the standard in soil health with BeCrop® technology. Built on industry-leading AgTech expertise and driven by data and science, Biome Makers connect soil biology to agricultural decision-making to optimize farming practices and reverse the degradation of arable soils. With labs across the globe, customers on 4 continents, and 1M+ acres of land impacted, Biome Makers revitalizes soil functionality and agricultural sustainability worldwide. For more information, visit https://biomemakers.com/
About AgTech Breakthrough
Part of Tech Breakthrough, a leading market intelligence and recognition platform for global technology innovation and leadership, the AgTech Breakthrough Awards program is devoted to honoring excellence in agricultural & food technologies, services, companies and products around the world. The AgTech Breakthrough Awards program provides a forum for public recognition around the achievements of AgTech companies and solutions in categories including farm management, indoor farming, IoT and robotics, FoodTech, analytics and more. For more information visit AgTechBreakthrough.com.
Featured Product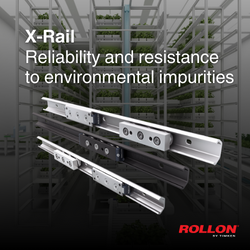 Rollon's X-Rail linear rails are a reliable solution in environments susceptible to impurities. Equipped with rolling elements with shaped and flat raceways, they are available in several versions: galvanized, nitrided or stainless-steel sheet metal. The latter version ensures total corrosion resistance, which is critical for hostile environments such as those found in vertical farming. Particularly innovative is the T + U configuration of the X-Rail linear rails, which can compensate for the parallelism errors of mounting surfaces. This simplifies installation and reduces costs.