Users create, manage, and monitor field operations in real time via Steward's Vehicle Mission Control (vMC™) ‌on their phone or tablet app.
Sabanto, Inc. announces Steward™, a cutting-edge technology transforming existing tractors to work autonomously, allowing users to redeploy their time and energy to the most important aspects of their operation.

Steward's autonomous technology is simple to use, safety focused, and cost effective.
Users create, manage, and monitor field operations in real time via Steward's Vehicle Mission Control (vMC™) ‌on their phone or tablet app.
The on-board Vehicle Path Finding Module (vPFM™) connects to a tractor's steering, power, and hydraulic systems, and works together with the Vehicle Operating System (vOS™), converting Mission Control instructions into field operations.
Cellular connectivity, GNSS receivers, LIDAR sensors, and intelligent video cameras connect with Steward's vPFM, sending and receiving navigational, performance and video data so users can monitor their field operations in real time, while object detection systems ensure Steward operates safely.
"We're just a bunch of smart farm kids and engineers helping other farmers, producers, and operators solve some of their most pressing problems: labor shortages, high capital costs, and scaling operations," said Craig Rupp, Sabanto's CEO. "With Steward, a single operator can deploy multiple tractors to achieve more with less, while also giving them time back to focus on other aspects of their operations."
Sabanto Steward is now available via select dealers across North America. Visit sabantoag.com to learn more about the company, the technology behind Steward, book a demo, or keep up with news as the company expands its dealer network and product offering.
About Sabanto
Headquartered in Itasca, Illinois, Sabanto's mission is to accelerate autonomy in agricultural machinery to solve two primary problems: (i) the increasingly acute scarcity of labor in rural areas and (ii) the ever-increasing capital expenses of modern ag machinery. Sabanto's core competency lies in low-cost retrofits to existing agricultural machines, regardless of make or model, and the development of supporting software to maximize the utility of autonomous technology, increasing producer ROI.
Learn more at https://sabantoag.com
Featured Product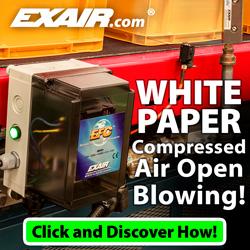 Compressed air is a limited resource that is generated in-house for the benefit of many operations within the manufacturing environment. Learn how to ensure all point of use applications are using your compressed air in the most effective and efficient way possible. Learn how much it costs to produce that compressed air and how Engineered Nozzles can help you use your air more effectively and efficiently.