Garuda Aerospace's success in Drone Yatra across various states garnered immense popularity and acclaim, leading to its expansion into the state of Goa.
Garuda Aerospace, India's leading drone manufacturer, is set to revolutionize the landscape of agriculture in India with its state-of-the-art Kisan Drones. Garuda Aerospace's success in Drone Yatra across various states garnered immense popularity and acclaim, leading to its expansion into the state of Goa. The Directorate of Agriculture, Government of Goa has invited Garuda Aerospace to collaborate with the Department of Agriculture in conducting the initiative of the Drone Yatra aiming to create awareness and promote the adoption of drone technology in agriculture. In 2022, Union Minister Anurag Thakur flagged off the Drone Yatra 2.0 marking a significant milestone for this groundbreaking project with an aim to cover 755 districts across India. The initiative demonstrates the efficacy of drones in various agricultural applications and highlights the numerous benefits they offer to farmers across all districts in India.

The Directorate of Agriculture in Goa warmly welcomed Garuda Aerospace and expressed its intent to collaborate with the company in conducting the Drone Yatra. This collaboration signifies a joint commitment to harnessing cutting-edge technology for the betterment of agricultural practices in the state. Through their innovative technology, farmers can now utilize Nano Urea spraying, maximizing efficiency, and productivity. The Drone Yatra in Goa is specially tailored to empower farmers with knowledge about the latest advancements in precision agriculture. By utilizing Nano Urea spraying through Kisan Drones, farmers can optimize the use of resources, minimize environmental impact, and ultimately increase their yield and income. The drone Yatra will be conducted in 100 villages in the period of one month.
Agnishwar Jayaprakash, Founder and CEO, Garuda Aerospace, expressed his enthusiasm, stating "We are delighted to conduct the Drone Yatra in the state of Goa. Our mission is to empower farmers with cutting-edge technology that will drive sustainable agricultural practices and boost productivity by enhancing the lives of the farmers. Advanced drone technology will play a crucial role in conserving resources, optimizing land use and contributing to a more sustainable future for India's agricultural sector. Recently Garuda Aerospace has secured an order of 400 Agri Kisan Drones from Indian Farmers Fertilizer Cooperative Limited (IFFCO) and the company's order book currently tallies to 10,000 drones for this year."
Shri. Ramkumar, Vice President of Agriculture and Government Affairs, Garuda Aerospace, stated, "Garuda Aerospace's Drone Yatra in Goa promises to be an educational and inspirational event, offering farmers invaluable insights into the limitless possibilities that drones can unlock for their agricultural operations."
Garuda Aerospace's Drone Yatra is promoting sustainable agriculture practices across India.
About Garuda Aerospace
Garuda Aerospace is India's leading Drone tech startup focused on disrupting two major multi-billion-dollar sectors, Precision Agri Tech and Industry 4.0 upgradation. Garuda Aerospace is asset-light, recession-proof, agnostic, and focuses on eliminating laborers in the agricultural field with drones focusing on designing, building, and customization of Unmanned Aerial Vehicles (UAVs). Founded in 2015 with a team of 5, Garuda has scaled to 200+ member team having the largest drone fleet in India with over 400 drones and 500 pilots operating in 84 cities. Garuda Aerospace manufactures 30 types of drones and offers 50 types of services. Having served over 750 clients including TATA, Godrej, Adani, Reliance, Swiggy, Flipkart, Delhivery, L&T, Survey of India, SAIL, NTPC, IOCL, Smart cities, Intel, Amazon, Wipro, IISC, MIT Boston, NHAI for various projects, the company recently partnered with global giants such as Lockheed Martin, Cognizant and Elbit Systems. Hon'ble Prime Minister Shri Narendra Modi Ji launched the drone yatra where 100 drones were flagged off simultaneously across 100 villages in India. Garuda Aerospace is the first drone company to get DGCA approvals for Type Certification and Remote Pilot Training Organisation. Garuda is on a mission to impact 1 billion lives positively using affordable precision Drone Technology. Mahendra Singh Dhoni has invested in the company and is the Brand Ambassador. Garuda Aerospace recently created history by raising $22 Million, the largest ever Series A funding in the drone sector. Garuda Aerospace is on the track to become India's first-ever Drone Unicorn Startup by 2024.
For more details about the company, Visit- https://www.garudaaerospace.com/
Featured Product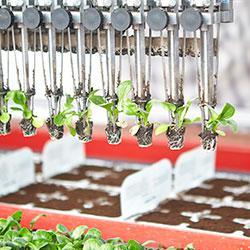 "Smart farming" is an important part of the answer to this existential question: Extremely high efficiency in food production through the targeted use of the latest technology, computer-supported and - where possible - fully automatic. Seeds are individually and precisely placed; fruits carefully picked by mechanical grippers; fertilizers and plant protection products applied in small doses and in a targeted manner. These operations require a large number of small electric motors that are both robust and powerful.