AgriEID transforms the farming landscape with a renewed livestock management suite, comprising state-of-the-art cattle tags, high-tech NLIS tag readers, precision cattle scales, and intuitive software, equipping farmers with comprehensive tools for superior livestock management.
In the advent of a paradigm shift in livestock management, AgriEID, a pioneer in Australian livestock solutions, proudly presents its extensively redesigned livestock management suite.

This innovative assembly unites unrivalled NLIS tags, Smart NLIS Readers, a feature-rich digital farm software suite, and precision cattle scales to provide farmers an all-encompassing solution.
Anchoring the suite are AgriEID's select electronic NLIS ear tags, engineered to outperform industry standards in both durability and reliability. Their enhanced readability and extended longevity present an ideal solution for farmers aiming to simplify and expedite herd identification.
In harmony with the superior tagging solution, AgriEID unveils the NLIS Smart Reader, a game-changing tool boasting unmatched reading speed and precision. Syncing flawlessly with AgriEID's comprehensive digital farm software, it enables real-time retrieval of individual animal profiles as an EID tag is scanned, fostering a leap forward in livestock management.
The NLIS Smart Reader coalesces seamlessly into an ecosystem where hardware and software sync to drive ease of operation and efficiency. Proprietary software auto-generates individual and group average daily weight gain, providing farmers with a wealth of insights, enabling them to elevate herd performance and profitability.
The suite is further augmented by the introduction of AgriEID's next-generation cattle scales, fortified with superior load cells for heightened accuracy. These advanced digital livestock scales deliver remarkably accurate average weight readings, bolstering the suite's overall capabilities.
"Our livestock management suite isn't just a toolbox - it's a complete solution for modern livestock management. The synergy of top-tier NLIS tags, the Smart Reader, innovative software, and state-of-the-art cattle scales offers a comprehensive, unparalleled solution for farmers, optimising efficiency and productivity," affirmed AgriEID's CEO.
The integration of these potent tools epitomises AgriEID's commitment to driving agricultural innovation, harmonising high-tech solutions with practical farming. The goal is to equip farmers of all scales with efficiencies and data management capabilities previously accessible only to large-scale operations.
"Embracing our innovative livestock management suite, we're making strides in technology that mirrors the dynamic evolution of farming. We are unwavering in our commitment to delivering high-quality, affordable solutions that catalyse transformative changes in the industry," added the CEO.
The suite is a curated selection of meticulously engineered tools, optimised to streamline farm operations. The advanced NLIS tags offer improved resilience, ensuring farmers can focus on impactful tasks instead of tag failures or replacements.
The Smart NLIS Reader, a blend of superior hardware and software engineering, accelerates operations with its speed, accuracy, and efficiency. With seamless connectivity to AgriEID's software suite, it becomes an invaluable tool attuned to modern farming needs.
The updated AgriEID software suite redefines livestock data management. By offering the ability to calculate individual and group average daily weight gain, coupled with a user-friendly interface, it becomes an invaluable tool for data comprehension and application.
Marking a significant milestone, AgriEID introduces next-generation cattle scales for precise and dependable weight measurements, a vital health and productivity indicator. When used with the software, they provide insightful analyses of herd performance.
The suite manifests AgriEID's vision of using advanced technology to enhance farming operations of all sizes, blending tech innovation with practical farming to optimise efficiency and profitability.
By offering this comprehensive suite at an unmatched price, AgriEID is democratising access to high-tech farming tools, ensuring small to medium-sized farmers can leverage technology at par with larger enterprises.
"We trust in technology's power to reshape the farming sector," added the CEO. "With this comprehensive suite, we're not merely providing tools; we're enabling transformation. We're equipping farmers with resources to optimise their operations, maximise profits, and ensure a sustainable future for their farms."
To learn more about AgriEID's comprehensive livestock management suite or their other cutting-edge solutions, visit http://www.AgriEID.com.au,
About AgriEID:
AgriEID, a leader in Australian livestock solutions, is spearheading farming innovation. Their mission is to fuse advanced technology with everyday farming, delivering ground-breaking, affordable solutions that elevate farm efficiency and profitability.
Featured Product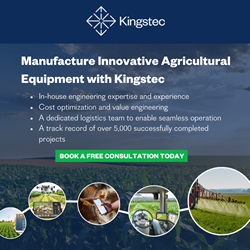 In the rapidly evolving agricultural landscape, leading AgriTech companies are increasingly leveraging the experience and expertise of strategic engineering and manufacturing partners to bring cutting-edge, cost-effective solutions to market. Kingstec is an all-in-one engineering, manufacturing, and logistics partner, with over 40 years of experience and 5,000 successfully completed projects. We can help you bring innovative, cost-optimized farm equipment, sensors, drones, components, and more to market quickly with in-house engineering and manufacturing expertise, a dedicated logistics team, and a network of world-class manufacturing and supply chain partners.