The partnership, which marks BeeHero's official entrance into the Australian market, will offer beekeepers and growers groundbreaking hive monitoring technology to safeguard bee health and sustainable agriculture practices, improve year-round operations, and increase crop yields
MILDURA, AUS & FRESNO, CA, July 19, 2023 - Monson's Honey and Pollination, a leader of the Australian beekeeping and pollination industry, and BeeHero, the pioneer of data-driven precision pollination, today announced a partnership to bring BeeHero's groundbreaking hive monitoring technology to Australian beekeepers and growers. The partnership marks BeeHero's first venture into the Australian market.

Commercial pollination services are critical to Australia's agricultural ecosystem and economy. Pollination services from honeybees contribute between $4-6 billion annually to the country - with crops like almonds, avocados, blueberries, and more heavily reliant on the insects for pollination. Monson's plays an important and historical role in this process by serving as a hive broker and auditor for crop pollination, facilitating operations like the rental of hives, ensuring hives are flourishing, and transporting them from one site to the next.
The new partnership will empower Monson's pollination services with the benefits of BeeHero's data-driven solution for precision pollination. For the first time, Australian beekeepers and growers will have unprecedented visibility into the strength, health, and activity of their colonies via a platform that provides them ongoing support and helps them manage their beekeeping and pollination operations year-round. With insights viewable 24/7 in the BeeHero app, beekeepers can virtually manage their day-to-day apiary tasks and streamline their workload and yard maintenance - not only during pollination season, but in-between seasons. For growers, the BeeHero platform ensures accuracy of deployment and data-driven insights for improved outcomes. It also enables growers to easily manage and report their sustainability-focused activity and practices, in order to comply with ESG values and requirements.
"We are delighted to join forces with BeeHero, a true innovator in the field of pollination technology. This partnership represents a powerful fusion of traditional expertise and advanced digital solutions, unlocking unprecedented possibilities for the future of sustainable agriculture," said Trevor Monson, Director of Monson's Honey and Pollination. "By combining Monson's extensive experience in pollination in Australia with BeeHero's innovative technology, we aim to revolutionize the way we approach pollination services. Together, we will not only increase agricultural productivity but also play a vital role in preserving and protecting the delicate balance of our ecosystem."
BeeHero uses unintrusive, low-cost in-hive IoT sensors to monitor each colony precisely and remotely, collecting unprecedented audio and biological data. BeeHero's platform then utilizes AI-powered algorithms to analyze this data, providing information for beekeepers to better manage their hives and take proactive and preventative action when necessary, removing ambiguity, guesswork, and inaccuracy from pollination processes, and lowering colony mortality.
"We are excited to combine our bee monitoring technology and precision pollination experience with Monson's unparalleled expertise in honey production and pollination services to lower the mortality rate and enhance the productivity of honeybee populations across Australia," said Itai Kanot, COO and Co-Founder of BeeHero. "By joining forces, we are providing the Australian beekeeping and agricultural communities with more transparency into their hives and yards than ever before, with actionable insights in the palms of their hands. With Varroa mites now severely affecting Australian bees, this 24/7 visibility is more important than ever, and we look forward to helping pollinators thrive and ensuring a bountiful future for our food systems together."
About Monson's Honey and Pollination
Monson's Honey & Pollination is a fourth-generation beekeeping company specializing in the pollination of crops by honeybees with extensive experience in the supply, audit and consultation of honey bee crop pollination stretching over 50 years.
About BeeHero
BeeHero is a data-driven technology company redefining pollination in commercial agriculture. Using advanced data analytics, artificial intelligence, and low-cost IoT sensors, BeeHero brings transparency and efficiency to the complex logistics of commercial crop pollination. Its Precision Pollination as a Service (PPaaS) results in better crop yields and increased profits for commercial crop growers and agribusiness stakeholders. Their precision pollination solution is rapidly evolving into the backbone of the data-driven approach needed to build a resilient and future-proof sustainable agriculture ecosystem. The company is headquartered in Fresno, California, with offices in Palo Alto, California and R&D in Tel Aviv, Israel.
Media Contact
Allison Grey
Headline Media
allison@headline.media
US: +1 323 283 8176
UK: +44 203 807 4482
IL: +972 53 820 2606
Featured Product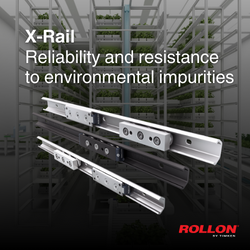 Rollon's X-Rail linear rails are a reliable solution in environments susceptible to impurities. Equipped with rolling elements with shaped and flat raceways, they are available in several versions: galvanized, nitrided or stainless-steel sheet metal. The latter version ensures total corrosion resistance, which is critical for hostile environments such as those found in vertical farming. Particularly innovative is the T + U configuration of the X-Rail linear rails, which can compensate for the parallelism errors of mounting surfaces. This simplifies installation and reduces costs.