Over 100 years of crop nutrition knowledge will be made available to third parties with YaraFX Insight to help drive the transition towards more sustainable agriculture.
Berlin 08.06.2023: Yara International ASA today announced at the 4th World Intelligent Farming Summit, that the company is opening its AgTech portfolio up to third parties through the new agricultural API-solution, YaraFX Insight. The tool will make recommendations based on Yara's more than 100 years of crop nutrition knowledge, global field trials and over 800 agronomists worldwide, available for integration into third-party digital platforms.

- It is crucial that we collaborate to farm more sustainably, reduce global emissions, maximize yields, and ensure that farmers can prosper. The industry is moving towards stronger collaborations with partners and building interconnectivity between digital services. Yara wants to support as many farmers around the world as possible in growing a nature positive food future, regardless of what platform they chose, says Victoria Pace, VP Yara AgTech.
YaraFX Insight is an API-based solution that enables farmers worldwide to access Yara's industry leading crop-nutrition knowledge in platform of their choice, offered by Yara's partners. Yara has developed a portfolio of agronomic, science, and data-based tools, including crop nutrition plans, variable-rate nitrogen application maps, on-field analysis tools, and biomass monitoring maps.
Approximately five million farmers use Yara's digital products. Now, these features can be integrated into the platforms of other leading AgTech providers. This advancement will open the door for newly connected farmers to benefit from industry leading insights, ultimately making it easier for them to improve nutrient use efficiency, crop yield, soil health, and profitability.
- We aim to cover 150 million hectares with our digital services by 2025. The key driver behind this is to support as many farmers as possible to improve their yields based on science and our industry leading crop nutrition knowledge. With YaraFX Insight, we enable a collaborative approach to do so within the growing AgTech industry, says Marcus Birke, Head of Product, AgTech APIs, Yara International.
Yara launched YaraFX Insight Ag-API offering at the 4th World Intelligent Farming Summit in Berlin, where the company also held a keynote on how to put the EU farm to fork strategy into action.
Featured Product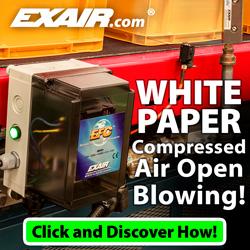 Compressed air is a limited resource that is generated in-house for the benefit of many operations within the manufacturing environment. Learn how to ensure all point of use applications are using your compressed air in the most effective and efficient way possible. Learn how much it costs to produce that compressed air and how Engineered Nozzles can help you use your air more effectively and efficiently.