GreenVenus, LLC, a biotechnology company specializing in genetic engineering for sustainable agriculture, announces a groundbreaking achievement in avocado gene editing and plant regeneration. GreenVenus's scientists have successfully modified a key gene associated with fruit browning, opening new possibilities for producing higher-quality avocados.

The global consumption and trade of avocados have seen remarkable growth, but commercial challenges exist. A natural enzymatic process in avocado fruit leads to significant browning when the flesh is exposed to air, resulting in economic losses and reduced consumer appeal. GreenVenus took up the challenge to tackle this issue by leveraging the power of CRISPR to develop a non-GMO solution.
Using CRISPR editing, GreenVenus successfully produced multiple lines of avocados with enhanced resistance to browning by "knocking out" a key gene in the browning pathway, polyphenol oxidase (PPO). Several elite commercial varieties are in the developmental pipeline; some are currently under analysis.
"Solving the challenge of editing avocado and regenerating plants from single cells required some unique solutions, and we're delighted we now have a method that works across key commercial varieties," said Walter Viss, Vice President of Cell Biology and Strategy at GreenVenus.
This breakthrough represents a major step forward in the field of avocado production and promises profound benefits for farmers, distributors, and consumers alike. Browning-resistant avocados would reduce waste and enhance post-harvest shelf life, providing farmers and distributors with extended windows for selling the fruit. Furthermore, consumers could enjoy the same great taste and nutritional benefits of avocados without concerns about browning, making it easier to incorporate this healthy and versatile fruit into their daily lives.
"GreenVenus is proud to have achieved this significant milestone in avocado gene editing," said Dr. Shiv Tiwari, Chief Executive Officer at GreenVenus. "Our dedicated team has been working tirelessly to improve the sustainability and quality of agricultural products, and this breakthrough in avocado exemplifies our commitment to delivering innovative solutions to real-world challenges. We are excited about the potential for our browning-resistant avocados to positively impact the industry and the global community."
The gene editing and plant regeneration techniques successfully employed by GreenVenus also present opportunities for further advancements in the broader field of crop improvement. By harnessing the power of genetic engineering, GreenVenus continues to strive to create a more sustainable and resilient agricultural future.
About GreenVenus, LLC
GreenVenus is an innovative ag-tech business committed to delivering superior fruits, vegetables, and grains with improved nutrition, better taste, and reduced food wastage. Our Botticelli™ plant cell technology and transformative breeding innovations enable unsurpassed speed in product development, meeting evolving consumer and industry needs. For more information about GreenVenus and our pioneering agricultural products and solutions, please visit www.greenvenus.com
Featured Product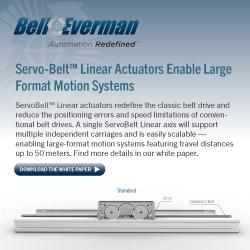 Manufacturing and packaging operations that still depend on manual material or parts handling operations can reap immediate benefits from a type of automation based on long-travel Cartesian robots with custom end-of-arm tooling (EOAT) and advanced sensing capabilities. These robots can support a variety of machines - performing otherwise manual tasks such as machine tending or transferring in-process parts - making long-travel Cartesian transfer robots a major upgrade to processes and operations. Download the White Paper from Bell-Everman