In the spirit of innovation and networking, the event will provide the perfect setting for these three partners to shine the spotlight on their groundbreaking technology and expertise.
May 30, 2023  North Vancouver (British Columbia), Montréal (Québec), Canada and Gland (canton de Vaud), Switzerland. From June 13 to 15, teams from Sollum Technologies, ecoation and Vivent will be on site at the horticultural hotspot of the world that is GreenTech Amsterdam. In the spirit of innovation and networking, the event will provide the perfect setting for these three partners to shine the spotlight on their groundbreaking technology and expertise.

Taking place at the RAI Amsterdam Convention Centre, GreenTech Amsterdam is a meeting place for innovators and industry leaders in the horticultural sector from around the world. Attendees get to listen to conferences from a variety of experts and experience new and exciting products and services. AI, vertical farming, and precision horticulture will be among the many topics to explore.
"We have so many vivid memories from attending last year's event," says Louis Brun, CEO and cofounder of Sollum Technologies. "Our LED grow light solution's unique features sparked a variety of fruitful discussions, especially with regards to our SUN as a Service® cloud platform's automatic dimming in real time, unlimited multi-zone lighting with custom light recipes in each zone, and a future-proof solution to seamlessly integrate new technologies and innovations. We hope to have many more enlightening conversations as we make new connections this year."
"We are thrilled to be back at GreenTech Amsterdam again and have the opportunity to showcase our innovative technologies to growers from around the world," says
Dr. Saber Miresmailli, CEO and cofounder of ecoation. "It's exciting to connect with growers who are interested in using the latest AI-driven technology to improve their IPM programs and increase revenue through better yield forecasting. I look forward to meeting new professionals, our industry partners and existing customers, as we work together to create a more sustainable future for all."
"We are delighted to be back at GreenTech to showcase recent developments and meet new and long-time friends," says Carrol Plummer, cofounder and CEO of Vivent. "This year we will demonstrate new machine learning models, including early detection of fungal infections and new nutrient deficiencies. We are keen to demonstrate some key benefits for high tech strawberry growers and to show how LED settings for both fruits and ornamentals can be optimised, based on Vivent's real-time crop monitoring."
Please visit Sollum on stand 01.563
Please visit ecoation on stand 05.611
Please visit Vivent on stand 01.111
About Sollum Technologies
Sollum Technologies designed the only 100% dynamic LED lighting solution that modulates the full spectrum of the Sun's natural light to illuminate closed environments such as greenhouses, research centers and laboratories. Sollum's award-winning, turnkey solution consists of internet of things, AI-powered light fixtures that are controlled by Sollum's proprietary SUN as a Service® cloud platform. Sollum's distinctive proposition is a fully scalable cleantech solution that evolves with business needs and multi-zone light management, with each zone benefiting from automatic dimming of an unlimited number of light recipes; this is why it provides unparalleled value in terms of energy savings and, additionally for greenhouse growers, increased productivity and superior produce quality. Founded in 2015, the company is based in Montréal (Québec, Canada), where its design, development, and manufacturing activities are concentrated. For more information, visit sollum.tech.
About ecoation
Established in 2010, ecoation is an award-winning Canadian AgTech Service provider with a forecasting platform that provides actionable insights on IPM, crop balance, and growth as well as yield and production metrics which help growers multiply their success while having more control and visibility into their operations. With customers all over the world, ecoation is one of the fastest growing AgTech Companies in the Controlled Environment Agriculture sector. More information at ecoation.com.
About Vivent SA
Vivent, a Swiss-based deep tech SME, provides growers, breeders and other Agtech companies with actionable information direct from plants themselves. We help clients see how and when plants respond to changing conditions and we provide early warning (days before visual symptoms) of abiotic and biotic stressors. With better information on plant responses, growers optimise conditions and increase yields and improve fruit quality. Early warning enables more effective and environmentally preferable crop protection. Plant scientists accelerate crop protection product development and improve use recommendations. Breeders can identify beneficial traits in real time. We are proud to be playing a role in transforming the future of agriculture to deliver safe and secure food while reducing the environmental impact of agriculture. More information is available at www.vivent.ch or on Linkedin.
Featured Product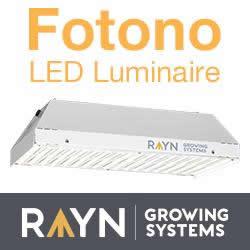 Fotono is a full spectrum LED horticultural luminaire designed to directly replace HPS lights in greenhouses. At 12 pounds, 20 inches long, and 5 inches high, Fotono's compact size makes installation simple while minimizing structural burden on greenhouses. This compact fixture packs energy-saving and yield-improving features, such as a high output, stepless dimming, advanced spectral capabilities, and more.