As per the Market.us study, The controlled environment agriculture market size is expected to be worth around USD 377.6 billion by 2032 from USD 74.4 billion in 2022, growing at a CAGR of 18.13% during the forecast period 2022 to 2032.
Controlled Environment Agriculture Market - Market Overview

The
Controlled Environment Agriculture (CEA) market
is experiencing substantial growth and holds significant potential for the future. CEA involves the cultivation of crops in controlled environments, providing precise regulation of environmental factors such as temperature, light, humidity, and CO2 levels. This innovative farming approach offers several advantages, including improved crop quality, year-round production, reduced water consumption, and the ability to cultivate crops in urban areas.
Key Takeaways:


The Controlled Environment Agriculture (CEA) market is experiencing significant growth due to factors such as increasing population, demand for locally sourced produce, and the need for sustainable agriculture.


North America currently holds the largest market share in CEA, driven by advanced agricultural infrastructure and consumer preference for pesticide-free, locally grown crops.


The Asia Pacific region is the fastest-growing market for CEA, fueled by population growth, urbanization, and investments in agricultural technologies.


Technological advancements in precision agriculture, hydroponics, aeroponics, and vertical farming systems are driving the progress of the CEA market.


Collaborations and partnerships among industry players are facilitating innovation, expanding market reach, and addressing industry challenges.


Market.us offers in-depth market insights that assist global businesses to obtain growth opportunities. Read our Sample Report - https://market.us/report/controlled-environment-agriculture-market/request-sample/
Growing Market Demand and Trend:
The CEA market is witnessing increasing demand due to factors such as a rising global population, a growing preference for fresh and locally sourced produce, and the need for sustainable agricultural practices. The trend of urbanization and the desire for food security are also driving market growth.
Largest Market:
North America currently represents the largest market for
Controlled Environment Agriculture
. The region's advanced agricultural infrastructure, high adoption of advanced technologies, and strong consumer demand for locally grown, pesticide-free produce contribute to its market leadership.
Fastest Growing Market:
The Asia Pacific region is experiencing the fastest growth in the CEA market. Factors such as population growth, limited arable land, rapid urbanization, and increasing investments in agricultural technologies are fueling the adoption of CEA in this region.
Strategic Developments:


Technological Advancements: The CEA market is witnessing rapid advancements in technologies such as precision agriculture, hydroponics, aeroponics, and vertical farming systems. These technologies enable greater efficiency, productivity, and sustainability in crop cultivation.


Collaborations and Partnerships: Key players in the industry are engaging in strategic collaborations and partnerships to leverage their combined expertise and resources. These alliances aim to accelerate innovation, expand market reach, and address key challenges in CEA.


Market Dynamics
Drivers:


Increasing Population and Food Security Concerns: The rising global population and the need to ensure food security are driving the demand for efficient and sustainable agricultural practices such as CEA.


Changing Consumer Preferences: Consumers are increasingly seeking fresh, locally sourced, and pesticide-free produce. CEA allows for the year-round production of high-quality crops, aligning with these preferences.


Restraints:


High Initial Investment Costs: Implementing CEA systems can require substantial upfront investments, including infrastructure, technology, and energy costs. These initial expenses can pose a barrier to entry for some farmers and limit market growth.


Opportunities:


Growing Urban Agriculture: With the global trend of urbanization, there is a significant opportunity for CEA to thrive in urban areas, where land availability for traditional farming is limited. Urban agriculture initiatives can enhance food security, reduce transportation costs, and promote sustainable practices.


Challenges:


Regulatory Frameworks: The CEA industry faces challenges related to regulatory frameworks and standards. Developing consistent regulations and ensuring compliance can support industry growth and foster consumer confidence.


Future Trends in the Market:


Integration of Artificial Intelligence and Automation: The integration of AI and automation technologies in CEA systems is expected to increase efficiency, optimize resource utilization, and enable real-time monitoring and decision-making.


Expansion of Crop Types: While leafy greens and herbs dominate the current CEA market, there is growing interest in expanding cultivation to include a wider range of crops such as fruits, vegetables, and even medicinal plants.


In conclusion, the Controlled Environment Agriculture market is witnessing significant growth, driven by factors like population growth, changing consumer preferences, and the need for sustainable food production. Strategic developments, such as technological advancements and collaborations, are further propelling market expansion. Although initial investment costs and regulatory challenges pose restraints, the market offers ample opportunities, particularly in urban agriculture. The integration of AI and automation is expected to shape the future of CEA, enabling increased efficiency and the expansion
Related Links:
Agricultural Biotechnology Market -
https://market.us/report/agricultural-biotechnology-market/
Agriculture Equipment Market -
https://market.us/report/agriculture-equipment-market/
Agriculture Drones Market -
https://market.us/report/agriculture-drone-market/
Featured Product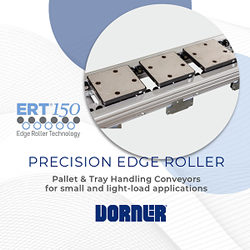 The next evolution in Dorner's Edge Roller Technology conveyor platform, the ERT®150, is ideal for small and light-load assembly automation, as well as medical and medical-device assembly application. The ERT platform is the only pallet conveyor of its kind available with an ISO Standard Class 4 rating for cleanroom applications. Earning the ISO Standard 14644-1 Class 4 rating means Dorner's ERT150 will conform and not contribute to the contamination of cleanrooms to those standards. As implied by its name, the ERT150 (Edge Roller Technology) uses rollers to move pallets through the conveyor smoothly with no friction (a byproduct often seen in belt-driven platforms). The conveyor's open design eliminates concerns of small parts or screws dropping into rollers and causing conveyor damage or jamming. The ERT150 is suited to operate in cleanroom environments requiring a pallet handling conveyor. It is capable of zoning for no or low-back pressure accumulation and is ideal for automation assembly applications within industries including medical devices, electronics, consumer goods among others.