-FarmHQ's Bolt-On Cellular Retrofit Device and Smartphone App Add Real-Time Remote Monitoring, Control, Automation, and Recordkeeping Features to Any Electric Pump, Combustion-Powered Irrigation Pump, and Hard-Hose Reel -With FarmHQ, Growers Can Upgrade Their Existing Irrigation Equipment to Watch and Control Their Irrigation Operations from Anywhere on Their Smartphone
WASHINGTON STATE, U.S.A. - Farm irrigation technology company FarmHQ (www.farmhq.com) today announced that its FarmHQ smartphone app, a key part of its global platform for remotely monitoring, controlling, and automating farm irrigation equipment to lower costs and simplify operations, is now available in the both the Apple and Google Play stores in Spanish, French, and Italian. It can be downloaded through the Apple App Store here and in the Google Play Store here.

Launched in 2020, the global FarmHQ platform allows farmers to monitor, control and automate their irrigation equipment to lower costs, simplify their operation, and reduce stress. The app pairs with the FarmHQ bolt-on cellular device, which can be retrofitted to any electric or combustion-powered water pump powering any irrigation system, and any hard-hose irrigation reel, to provide growers and their teams new remote monitoring and control capabilities.
FarmHQ works anywhere a smartphone does and is being used on farms in 26 states and provinces in the United States, Canada, and Mexico. FarmHQ devices are currently available to farms across North America for direct purchase and via the company's network of irrigation equipment dealer partners.
Under typical irrigation conditions, FarmHQ saves approximately 500,000 gallons of water and reduces farmers' labor and input costs by $2,000 to $5,000 per device per irrigation season.
"Growers around the world are looking for simple ways to work with their teams to watch and control their irrigation in real-time from their phone and simplify their irrigation operations. Our native smartphone apps make using FarmHQ even easier. With FarmHQ, growers and their teams can skip that late-night trip to the field to check on their irrigation equipment and do it from their phone from anywhere," said David Wallace, CEO of FarmHQ. "Having the FarmHQ app accessible in Spanish, French, and Italian will support our mission of providing a new, practical way for growers around the world to watch, control, and automate their irrigation."
The FarmHQ app supports all of the functionality of the original web-based version, and is organized to be easier to use with a single hand. The Home screen displays current device activity, overlaid onto a map of the farm and its fields. The Devices screen allows users to manage their fleet of FarmHQ-retrofitted equipment. The Fields screen allows users to manage their fields and view historical irrigation data. The Support screen links to our technical support documentation, currently hosted on our browser-based app.
FarmHQ can turn any electric or combustion-powered irrigation pump into a smart pump and gives farmers new ways to control their pumps, including from their phone and based on a timer or schedule set in the FarmHQ app. Farmers can also monitor and record a variety of signals for their pumps, including pressure, flow rate, switch monitoring, GPS location, and set thresholds.
When installed on hard-hose irrigation reels, FarmHQ constantly monitors all vital information directly from your smartphone or computer, including reel and sprinkler cart location, cart distance, speed, progress, run completion time estimate, and estimated flow and application rate. FarmHQ can automatically shut down any FarmHQ-equipped pump when the traveler stops moving or pressure goes outside of normal range; remotely shut down a reel at any time from the FarmHQ app; and allow farmers to create custom automations based on sensor inputs to perform actions on other FarmHQ equipment. FarmHQ also provides detailed recordkeeping, including estimated water application totals for all fields and total water usage estimates.
About FarmHQ for Irrigation
Founded by third-generation growers from Washington State, FarmHQ (founded as CODA Farm Technologies) is a growing farm irrigation technology company. The company's global platform, FarmHQ, lets growers use their smartphone and an easy-to-install device to remotely monitor, control, and automate irrigation equipment in real time to lower costs, simplify operations, and reduce stress. Growers can easily install FarmHQ on equipment of any make, model, and age to establish remote monitoring and control for their existing irrigation equipment. FarmHQ is currently being used on irrigation pumps and hard-hose reels on farms in 26 states and provinces in Canada, the United States, and Mexico. To learn more, visit www.farmhq.com.
Featured Product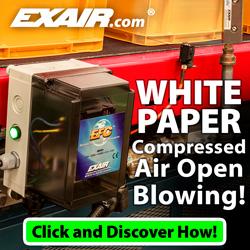 Compressed air is a limited resource that is generated in-house for the benefit of many operations within the manufacturing environment. Learn how to ensure all point of use applications are using your compressed air in the most effective and efficient way possible. Learn how much it costs to produce that compressed air and how Engineered Nozzles can help you use your air more effectively and efficiently.