The natural foods brand invests in regenerative agriculture and commits to goal of sourcing 1/3 of its ingredient volume from regenerative agriculture methods in three years.
Purely Elizabeth, the maker of nutritious granola and breakfast foods, today announced a three-year long pilot project with Mad Agriculture (Mad Ag), for the first Regenerative Impact Program. Separately, Purely Elizabeth is setting a goal to source 1/3 of its ingredient volume from regenerative agriculture practices by the end of 2026.

Since its inception, Purely Elizabeth has been committed to the healing power of food. The brand believes there is a direct connection between the health of our farms and the health of our food.
"The scale of food production is enormous, but I believe it also is our greatest opportunity to make a positive impact," said Elizabeth Stein, CEO and Founder of Purely Elizabeth. "We want to support the farmers who are taking on the challenging work to create a more regenerative food system. Working with the visionary team at Mad Ag was instrumental in getting us started."
Mad Agriculture works with farmers and food manufacturers to help them achieve their regenerative sourcing and sustainability goals. Through this partnership, Purely Elizabeth will focus on the following work over the next three years:
FARMLAND CONVERSION - Supporting partner farmers in the implementation of regenerative practices and conversion, starting with 500 acres of farmland in 2023 with opportunity for that number to grow.
REGENERATIVE INGREDIENT SOURCING - Buying 100% of the regenerative oat crops grown from their partner farmers to incorporate into their supply chain.
RESEARCH + EDUCATION - Sponsoring scientific research and testing to measure the impact of regenerative farming on soil health, water conservation, biodiversity and nutrient density.
"The Regenerative Impact Program will provide a model to the food industry looking to source from a more regenerative supply chain," said Elizabeth Candelario, Director of Strategic Partnerships at Mad Ag. "The Purely Elizabeth and Mad Agriculture partnership will showcase what regeneration actually looks like on a farm. It is not just soil carbon. It is not just biodiversity. It is a full system approach that views the entire farm operation as an ecosystem."
As the #1 selling granola in the Natural Channel for 5+ years1, Purely Elizabeth will also introduce their first exclusive size of the Original Ancient Grain Granola made with Regenerative Organic Certified® coconut sugar and coconut oil at Whole Foods Market nationwide this month and on purelyelizabeth.com. It is Certified USDA Organic, Gluten-Free, Vegan and Non-GMO Project Verified. Suggested retail price is $10.99 for 18 oz. bag.
For more information about Purely Elizabeth and its sustainability journey, please visit their landing page on purelyelizabeth.com.
About Purely Elizabeth:
Since 2009, Purely Elizabeth has been a leader in the natural foods category with its nutritious, non-GMO and organic ancient grain products. Founder and holistic nutrition counselor, Elizabeth Stein, is a pioneer of the superfood movement, incorporating powerful and innovative, nutrient-rich ingredients into her products such as ancient grains, coconut sugar, probiotics, and MCT oil. Purely Elizabeth is redefining the standards of packaged foods with its current line of certified gluten-free and vegan products consisting of granola, oatmeal, and cereal. For more information, please visit www.purelyelizabeth.com or our Facebook or Instagram platform.
About Mad Agriculture:
Mad Agriculture is a Colorado-based non-profit helping farmers across the country transition to and thrive in regenerative organic agriculture. They work from head to heart, poetry to science, financing to markets, and soil to shelf to meet farmers where they're at on their regenerative journeys. Their four core branches ensure that farmers have the financial (Mad Capital), strategic (Mad Lands), connective (Mad Markets), and creative (Mad Media) support that they need to thrive.
Source: SPINs 2018-2023, SS Granola + Muesli
Featured Product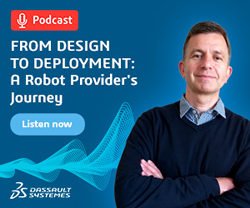 Let's listen to Arvind Krishnan, industry analyst at Lifecycle Insights and Michael Mayr, Industrial Equipment Sales Strategy Expert at Dassault Systèmes. They will discuss the robot industry and how startups can succeed in this market.