Budapest, 04/12/2023 - AgTech computer vision startup offering AI-supported leaf-level farm monitoring, Proofminder secures first VC investment of EUR 400k from Hungarian social innovation investor, Impact Ventures, the founders announced. The investment marks the end of a one and a half year long bootstrapping period and opens the opportunity of going global both in partner cooperations and client-related activities.
There is an ever-growing demand for food supplies which imposes a heavy burden on agriculture all over the world. On the other hand, quality plays as much of an important role as quantity in this equation, that's why the EU's Farm to Fork strategy leads the way in regulating the reduction of chemicals used by farmers. Adapting to these strict rules requires the latest technological innovations accessible on the market. Proofminder is an AI-powered computer vision platform, which provides a solution for leaf-level monitoring and enables growers to meet production goals sustainably.

Different from the mainstream
Currently, widespread solutions in precision agriculture are mainly based on satellite images and cannot address challenges that require a closer look at plants, hence high-resolution imagery. By creating a SaaS platform, Proofminder puts an easy-to-use solution right into the hands of farmers. Agricultural professionals can access an almost unlimited number of use cases with a click of a button: plant stand count and distancing, crop monitoring, plant disease or weed detection, insect damage analysis, weather and wildlife damage analysis and many more.
Established in 2021 by three data scientists, Ambrus Vancsó, Norbert Havas and Levente Simon, Proofminder has built a strong international and local clientele with companies like MAS Seeds and Bonafarm Group and has already covered over 1000ha by involving partners like drone operators in the monitoring process. Based on their project mentored by Corteva Agriscience, the company has already been awarded as 'Most Innovative Agri Startup of 2021' by the Hungarian Chamber of Agriculture and shortlisted among the TOP3 'Agri Innovation of 2021 and 2022 Globally' by AgriInvestor.com.
"While agriculture is facing global challenges, the solution can inherently be only local. AI has proved itself to be a transformative technology in many different fields, now it's our turn to leverage its power and enable growers to make farming decisions on plant ad leaf level. The possible applications of our platform are almost unlimited in agriculture, and we're already genuinely honored by the constant requests we're getting from growers worldwide to help count, measure and understand their plants (be it corn, olive grove, avocado or else) and to provide them quick innovative and sustainable solutions'', says Ambrus Vancsó, CEO and co-founder of Proofminder.
Scaling up the operation
After successfully finding the product-market fit, the year 2023 marks the beginning of the scale-up process for Proofminder. Currently the team of 8 plans to multiply the annually covered arable land by 10, covering diverse plant types like for example field crops, orchards and trees. As the company is operating under a revenue model based on processed area, their plans indicate a 10x growth in revenue. Hungarian social innovation fund, Impact Ventures backs the team in a round of EUR 400k investment to support their international expansion.
"We still see a huge untapped potential in the use of AI models in Agriculture and Proofminder has built outstanding competence in a key area toward a sustainable future. Compared to the early stage they are currently in, they have developed a really mature solution and did a thorough pivotal stage to gain on-field experience and insights from farmers. Based on their already impressive clientele and growing track record we expect significant growth and social impact from the team" - says Károly Fehérgyarmati-Tóth, Partner at Impact Ventures.
Founders highlight the funding will be mostly used to further strengthen the team behind Proofminder, deliver on the committed orders of 2023 and introduce new functions to the platform to make it even more widely available and impactful for farmers.
##
Proofminder's technology
Proofminder is a SaaS cloud platform powered by AI and machine learning. The Platform has all the components to make the experience seamless for the end user: UX interface, fully customizable data catalogue for any visual data, unlimited data storage with advanced search functions, high-performance automated orthophoto and digital terrain model creation, interactive tool for video and image annotation, quality control, strong support for model training on a scalable infrastructure and report sharing features. The timely insights are ready to export, share, and overview on the screen in a few hours after uploading images into the Platform. The unique use cases we built based on technologies, knowledge and out-of-a-box approaches such as a special camera angle to collect the right images and overview every cm2 of the field at a large scale, or extending flight capabilities of drones, and more. We are part of NVIDIA's Inception program with Amazon AWS that supports our AI technology efforts. The core components are built using cloud state-of-the-art technologies and use auto-scaling computing capacities.
About Impact Ventures
Impact Ventures pioneered impact investing in the Central-Eastern European region since 2018. It has two impact funds under management with a focus on social and environmental innovation. Their aim is to achieve measurable positive social impact alongside a financial return. In order to achieve this, they invest in and provide business development support for technology-enabled impact startups in Europe and in the CEE region with sustainable, scalable business models. As a result of this cooperation, the investees multiply their positive social and environmental impact.
Featured Product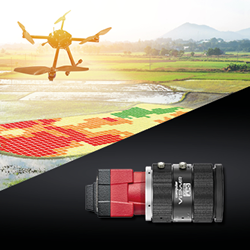 Allied Vision's compact and light weight Alvium SWIR (short wave infrared) cameras are the ideal choice to build cost-effective OEM systems used in embedded and machine vision applications. The cameras support a spectral range from 400 nm to 1700 nm at high quantum efficiencies. This allows to capture images in both the visible and SWIR spectra with a single camera and enables users to reduce overall system costs! Equipped with Sony's IMX990 and IMX991 SenSWIR InGaAs sensors, Alvium SWIR cameras deliver high image quality and frame rates. This makes them well suited for drones or handheld devices used in various industries such as, agriculture, mining, solar cell inspection or medical.