Nobody thinks about issues like food access or where their food comes until there's a problem
U.S. farms are suffering a labor shortage that is having disastrous effects on our food supply and our economy. Due to a lack of labor, nearly 20 percent of produce never even leaves its source farm, which results in billions of dollars in lost revenue and astounding food waste.

The good news is that recent advances in agricultural technology are helping to close this labor gap. But these technologies still require people to operate, maintain, and improve them, which means the real key to solving the farm labor shortage is to inspire more science-loving students to take a greater interest in pursuing agricultural careers.
"Since very few Americans have a farmer in their family these days, nobody thinks about issues like food access or where their food comes until there's a problem," said Charlene M. Shupp Espenshade, the Executive Director of the Pennsylvania Friends of Agriculture Foundation. "For example, avian flu has challenged egg production here in Pennsylvania, but it also creates an opportunity for problem-solving innovation. What we need is for the next generation of STEM learners to develop an active interest in agriculture, to make sure we will continue to have a safe, reliable, and affordable food supply for everyone in our communities."
To help increase access to hands-on agricultural learning opportunities, the Remake Learning Days festival is connecting educators and farmers across the U.S. for a chance to collaborate by offering unique all-ages experiences that showcase how farming and technology work together.
For example, nearly 1500 K-12 students will visit with robotic dairy farmer Matt Brake, in Mercersburg, PA, who rebuilt his family dairy farm after a devastating fire and uses state-of-the-art technologies to manage and milk his herd, maintain their health, and manage the environment.
In Kansas City, learners ages 11 and up can volunteer to do seasonal work on the farm that helps with planting, growing, and harvesting food.
Students who love science may not realize they can pursue a career path in agriculture that also lets them work outdoors, or with animals, which is why it's so important to introduce kids and families to the wide variety of STEM jobs that they may not otherwise know exist.
Remake Learning Days encourages families to wonder, explore and learn together. Festival events are organized by different learning themes such as: Arts, Maker, Outdoor Learning, Science, Technology and Youth Voice. There are also Professional Development sessions for school, out-of-school, child care, and non-traditional educators. This spring, families and youth can search events by date/time, location, learning theme, age group (pre-K through high school), and more.
About Remake Learning Remake Learning is a free, peer network for educators and innovators in the greater Pittsburgh region. The network helps connect people, projects, and organizations, making it easier for them to share best practices, collaborate on new ideas, and find funding and professional learning. In 2022, Remake Learning celebrated its 15th anniversary with members and friends from across the region, country, and world. Learn more at remakelearning.org.
Featured Product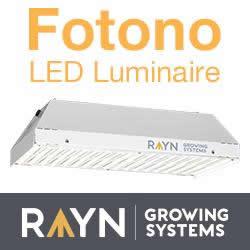 Fotono is a full spectrum LED horticultural luminaire designed to directly replace HPS lights in greenhouses. At 12 pounds, 20 inches long, and 5 inches high, Fotono's compact size makes installation simple while minimizing structural burden on greenhouses. This compact fixture packs energy-saving and yield-improving features, such as a high output, stepless dimming, advanced spectral capabilities, and more.