"Meristem is bringing cutting-edge innovative technology...and we want our farmers to benefit from it."
SeedLink, LLC (www.seedlinkllc.com) Rio, Wisconsin, and Meristem Crop Performance Group, LLC (www.meristemag.com), based in Columbus, Ohio, today announced a new dealership agreement to serve farmers in Wisconsin.

Under the new relationship, Jason Link and his team at SeedLink LLC, will carry the Meristem Crop Performance product line and become Meristem's ally in helping Wisconsin farmers make the most of every dollar they spend on crop inputs.
"Jason and the SeedLink crew are well-known in Wisconsin for helping every seed customer they serve make the most of every seed they plant and win consistently, season after season," said Mitch Eviston, Meristem Founder and CEO, in announcing the agreement. "We're excited to be able to come alongside to help them serve those farmers and gain from their field experience as we add new products."
"It's our mission to provide unbeatable customer service and quality," Link said. "By teaming with Meristem, we will be able to further customize what we bring to every grower and help them optimize the genetic potential of the seed they plant. Meristem is bringing cutting-edge innovative technology to more acres, and we want our farmers to benefit from it."
SeedLink's roots run back to when Ron Minick founded Minick Seeds in 1991, as a premier Pioneer Hi-Bred Seed Agency in Columbus, WI. Over the next 20 years, he grew the business and expanded his sales area. Jason Link joined as a sales associate in 2011 and has helped expand the company's service offering, transitioning to the name SeedLink LLC in 2016, when he took over day-to-day management responsibilities. In 2020, they also finished construction of a new seed facility in Rio, Wisconsin, now the main office.
SeedLink will now add the Meristem product portfolio including HOPPER THROTTLE™ planter box treatments, REVLINEtm biologicals and plant growth regulators, TRUTRACKtm drift control, AQUADRAFT™ water conditioners and surfactants, UPSHIFT starter fertilizers and HOMESTRETCHt™ micronutrients and foliar nutritionals. Of special interest is EXCAVATOR™, powered by MICROBILIZE™, a new biological designed to break down tough crop residue and release nutrients faster.
Making the most of every crop season, Link explained, is the key reason Meristem is a good fit for his operation. "This Meristem team is focused on bringing innovative technology to market to help farmers make the most of every acre and every trip they make through the field," he says. "That's what our team is about, too: Helping growers raise more bushels at less cost for each unit of that yield."
About Meristem Crop Performance
Meristem Crop Performance Group, LLC (www.meristemag.com) is one of the fastest-growing crop input companies in America. Meristem sources, formulates, licenses, and delivers high-quality crop inputs to farmers at the highest possible value offering substantial savings. Meristem is focused on building a highly efficient channel to bring crop inputs to market so farm businesses can make the most of their infrastructure and intellectual property investments and better compete in the global agricultural market. Meristem's team of experienced ag professionals also works to create real productivity gains for farm businesses through novel biological delivery systems and accelerated access to farm-ready innovations. For more information, go to our website at meristemag.com, or follow us on Twitter, Facebook, LinkedIn, and YouTube.
Featured Product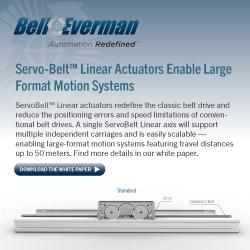 Manufacturing and packaging operations that still depend on manual material or parts handling operations can reap immediate benefits from a type of automation based on long-travel Cartesian robots with custom end-of-arm tooling (EOAT) and advanced sensing capabilities. These robots can support a variety of machines - performing otherwise manual tasks such as machine tending or transferring in-process parts - making long-travel Cartesian transfer robots a major upgrade to processes and operations. Download the White Paper from Bell-Everman