Syngenta to leverage Biotalys' AGROBODY™ technology platform to expand insecticide biocontrol pipeline
Syngenta Crop Protection and Biotalys (Euronext - BTLS) today announced a collaboration to research, develop and commercialize new biocontrol solutions to manage key pests in a broad variety of crops. The new solution will be based on Biotalys' AGROBODY™ technology and will offer a new mode of action to broaden farmers' access to novel technologies that counter the threat of pest resistance and advance sustainable agriculture.

syngenta.comUnder the terms of this partnership, Syngenta will collaborate on a research program with Biotalys, an agricultural technology company focused on protein-based biocontrol solutions, to leverage its AGROBODY™ technology platform for Syngenta's specific insect targets.
"Syngenta is a leader in bringing farmers cutting edge technologies that improve the sustainability of agriculture, and we are excited to work closely with Biotalys as part of our agricultural innovation ecosystem," said Camilla Corsi, Head of Crop Protection Research at Syngenta Crop Protection. "By combining our proven research and development capabilities with the breakthrough protein-based innovations of the Biotalys AGROBODY™ platform, we are determined to play a pivotal role in addressing critical farmer needs around the globe."
With resistance development and increasing regulatory and environmental pressures, growers are eager to explore innovative and effective biological solutions that limit the impact on the environment and biodiversity. Biotalys has demonstrated the potential of its protein-based biocontrols to deliver novel modes of actions for effective and safe application in food and agriculture. This new partnership allows Biotalys to accelerate the development and global commercialization of innovative crop protection solutions and cement its biocontrol innovation leadership by leveraging the expansive network and capabilities of a global agriculture business.
"We are proud and excited to be working with Syngenta, a world-leading agricultural company, on one of the most pressing industry challenges - the development of innovative and effective pest control solutions - by delivering on the promise of our AGROBODY™ technology," said Patrice Sellès, Chief Executive Officer at Biotalys. "Collaborating with Syngenta is a major milestone in our continued mission to providing growers around the globe with safe, efficient, and more sustainable agricultural solutions."
No further terms or financial specifics are being disclosed.
About Syngenta Crop Protection
Syngenta Crop Protection is a leader in agricultural innovation, bringing breakthrough technologies and solutions that enable farmers to grow productively and sustainably. We offer a leading portfolio of crop protection solutions for plant and soil health, as well as digital solutions that transform the decision-making capabilities of farmers. Our 17,900 employees serve to advance agriculture in more than 90 countries around the world. Syngenta Crop Protection is headquartered in Basel, Switzerland, and is part of the Syngenta Group. Follow us on Twitter at www.twitter.com/Syngenta, www.twitter.com/SyngentaUS and on LinkedIn at www.linkedin.com/company/syngenta.
About Biotalys
Biotalys is an Agricultural Technology (AgTech) company protecting crops and food with proprietary protein-based biocontrol solutions and aiming to provide alternatives to conventional chemical pesticides for a more sustainable and safer food supply. Based on its novel AGROBODY™ technology platform, Biotalys is developing a strong and diverse pipeline of effective product candidates with a favorable safety profile that aim to address key crop pests and diseases across the whole value chain, from soil to plate. Biotalys was founded in 2013 as a spin-off from the VIB (Flanders Institute for Biotechnology) and has been listed on Euronext Brussels since July 2021. The company is based in the biotech cluster in Ghent, Belgium. More information can be found on www.biotalys.com.
Data protection is important to us. You are receiving this publication on the legal basis of Article 6 para 1 lit. f GDPR ("legitimate interest"). However, if you do not wish to receive further information about Syngenta, just send us a brief informal message and we will no longer process your details for this purpose. You can also find further details in our privacy statement.
Featured Product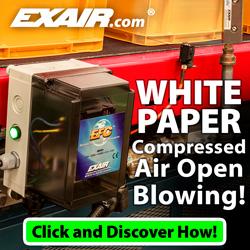 Compressed air is a limited resource that is generated in-house for the benefit of many operations within the manufacturing environment. Learn how to ensure all point of use applications are using your compressed air in the most effective and efficient way possible. Learn how much it costs to produce that compressed air and how Engineered Nozzles can help you use your air more effectively and efficiently.