By launching the KIND Almond Acres Initiative, KIND sets sights on future proofing its #1 ingredient, almonds
Today, KIND Snacks, a company whose mission is to create a kinder and healthier world by being kinder to our communities, bodies and the planet, is launching a three-year pilot project in regenerative agriculture, the KIND Almond Acres Initiative. This initiative builds off KIND's announcement last year of progress made to its prior commitment to source 100% of its almonds from bee-friendly farms by 2025. The KIND Almond Acres Initiative will expand the brand's sustainable almond sourcing journey and provide key insights to help inform how it can source 100% of its almonds from orchards leveraging regenerative agriculture practices on a mass balance basis by 2030. These two commitments work hand in hand to better all aspects of almond farming, from the soil to the bees, and of course, almonds.

Almonds are KIND's number one ingredient, the lead ingredient in over forty-five KIND products. KIND purchases millions of pounds of almonds each year, and this is why they have decided to test and learn how to grow its number one ingredient more sustainably by launching the KIND Almond Acres Initiative.
The KIND Almond Acres Initiative will introduce a mix of new technologies with best practices from regenerative agriculture across 500 acres in California, where 80% of the world's almonds are grown. Implementing the practices on the ground is KIND's partner, olam food ingredients (ofi), a global leader in food and beverage ingredients, which owns the almond trees on the project acres. Throughout this pilot, KIND hopes to gather the data and learnings needed to find the best combination of practices that will provide measurable benefits to the soil, the farm as a whole and the planet. The learnings from this pilot will help set environmental targets and help inform how KIND will reach its goal by 2030.
Strategically chosen by ofi and KIND, the practices on the ground include:
Cover crops: Using a blend of five cover crops to test how introducing this practice can build soil structure, increase soil carbon levels, create pollinator habitats, and help the land become more resilient in the face of a changing climate.
Subsurface Irrigation: The California almond community has committed to reducing the amount of water used to grow a pound of almonds by an additional 20% by 2025. To understand the best way to achieve this, KIND is investigating technology like subsurface irrigation. This is an irrigation system that should allow growers to ensure more of the water applied is used directly by the tree.
Whole Orchard Recycling: Dedicating 38 acres to testing whole orchard recycling's effect on soil health.
Compost and Biochar: Testing if adding compost and biochar can increase the amount of carbon stored in the soil, decrease the need for excess fertilizer and improve soil water retention.
Off-Ground Harvesting: Collecting the almonds off trees instead of off the ground decreases soil disturbance and reduces the amount of dust in the air during harvest, which could improve air quality and carbon sequestration.
"ofi's partnership with KIND represents a massive joint effort in regenerative agriculture. We are learning how to pair innovative sustainable technology with traditional farming practices, so we can find a combination that creates a positive change for the planet," said Zac Ellis, Senior Director of Agronomy at ofi. "Efforts like these leverage our global expertise to build a more sustainable way of farming almonds."
In tandem with the KIND Almond Acres Initiative pilot project, KIND is investing in the next generation of sustainable change agents by working with local UC Merced, an HSI (Hispanic-serving Institution) and one of the most sustainable universities in the country, to award the first-ever "KIND to the planet" scholarship.
"This will tremendously help our students, many of which are first-generation students, and continue to give back to our planet by investing in the future generation that's going to change the world," said Monica Sozinho, Director of Corporate Relations at UC Merced. "It means a lot to our students to see a brand like KIND invest in our local community and for an initiative that they care deeply about - helping the planet."
Continuing its investment throughout its supply chain, KIND has become a member of the California Water Action Collaborative (CWAC), a network of leading environmental organizations, food/ag and beverage companies, and retail and tech companies that work together to pursue collective action projects that will improve California's water security for people, business, agriculture and nature. "KIND uses millions of pounds of almonds a year, so joining CWAC is a huge first step in collaborating with the broader industry while helping to build water resilience in California," said Caitlin Birkholz, Regenerative Agriculture Pillar Lead at KIND, "and we cannot think of a better time to join than the launch of the KIND Almond Acres Initiative."
To celebrate its newest sustainability commitment and the launch of KIND Almond Acres Initiative with consumers, KIND is inviting consumers to join its regenerative agriculture journey through several immersive experiences across multiple digital platforms:
KIND is partnering with Snapchat to create the platform's first-ever lens dedicated to regenerative agriculture in almonds. This experience will take Snapchat users on a virtual "visit" to KIND Almond Acres Initiative where they can learn more about regenerative agriculture and the new technologies taking place on the acres.
Available on kindsnacks.com only, KIND is debuting an interactive Almond Acres landing page that will transparently showcase the progress and results of KIND Almond Acres Initiative, as well as the ongoing sustainability partnerships with CWAC and UC Davis, KIND's long-term sustainability & research partner, helping to understand how pollinator health and regenerative agriculture can positively impact the almond industry. This landing page will also be another opportunity for people to virtually visit KIND Almond Acres Initiative with VR options and long-form videos.
"We know that regenerative agriculture can be challenging to understand. We know our consumers want to engage in learning how to be kinder to our planet, and that is why we're welcoming everyone into the living, learning lab that is the KIND Almond Acres Initiative," said Kelly Solomon, Chief Marketing Officer at KIND. "We believe it is our responsibility to lead the almond industry towards a kinder way to grow almonds, and we are so proud and excited to be the brand paving the way."
To learn more about KIND Almond Acres Initiative and KIND's almond sourcing journey, please visit kindsnacks.com/almonds.
About KIND Snacks
Since 2004, KIND has been on a mission to create a kinder and healthier world - one snack and one act at a time. Its iconic KIND® bars - made with real, recognizable ingredients - sparked the growth of an entirely new healthy snacking category. Today, KIND has a family of more than 80 snacks that offer solutions for a variety of occasions. All of KIND's products lead with a nutrient-dense first ingredient -nuts or whole grains - and do not contain genetically engineered ingredients, sugar alcohols or artificial sweeteners.
Inspired by the belief that acts of kindness can be a transformative force for good, the KIND brand seeks to inspire kindness and empathy. KIND was founded by Daniel Lubetzky. To learn more about KIND, please visit www.kindsnacks.com and join us on Facebook, Twitter, LinkedIn, Instagram and YouTube.
About ofi
olam food ingredients ("ofi") is a new operating group born out of Olam. ofi offers sustainable, natural, value-added food products and ingredients so that consumers can enjoy the healthy and indulgent products they love. It consists of industry-leading businesses of cocoa, coffee, dairy, nuts, and spices. ofi has built a unique global value chain presence including its own farming operations, farm-gate origination, and manufacturing facilities. ofi partners with customers, leveraging its complementary and differentiated portfolio of 'on-trend' food products, to co-create solutions that anticipate and meet changing consumer preferences as demand increases for healthier food that's traceable and sustainable.
About UC Merced
UC Merced opened September 5, 2005, as the newest campus in the University of California system and the first American research university of the 21st century. Situated near Yosemite National Park, the campus significantly expands access to the UC system for students throughout the state, with a special mission to increase college-going rates among students in the San Joaquin Valley. It also serves as a major base of advanced research, a model of sustainable design and construction, and a stimulus to economic growth and diversification throughout the region.
About CWAC
To address the growing water challenges in California, an unlikely coalition of NGOs and corporations came together in 2014 to form the California Water Action Collaborative (CWAC). We are now a network of over 33 organizations learning together, collectively developing projects, and advancing innovative solutions to improve water security and resilience across California. We have developed and invested in dozens of water resilience projects in California.
Featured Product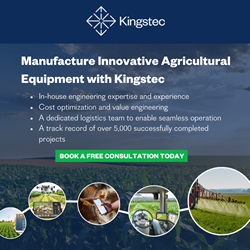 In the rapidly evolving agricultural landscape, leading AgriTech companies are increasingly leveraging the experience and expertise of strategic engineering and manufacturing partners to bring cutting-edge, cost-effective solutions to market. Kingstec is an all-in-one engineering, manufacturing, and logistics partner, with over 40 years of experience and 5,000 successfully completed projects. We can help you bring innovative, cost-optimized farm equipment, sensors, drones, components, and more to market quickly with in-house engineering and manufacturing expertise, a dedicated logistics team, and a network of world-class manufacturing and supply chain partners.