Based in Glasgow, SOLASTA Bio develops environmentally-friendly Insect Control Agents (ICAs) that meet a global need for new and effective crop protection. These ICAs also preserve the ecosystem by protecting beneficial insects such as bees.
A UK agritech specialising in the next generation of green insecticides has secured a further round of investment totalling £4 million to scale up the development of its unique nature-inspired pesticides, the first of their kind to be developed worldwide.

Investment in this pre-Series A funding round was led by Yield Lab Europe. Other investors include Rubio Impact Ventures, Scottish Enterprise, Cavallo Ventures, SIS Ventures, UKI2S, and several private agritech investors. Funding includes grant support from Innovate UK's Transforming Food Production competition and Scottish Enterprise. This latest round brings the total raised by SOLASTA Bio to £5.5 million.
Based in Glasgow, SOLASTA Bio develops environmentally-friendly Insect Control Agents (ICAs) that meet a global need for new and effective crop protection. These ICAs also preserve the ecosystem by protecting beneficial insects such as bees.
The company has developed the world's first technology platform for creating neuropeptide-based insect control products that are nature-inspired rather than selected from a synthetic chemistry library. These products effectively target insect pests while preserving beneficial pollinators such as bees in an environmentally friendly and sustainable manner. Disturbance of target physiological processes by neuropeptide-based ICAs leads to a reduction in pest species. SOLASTA Bio's platform can be mobilised for any pest of interest.
With its latest funding secured, SOLASTA Bio is aiming to scale up its UK and US operations, expand its technical and commercial teams, creating 25 jobs, accelerate the development of its technology platform and target new markets.
Having run several successful early-stage R&D trials with commercial partners, SOLASTA is on course to bring its first ICAs to market in 2027, in at least half the time traditionally taken by synthetic pest control products. SOLASTA Bio's technology is patent protected with further patent protection currently under submission.
SOLASTA Bio is led by co-founding management team Shireen Davies, PhD, CEO, Professor Julian Dow, CSO, and former BASF senior executive Dr Paul Bernasconi, alongside Chair, Dr Rob Wylie, CFO, David Armour, and Chief Commercial Officer, Dr Daphne Preuss. The company currently employs a team of 25 R&D, commercial staff and consultants.
The global insecticides market is currently dominated by synthetic chemicals accounting for 94% of insect control solutions, with a projected 2028 value of $27 billion¹. While 75% of food crops are dependent on pollinator insects, other insects cause enormous social, health and economic damage accounting for at least $70 billion in US crop losses alone. However, the insecticides market is under increasing pressure from widespread insect resistance, lack of species specificity, increasing regulatory controls and consumer preferences for non-chemical residues.
Shireen Davies PhD, FRSE, CEO, SOLASTA Bio commented: "We've spent the past 18 months developing our platform and validating peptide candidates with expert third parties and commercial partners. We're really excited by the results and feel that we're ready to take the next step towards commercialising our technology. With the issue of food security, and effective crop protection becoming an increasingly pressing issue for the agriculture industry and governments worldwide, there is an urgent need for sustainable environmentally-friendly alternatives to current synthetic pesticides. We're confident that our technology provides the solution and has the potential to make a huge impact."
Kerry Sharp, Director of Entrepreneurship and Investment at Scottish Enterprise, said: "SOLASTA is a terrific example of how breakthroughs in science and academia can be brought to bear on the world's grand challenges and build the high-growth businesses of the future.
"We've supported the company since its very earliest stages and continue to be impressed by its product development; expanding, diverse team; and the strong cadre of investors it's attracted."
Oliver Sexton, Investment Director UKI2S commented, "The fund backs world changing technology at an early stage and the results that the SOLASTA have shown point to a notable improvement in pest control, vastly reducing harm to beneficial insects and reducing use of petrochemicals."
Harry Howarth, Investment Manager, SIS Ventures commented: As an investor in impact-led business, SOLASTA Bio is a superb example of how business can effectively balance people, planet and profit. There's a clear industry demand for their eco-friendly insect control agents, with significant benefits for crop protection. We're looking forward to continuing our work with Shireen and the team as they move one step closer to bringing these products to market."
Tijl Hoefnagels, Venture Partner, Rubio Impact Ventures commented "SOLASTA's team translated deep insect physiology knowledge to pest control agents that bring no collateral damage to other animals or pollinators. This is a huge white spot in the current market offering. As Rubio deems the loss of biodiversity as urgent as climate change, SOLASTA is right in the sweet spot of what we want to invest in."
Brett Morris, Managing Director, Cavallo Ventures commented "Cavallo Ventures is thrilled to partner with SOLASTA Bio and invest in their mission to develop eco-friendly bio-insecticides. Their unique, differentiated neuropeptide technology provides a targeted approach to pest control addressing growers' critical unmet crop protection needs. We're excited to support Dr Shireen Davies and her world-class team to help SOLASTA define and scale the next generation of biological insecticides in the coming years.
Chris Danks, Innovation Lead, Innovate UK commented "We are delighted to have supported this investment with Innovate UK providing aligned grant support through our Transforming Food Production Investor Partnership initiative".
Featured Product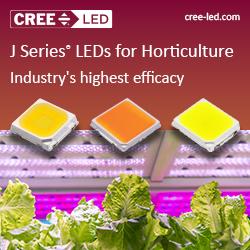 Horticulture and other forms of agricultural lighting require application-tuned ratios of spectral content, high efficacy and long lifetimes. Since these systems are designed to maximize yields for plants and animals, they require different metrics than lighting products designed around the human visual system. Cree LED delivers a wide range of spectral options and products optimized for these applications with leading efficiency and reliability.