Garuda Kisan Drones were given to 8 farmers under the Agri-drone subsidy at an event held in Pune. Drone distributors across Maharashtra were present at the event.
Made in India Drone Startup Garuda Aerospace, has become the first company to receive Agri Drone Subsidy for their agricultural drones. This subsidy is part of the Indian government's efforts to promote the use of agricultural drones. Garuda Kisan Drones were given to 8 farmers under the Agri-drone subsidy at an event held in Pune. Drone distributors across Maharashtra were present at the event.

DGCA approved Garuda Kisan drones have the potential to transform the way farmers manage and monitor crop health, detect and identify areas that require water or fertilizer. They can also be used to spray pesticides and fertilizers on crops, cutting down on manual labour and increasing efficiency. Garuda Aerospace will expand its operations and make Garuda Kisan drones more accessible to farmers in India as a result of this subsidy. This subsidy is just one of many initiatives launched by the government of India to support the development of India's drone industry. This will benefit farmers not only by making their jobs easier and more efficient, but it will also help to increase agricultural productivity and reduce food waste.
Under SMAM Garuda Aerospace along FMTTIs, ICAR institutions, KVKs, and SAUs have helped farmers receive 100% grant-in-aid for the purchase of agricultural drones and attachments, up to a maximum of Rs. 10.00 lakhs. This financial assistance allowed these institutions to use Garuda Kisan drones to conduct demonstrations on farmers' fields. FPOs received a 75% grant-in-aid for the purchase of agricultural drones and attachments for demonstrations on farmer's fields. This initiative aimed at encouraging the use of agricultural drones in India, to benefit small-scale farmers. The government encourages the adoption of this technology and helps farmers to improve their yields and reduce costs.
Speaking on the initiative Agnishwar Jayaprakash, Founder and CEO, Garuda Aerospace said "We are thrilled to be the first company to receive this subsidy for our agricultural drones. Our drones have already proven to be a game changer in the agriculture sector, and this subsidy will enable us to reach even more farmers throughout India. Drones in agriculture are still in their early stages in India, our vision is to transform and promote the use of drone technology in the agriculture sector."
"We congratulate Garuda Aerospace for becoming the first drone company to avail the Agri Drone Subsidy for 8 farmers who have chosen to purchase DGCA approved Type Certified Garuda Kisan Drone. Your innovative technologies and solutions have effectively assisted and benefited numerous farmers across Maharashtra and the country. Your commitment to improving crop yield, reducing crop damage, and promoting sustainable agriculture practices has positively impacted the entire farming community," said Mr. Vishnu Salve, Director of Maharashtra State Agriculture Department.
Mr. Rushikesh Raut, Farmer said "On behalf of the Department of Agriculture, Maharashtra, I would like to extend my warmest congratulations to Garuda Aerospace. We appreciate your dedication to using DGCA approved Type Certified drones and DGCA approved RPTO expertise to assist farmers in enhancing our crop yield and promoting sustainable agriculture practices. Your efforts are critical to our nation's food security and economic growth, and we applaud your commitment to supporting the farming community"
The Agri Drone Subsidy is a significant step forward for Garuda Aerospace and the drone industry as a whole. Garuda Aerospace, with government support, has the potential to significantly impact the agricultural sector and help India become a leader in drone technology. Garuda Aerospace is excited to continue its mission of driving agricultural innovation and empowering farmers with cutting-edge technology.
About Garuda Aerospace
Garuda Aerospace is India's leading Drone tech startup focused on disrupting two major multi-billion-dollar sectors, Precision Agri Tech and Industry 4.0 upgradation. Garuda Aerospace is asset-light, recession-proof, agnostic, and focuses on eliminating labours in the agricultural field with drones focusing on the design, building, and customization of Unmanned Aerial Vehicles (UAVs). Founded in 2015 with a team of 5, Garuda has scaled to 200+ member team having the largest drone fleet in India with over 400 drones and 500 pilots operating in 84 cities. Garuda Aerospace manufactures 30 types of drones and offers 50 types of services. Having served over 750 clients including TATA, Godrej, Adani, Reliance, Swiggy, Flipkart, Delhivery, L&T, Survey of India, SAIL, NTPC, IOCL, Smart cities, Intel, Amazon, Wipro, IISC, MIT Boston, NHAI for various projects, the company recently partnered with global giants such as Lockheed Martin, Cognizant and Elbit Systems. Hon'ble Prime Minister Shri Narendra Modi Ji launched the drone yatra where 100 drones were flagged off simultaneously across 100 villages in India. Garuda Aerospace is the first drone company to get DGCA approvals for Type Certification and Remote Pilot Training Organisation. Garuda is on a mission to impact 1 billion lives positively using affordable precision Drone Technology. Mahendra Singh Dhoni has invested in the company and is the Brand Ambassador. Garuda Aerospace recently created history by raising $22 Million, the largest ever Series A funding in the drone sector. Garuda Aerospace is on the track to become India's first-ever Drone Unicorn Startup by 2024.
For more details about the company, Visit- https://www.garudaaerospace.com/
Featured Product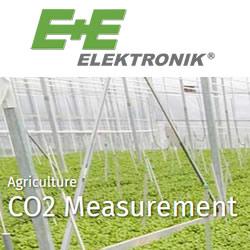 Lowering of energy costs, acceleration of growth and extension of the possible storekeeping duration can be optimised by the precise measurement of humidity, CO2-content and temperature. Optimum basic conditions for animals and plants ensure best agricultural products. As different applications demand various adopted solutions for optimization of agricultural processes, E+E Elektronik provides a broad portfolio of agricultural monitoring products