Butz said the goal with drone spraying is to find ways to use less liquid in a more targeted fashion to get the same result.
DAYTON, Ohio — Chemical and hardware manufacturers are seeking University of Dayton-industry research to examine whether drones are the answer to precision agriculture.

"We've had a lot of additional interest in drone spraying since the U.S. Environmental Protection Agency started accepting and reviewing results from tractor spray drift experiments in our Low-Speed Wind Tunnel in 2019," said University of Dayton assistant professor of mechanical and aeronautical engineering Sidaard Gunasekaran.
Gunasekaran and his industry partner Kyle Butz, a technical adviser with Spray Analytics, believe UD's Low-Speed Wind Tunnel is just the second on a U.S. college campus to receive the U.S. EPA's designation for tractor spray drift testing.
But when it comes to spray drift from drones, there's a lot of conflicting information that still needs research, Gunasekaran added.
"When compared to traditional spraying, the best practices and protocols for drone spraying are not fully developed," he said. "Through our research and experimental investigations, we're hoping to aid companies and agencies to make robust assessments on drift potential from drone spraying."
Butz said the goal with drone spraying is to find ways to use less liquid in a more targeted fashion to get the same result.
"When we spray a field now, we broadcast spray the entire field," Butz said. "With drone spraying, we're trying to examine whether we can effectively target portions of the field or use less chemicals. We call it 'precision ag' and we hope to use it to be better stewards of the land — use less chemicals and produce food at the same rate.
"Because drone spraying is such a new thing, we're trying to understand the playbook and get our heads around this. The evolution of the technology of spraying is moving at a fast rate."
The pair invites chemical and hardware manufacturers and government officials to an event May 24-25 at the University of Dayton's Kettering Laboratories 203 to "get people in the room who think similarly or about the same problems to wrap our heads around how does this look, how is it different from or could be better than these other spraying techniques, how we can optimize it, and to make some recommendations." Email Gunasekaran at gunasekarans1@udayton.edu to register.
Drone spraying could eliminate the expense of a plane, pilot and fuel, and drones can be programmed to fly without a remote control operator, according to Gunasekaran.
Gunasekaran and Butz developed a 6-by-6-by-6-foot cube test rig with two propellers, a sprayer and a measurement system. They have the ability to examine different placements of the nozzle in relation to the propeller, the effect of multiple propellers, and what happens when changing the speed of the propeller.
"So far, there is a really high recirculation zone, especially around the propeller," Gunasekaran said. "Spray falls more than six feet away from the nozzle and propeller, which is less than ideal."
Anyone interested in learning more about the University of Dayton Low-Speed Wind Tunnel can email Gunasekaran at gunasekarans1@udayton.edu.
Featured Product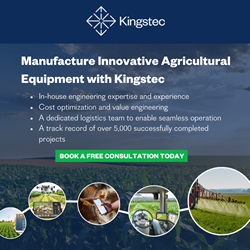 In the rapidly evolving agricultural landscape, leading AgriTech companies are increasingly leveraging the experience and expertise of strategic engineering and manufacturing partners to bring cutting-edge, cost-effective solutions to market. Kingstec is an all-in-one engineering, manufacturing, and logistics partner, with over 40 years of experience and 5,000 successfully completed projects. We can help you bring innovative, cost-optimized farm equipment, sensors, drones, components, and more to market quickly with in-house engineering and manufacturing expertise, a dedicated logistics team, and a network of world-class manufacturing and supply chain partners.