PERC joins National Greenhouse Manufacturers Association to promote the unique benefits of propane for the greenhouse industry
WASHINGTON (April 2023) - Propane delivers the consistent, precise temperatures needed for healthier plants and animals, making it an excellent choice for growers powering greenhouse operations. To connect with leaders and learn more about the unique issues facing the greenhouse industry, the Propane Education & Research Council has joined the National Greenhouse Manufacturers Association.

An organization dedicated to representing and advancing the interests of the greenhouse industry through education, networking, and communication, NGMA is a professional trade organization for the manufacturers and suppliers of greenhouses and greenhouse components.
Propane is the optimal choice for powering greenhouse operations for many reasons. Propane is infrastructure-free, eliminating the need for electrical or natural gas lines and allowing it to be used at any time or location. This means growers can depend on continuous power and expand greenhouse operations virtually anywhere. In addition, propane:
• Offers precise temperatures within 0.5 degrees Fahrenheit for different types of plants and specific stages of growth.
• Is cost-efficient, lowering energy costs throughout each season.
• Is a non-toxic, very low-emission energy source for plant health and an all-around greener operation.
• Prevents mold and mildew growth with dehumidifying capabilities.
PERC's membership with NGMA will allow the propane industry to hear directly from greenhouse manufacturers about the changing industry and current market conditions. As part of this membership, PERC will also be attending the upcoming NGMA Annual Meeting April 16-18 to learn more about greenhouse manufacturers and growers' specific needs and challenges, and the ways propane can help.
"For greenhouse heat and power generation, no other energy source gives growers the dependability and flexibility of propane," said Michael Newland, director of agriculture business development at PERC. "In addition, prime power generators fueled by propane produce up to 72 percent fewer sulfur oxide (SOx) emissions than using electricity and eliminate the risk of power outages to keep operations running smoothly."
To learn more about the use of propane for greenhouse operations, visit Propane.com/Propane-Products/Agricultural-Building-Heat/. For more information about propane's versatility and propane farm equipment, visit Propane.com/Agriculture.
###
About PERC: The Propane Education & Research Council is a nonprofit that provides leading propane safety and training programs and invests in research and development of new propane-powered technologies. PERC is operated and funded by the propane industry. For more information, visit Propane.com.
Featured Product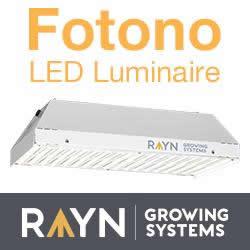 Fotono is a full spectrum LED horticultural luminaire designed to directly replace HPS lights in greenhouses. At 12 pounds, 20 inches long, and 5 inches high, Fotono's compact size makes installation simple while minimizing structural burden on greenhouses. This compact fixture packs energy-saving and yield-improving features, such as a high output, stepless dimming, advanced spectral capabilities, and more.