-Amended agreement with Cargill provides additional $110 million to fund construction at Georgia, Texas and Washington facilities -Signs sale-leaseback transaction for $35 million
Local Bounti Corporation (NYSE: LOCL, LOCL WS) ("Local Bounti" or the "Company"), a breakthrough U.S. indoor agriculture company combining the best aspects of vertical and greenhouse growing technologies, today announced that it secured a total of up to $145 million of new financing across two sources - the first through an amendment to its credit facility agreements with Cargill Financial Services International, Inc. ("Cargill"); and the second, a sale-leaseback deal with an internally managed net-lease real estate investment trust. The combined financing supports Local Bounti's growth plans and immediate efforts to increase production to meet accelerating demand for the Company's products.

Kathleen Valiasek, CFO of Local Bounti commented, "We are very pleased with the outcome of these transactions and the support they provide for Local Bounti's growth ambitions. We remain laser focused on identifying opportunities where we can utilize our flexible Stack & Flow Technology™ to deliver improved yields to meet the robust demand for locally grown and sustainable produce that we are seeing across our industry-leading distribution footprint."
On March 28, 2023, Local Bounti entered into an amendment to its existing credit agreements with Cargill to expand the facility from $170 million to up to $280 million per the terms and conditions of the agreement, including capital to fund construction at the Company's facilities in Georgia, Texas and Washington, subject to certain conditions. In consideration for the improved flexibility and the expanded size of the facility, Local Bounti issued Cargill 5-year warrants to purchase up to 69.6 million shares of common stock with a per share exercise price of $1 per share, representing more than a 100% premium to Local Bounti's current stock price.
Local Bounti also entered into an agreement with an internally managed net-lease real estate investment trust for the sale-leaseback of its two facilities located in Carpinteria and Oxnard, California for approximately $35 million. The closing of the sale-leaseback transaction is subject to customary closing conditions and is expected in the second quarter of 2023.
About Local Bounti
Local Bounti is redefining indoor farming with an innovative method - its proprietary Stack & Flow Technology™ - that significantly improves crop turns, increases output and improves unit economics. Local Bounti operates advanced indoor growing facilities across the United States, servicing over 10,000 retail doors with its two brands: Local Bounti® and Pete's®. Local Bounti grows healthy food utilizing a hybrid approach that integrates the best attributes of controlled environment agriculture with natural elements. Local Bounti's sustainable growing methods are better for the planet, using 90% less land and 90% less water than conventional farming methods. With a mission to 'bring our farm to your kitchen in the fewest food miles possible,' Local Bounti's food is fresher, more nutritious, and lasts longer than traditional agriculture. To find out more, visit localbounti.com or follow Local Bounti on LinkedIn for the latest news and developments.
Featured Product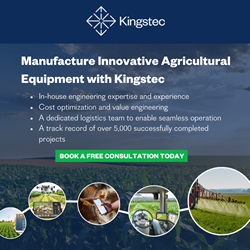 In the rapidly evolving agricultural landscape, leading AgriTech companies are increasingly leveraging the experience and expertise of strategic engineering and manufacturing partners to bring cutting-edge, cost-effective solutions to market. Kingstec is an all-in-one engineering, manufacturing, and logistics partner, with over 40 years of experience and 5,000 successfully completed projects. We can help you bring innovative, cost-optimized farm equipment, sensors, drones, components, and more to market quickly with in-house engineering and manufacturing expertise, a dedicated logistics team, and a network of world-class manufacturing and supply chain partners.