Report provides insights for producers to enhance traditional practices with different approaches while still navigating the complexities of regulatory pressures.
AgriWebb, creator of the world's leading digital livestock management software trusted by over 16,000 farmers managing more than 20 million animals across over 136 million global acres of land, has released the 2023 State of the Global Farmer Survey. This second annual global report combines self-reported observations from nearly 1,000 producers worldwide and trends and insights composed of data points from AgriWebb's farmer population, enabling the industry to stay ahead of the challenges and embrace the opportunities that will shape the future of the livestock industry.

The 2023 State of the Global Farmer Survey engaged with producers in the UK, US, Australia, South Africa, South America, and the rest of Europe. It explored their perspectives on a range of business-critical themes, including animal management, tech adoption, marketing and selling animals, grazing practices, industry horizon predictions, and more.
"A farmer must be an optimist, or he or she wouldn't still be a farmer. That saying rings no more accurate than what the industry has witnessed over the last year. With greater public, regulatory and economic pressures, ranchers and farmers alike have proven to look at the glass half full. Farmers adapted and evolved their practices to keep their businesses alive. As 2023 gets underway, we look to further empower food producers across the UK with the insights and perspectives shared by their peers to help them both overcome future obstacles and achieve their long-term business goals," said Justin Webb, Executive Chairman and Co-founder of AgriWebb.
That does not make the challenges faced by farmers and food producers in the UK any less intimidating. Negative media coverage and an upswell in 'vegan' perception that livestock farming is not done ethically in the country have resulted in many farmers feeling as if they are to blame and even attacked for everything from the climate emergency to a lack of sustainable practices, even though this is not the case.
Fundamentally, farmers feel unsupported by the government at a time when the country is cutting ties with the European Union. In practical terms, this means that legacy policies notwithstanding, the post-Brexit environment is impacting trade deals either through a lack of new agreements being put in place or ones that are not favourable to British producers.
The government has also signalled its intent to move away from subsidies. Farmers have heavily relied on these to finance their operations, especially in designated Less Favourable Areas (LFA). Established in 1975, the LFA scheme resulted in the government providing compensatory allowances to farmers in mountainous or other areas where the physical landscape results in higher production costs.
Key UK findings from the AgriWebb 2023 State of the Global Farmer Survey include:
92% of respondents have indicated they are concerned about government or regulatory pressures.
88% of respondents say that the removal of subsidies will impact their business's viability. With this removal already in progress and a lack of clarity over what replaces those subsidies, even though this will not equal what came before, there is a real concern over what this means for the future of farming in the UK.
94.7% of respondents are concerned about the media's perception of farming.
94.7% are also very concerned about rising costs. Coupled with reduced subsidies, this has proven to be a significant challenge.
77% of farmers feel unsupported by the government. This is likely linked to the disposal of subsidies and a lack of clarity on what is next.
Over 60% of farmers surveyed are part of compliance and assurance programmes. This reflects how important it is for UK farmers to deliver high-quality production and contrasts with negative media and public perceptions on especially livestock farming practices.
50% of farmers already employ rotational grazing practices that are deemed better for the environment and animal welfare. Farmers are, therefore, further down the road to embracing sustainable practices than what the media is giving them credit for.
86% of farmers feel technology is vital to their future success.
In the UK, 15% of farms have been in the family for seven generations or more. Yet rising input costs of 59.2% - one of the most significant of all regions in the world - are placing these generational farmers under increased pressure regarding future operations and embracing sustainable practices.
Fortunately, biodiversity and native plant retention were amongst the top practice trends in the UK. In concentrating on biodiversity, respondents support healthy and productive ecosystems that, in turn, support healthy and productive animals. For example, in England, the Biodiversity Net Gains programme could be to a farmer's advantage, where they may make their land available to developers who are experiencing a biodiversity net loss.
Click here to download the 2023 State of the Global Farmer Survey. https://www.agriwebb.com/state-of-the-global-farmer-report-2023/?utm_medium=referral&utm_source=pr-network&utm_campaign=global-sotgf-2024&utm_content=uk
About AgriWebb
Founded in 2014 by fifth-generation farmers, AgriWebb is a digital livestock management solution that moves our industry forward. Our industry-leading digital solutions empower farmers and ranchers to transform everyday on-farm data into powerful business insights that unlock a more profitable, efficient, and sustainable future. We believe the farmers who uphold the legacy of the livestock industry are also the stewards of our society's future; of a planet that is fertile and a population that is fed. Trusted by over 16,000 farmers worldwide, entrusted to the oversight of more than 19 million animals across over 136 million acres of land, AgriWebb is welcoming more than 250 new users each month. AgriWebb is the singular connected platform that enables our industry chart the course to a more successful future.
Featured Product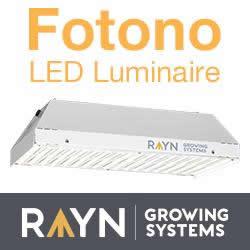 Fotono is a full spectrum LED horticultural luminaire designed to directly replace HPS lights in greenhouses. At 12 pounds, 20 inches long, and 5 inches high, Fotono's compact size makes installation simple while minimizing structural burden on greenhouses. This compact fixture packs energy-saving and yield-improving features, such as a high output, stepless dimming, advanced spectral capabilities, and more.