Provide the growers with the tools and knowledge to maximize yield and minimize environmental impact
Tavant, Silicon Valley's leading digital products and solutions company, today announced a strategic partnership with Bayer, a global leader in agriculture solutions, to introduce innovative AgriTech solutions that will empower organizations to drive innovation and growers to optimize crop yields, reduce expenses, and minimize their environmental footprint.

The partnership comes at a crucial time when growers face mounting pressure to increase productivity while confronting many challenges beyond their control, such as unpredictable weather events and unstable commodity markets. By leveraging the latest technologies, such as Artificial Intelligence (AI), Machine Learning (ML), Internet of Things (IoT) analytics, Bayer's ready-to-use data models, and Tavant's technical and specialized expertise in the Agri industry, this partnership aims to empower the organizations to drive innovation and manage the farming challenges. With a focus on enhancing transparency and promoting sustainability throughout the food supply chain, this collaboration is set to transform the agricultural industry.
"Innovation in digital agriculture is critical for achieving sustainable farming practices and ensuring adequate food supply. Data is often fragmented and challenging to access throughout the supply chain and developing digital solutions from scratch can be costly, but we are arriving at a very exciting moment in modern agriculture," said Ines Kapphan, VP of Data & Cloud Solutions, Climate and Digital Farming, Bayer's Crop Science Division. "Our work with Tavant provides innovators with readymade capabilities, so they can join Bayer and many other impactful companies in solving some of the world's biggest challenges in agriculture."
"Tavant is a strong proponent of innovation and digitalization in achieving sustainable yields and disrupting the farm to fork value chain. Over the past two decades, Tavant has invested significantly in developing sustainable and efficient farming practices. As a strategic system integrator for Bayer, Tavant is committed to helping growers achieve more with less and providing them with the tools and knowledge necessary to grow crops sustainably while enhancing their profitability," said Vikas Khosla, Chief Revenue Officer, Hitech, Tavant.
"By developing pioneering solutions for transforming the way food is produced, distributed, and consumed, Tavant is poised to drive the agriculture industry forward and provide growers with the tools they need to succeed in a rapidly evolving market," continued Khosla.
About Tavant
Headquartered in Santa Clara, California, Tavant is a digital products and solutions company that provides impactful results to its customers across North America, Europe, and Asia-Pacific. Founded in 2000, the company employs over 3000 people and is a recognized top employer. Tavant is creating an AI-powered intelligent enterprise by reimagining customer experiences, driving operational efficiencies, and improving collaboration. Find Tavant on LinkedIn and Twitter.
Featured Product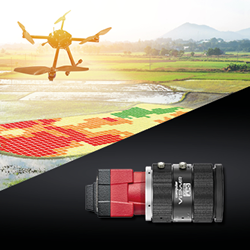 Allied Vision's compact and light weight Alvium SWIR (short wave infrared) cameras are the ideal choice to build cost-effective OEM systems used in embedded and machine vision applications. The cameras support a spectral range from 400 nm to 1700 nm at high quantum efficiencies. This allows to capture images in both the visible and SWIR spectra with a single camera and enables users to reduce overall system costs! Equipped with Sony's IMX990 and IMX991 SenSWIR InGaAs sensors, Alvium SWIR cameras deliver high image quality and frame rates. This makes them well suited for drones or handheld devices used in various industries such as, agriculture, mining, solar cell inspection or medical.