The rebrand is ahead of the company's plan to launch the world's largest fleet of commercial green on green AI spot spray robots in India by June 2023
March 14th, 2023, Bangalore: AgTech start-up TartanSense, has rebranded as Niqo Robotics. The rebranding comes on the heels of the company launching their proprietary green on green AI spot spray robots in India. With a fleet size of 50, this will be the world's largest commercial deployment of AI powered robotic sprayers. Niqo's proprietary green on green tech leverages real time AI assisted computer vision to selectively spray chemicals on plants resulting in up to 60% chemical and water savings.

Niqo Robotics seeks to challenge the status quo of conventional farming methods by pioneering an AI powered robotics revolution in agriculture. This revolutionary spirit of the company is strongly embodied in the new brand identity. The name Niqo is derived from the word "Nikolaos", meaning Victory of the People. The victory flag in the logo is symbolic of the brand's ambition to liberate the entire farming ecosystem from unreliable availability of labour and unsustainable farming practices. Niqo aims to do this through the scientific application of AI-powered robotics in all major farming activities like sowing, spraying, and harvesting.
As Niqo Robotics, the company's mission is to make AI powered agricultural robots reliable as well as accessible. Staying true to this mission, Niqo Robotics has built their proprietary green on green AI spot spray tech stack to seamlessly integrate with existing agricultural sprayers in the market, making it truly accessible.
Speaking on the rebrand, Mr Jaisimha Rao, CEO and Founder Niqo Robotics said "It has taken us many years of innovation, frugal engineering, and rigorous testing to cover the distance from lab to land. The rebrand couldn't have come at a better time. As we get ready to launch the world's largest fleet of green on green AI spot spray robots to market , we need a strong identity that can boldly carry us into this exciting future. The name Niqo represents our hunger to win in this challenging ecosystem of robotics and agriculture . We are especially proud that India is leading the way for commercialising AI powered spot spraying at scale".
"Niqo unabashedly embodies our innovative thinking and revolutionary spirit. This is reflected in every aspect of the brand's identity from the name to the logo, typeface, colours, voice, and a strong customer centric narrative. For example, Niqo typeface is custom designed, inspired by postmodern style and data visualisation systems. The sharpness and slight curves create contrast and a strong image. It is an ode to the intricate engineering that goes into building our robots. This is the steadfast foundation we need as we take our first steps as a consumer brand" said Ms Arha Padman, Chief Marketing Officer, Niqo Robotics.
About Niqo Robotics
Niqo Robotics (formerly known as TartanSense) is a robotics solutions pioneer that is poised to lead a sustainable Agricultural Revolution in India - and the world - through AI powered agricultural robots. Founded by Mr. Jaisimha Rao and headquartered in Bangalore, Niqo Robotics is the first AgTech company to monetise green on green spot spraying in Asia with their proprietary Niqo RoboSpray™ Technology. The technology leverages real time AI assisted computer vision to selectively spray chemicals on plants resulting in up to 60% chemical and water savings.
Niqo Robotics focuses on the entire farming ecosystem seeking to work collaboratively with farm holders, product & service providers, and farm equipment manufacturers. With this holistic approach Niqo Robotics aims to liberate farming from unscientific and unsound conventions by enabling it to be scientific, sustainable, and viable for future generations.
The company has raised a total of $8 million in total funding including a seed round from Blume Venture and Series-A from FMC Ventures and Omnivore and Bidra Innovations. The company is all set to launch world's largest fleet of AI powered green on green robots spraying robots in 2023, right here in India.
Featured Product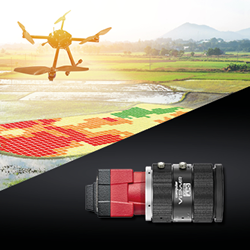 Allied Vision's compact and light weight Alvium SWIR (short wave infrared) cameras are the ideal choice to build cost-effective OEM systems used in embedded and machine vision applications. The cameras support a spectral range from 400 nm to 1700 nm at high quantum efficiencies. This allows to capture images in both the visible and SWIR spectra with a single camera and enables users to reduce overall system costs! Equipped with Sony's IMX990 and IMX991 SenSWIR InGaAs sensors, Alvium SWIR cameras deliver high image quality and frame rates. This makes them well suited for drones or handheld devices used in various industries such as, agriculture, mining, solar cell inspection or medical.