Nano liquid company's best-in-class nutrition and protection inputs give farmers an edge, ensuring soil preservation and downstream waterway protection
DRAPER, Utah - March 9, 2023 - Aqua-Yield, the leading nano liquid company for agricultural production worldwide, recently announced it has expanded within Southeast Asia by moving operations into Bangladesh, bringing the number of countries in which it operates to eight. (In Bangladesh the company now goes by Nano-Yield.)

Aqua-Yield's nano liquid products, including the NLT5000™ and NanoPro®, will be utilized for the region's rice, tobacco, and vegetable growing efforts. National AgriCare (NAC) will serve as Aqua-Yield's strategic regional hub, providing technical and agronomic support, customer support, professional services, and increasing sales.
Aqua-Yield's technology serves as a delivery system for crop inputs. Its nano liquid particles quickly penetrate plant barriers and deliver their payloads without washing away, enhancing the efficiency of crop inputs without disrupting farmers' current approach. (The company's general application rate is 2 to 6 ounces per acre.) Aqua-Yield's best-in-class nutrition and protection inputs give farmers an edge each growing season while ensuring soil preservation and downstream waterway protection.
"The year 2022 didn't disappoint in terms of challenges to our industry, both nationally and globally," said Clark T. Bell, co-founder and CEO of Aqua-Yield. "But despite this, we at Aqua-Yield are treating 2023 as a wonderful opportunity as our nano liquid technology will become even more relevant for growers - as it enables them to stretch budget dollars and maximize the yield and quality of the crops they produce."
Yalid Rahman, director of sales and marketing for National AgriCare, said, "NAC's mission is to help farmers through innovation and sustainable agriculture so that they can feed the world. We believe it is the right time to focus on nano-tech usages in agriculture to reach the sustainability of agricultural production and produce the best quality crops. The collaboration between Aqua-Yield and NAC will be the timely solution to advance this industry."
Aqua-Yield's award-winning nano liquid solutions leverage sophisticated nanoparticles to make liquid agricultural products more effective at plant absorption, dramatically increasing crop yield and profits for farmers while enhancing the sustainability of the soil. With better delivery and uptake to the plant, Aqua-Yield's technology produces more yield and improves the quality of the crop.
"This is a very important milestone for Aqua-Yield in our efforts to expand our footprint globally," said Marco Guirado, vice president of international sales for Aqua-Yield. "Both parties have invested a lot of effort to arrive at this agreement, and we are confident that NAC will be a great partner."
For more information about Aqua-Yield's technology, products, and solutions, visit www.aqua-yield.com.
Featured Product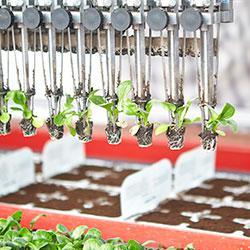 "Smart farming" is an important part of the answer to this existential question: Extremely high efficiency in food production through the targeted use of the latest technology, computer-supported and - where possible - fully automatic. Seeds are individually and precisely placed; fruits carefully picked by mechanical grippers; fertilizers and plant protection products applied in small doses and in a targeted manner. These operations require a large number of small electric motors that are both robust and powerful.