India's leading agricultural retail and e-commerce player taps Oracle to modernize its finance operations and drive growth
New Delhi, India - 2 March 2023 - IFFCO eBazar Ltd., one of India's fastest growing agricultural input retail chain with a well-established e-commerce presence, is using Oracle Fusion Cloud Enterprise Resource Planning (ERP) to unify its finance operations and drive greater efficiency and productivity.

Established in 2016, IFFCO eBazar Ltd. delivers quality and innovative agricultural inputs and services at a reasonable price to farming community under one roof through more than 3200 retail stores in India. IFFCO eBazar needed to replace its legacy financial management system with a modern cloud solution that would enhance visibility and governance across its business and help to enhance the decision making to achieve its objective of providing the modern retail experience to India's farming community. To consolidate finance on a single, highly secure, and scalable cloud platform and eliminate inefficient manual processes, IFFCO eBazar selected Oracle Cloud ERP in December 2021.
"Our objective is to be the trusted partner for India's farming community for their betterment and upliftment and provide them with better accessibility of quality and innovative agri-inputs and services at affordable prices," said Madhulika Shukla, Chief Executive Officer, IFFCO eBazar Ltd. Oracle Cloud ERP enables us to create and manage a truly empowered and inclusive environment which enables our business growth. This will also improve our decision making, productivity, remove operational bottlenecks, increase the reliability, embrace continuous innovation and ultimately better serve our farming community for a better tomorrow."
With Oracle Cloud ERP, IFFCO eBazar consolidated multiple finance systems onto a single integrated finance platform to increase productivity, reduce costs, improve controls and ultimately better decision making. Additionally, Oracle's quarterly updates allow IFFCO eBazar to benefit from a regular cadence of new capabilities that are added every 90 days, without business disruption.
"The agriculture sector in India is rapidly growing and IFFCO eBazar is well positioned to help farmers capitalize on growing business opportunities with better management of the commercial aspect of their businesses," said Deepa Param Singhal, vice president, cloud applications at Oracle India. "With Oracle Cloud ERP, IFFCO eBazar can now embrace automation and new business models to run its business more efficiently and unlock more opportunities to support India's growing agricultural community."
The project was implemented by the dedicated team of IFFCO eBazar in coordination with Filix Consulting, an Oracle Partner Network (OPN) member.
"In the current business ecosystem, compliance requirements and the speed of decision making, seamlessly integrated with accounting of various business events, forms the bedrock of any modern retail set-up. Oracle Fusion helps businesses leapfrog into the future with their integrated solutions and user interfaces. With this implementation, IFFCO eBazar is able to perform all the above mandates of a digitalized finance function thereby creating smarter processes as they cater to our country's large farmer population", said Gaurav Mathur, founder director and CEO, Filix Consulting.
About IFFCO eBazar Limited
IFFCO eBazar Limited, with registered office in New Delhi, India is a 100% subsidiary of world's largest cooperative Indian Farmers Fertilisers Cooperative Ltd. (IFFCO). The objective is to provide modern retail experience to the Indian Farmers by providing them the quality and innovative agri-inputs at a reasonable price for their upliftment and betterment. Started the operations in April, 2016 and today, it has more than 3200 retail outlets having a turnover of more than Rs. 2200 crore from where products like Nano Urea, fertilisers seeds, plant growth promotors, sprayers, agricultural implements and services like soil testing, seed testing etc. are made available to the farmers.
About Oracle
Oracle offers integrated suites of applications plus secure, autonomous infrastructure in the Oracle Cloud. For more information about Oracle (NYSE: ORCL), please visit us at www.oracle.com.
Featured Product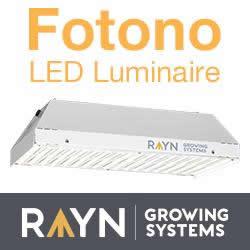 Fotono is a full spectrum LED horticultural luminaire designed to directly replace HPS lights in greenhouses. At 12 pounds, 20 inches long, and 5 inches high, Fotono's compact size makes installation simple while minimizing structural burden on greenhouses. This compact fixture packs energy-saving and yield-improving features, such as a high output, stepless dimming, advanced spectral capabilities, and more.