Intersolar Europe and the French-German Office for Energy Transition (DFBEW) will be giving a free webinar on Agrivoltaics in Germany and France: Potentials and Challenges on Tuesday, March 14, 2023, from 11am–noon. Participants will learn about synergies, economic benefits as well as the social and ecological effects of agrivoltaics.
Munich/Pforzheim, February 23, 2023 - Skyrocketing prices for electricity and fossil energy carriers, the climate protection debate and - not least - sustainability: All these aspects are fueling the demand for photovoltaic installations by agricultural operations. On top of that, regulatory improvements, such as the scrapping of the EEG levy in Germany, are deepening the interest of farmers in decentralized photovoltaic installations. Intersolar Europe and the French-German Office for Energy Transition (DFBEW) will be giving a free webinar on Agrivoltaics in Germany and France: Potentials and Challenges on Tuesday, March 14, 2023, from 11am-noon. Participants will learn about synergies, economic benefits as well as the social and ecological effects of agrivoltaics.

Image source: © Solar Promotion GmbH
Agricultural PV (Agrivoltaics) is a trend in the energy industry that describes the merger of farming and energy generation using photovoltaic installations. Large-scale photovoltaic (PV) installations generate electricity at a financially relevant scale. In these times of energy and resource crisis, becoming involved in the energy industry can offer attractive options to agricultural operations in Germany, France, and Europe in general. The options include autonomous electricity and energy supply, significantly lower costs and new business models based on power grid feed-in. However, becoming a producer of renewable energy requires financial, technical and administrative know-how.
EEG reform creates new potential
Until July of 2022, the Renewable Energy Sources Act (EEG) provided for a levy for producers of solar power, the so-called EEG levy, which applied to all photovoltaic installations except installations for self consumption whose output was below 30 kilowatts (kW). In 2022, the levy was 3.72 Euro cents per kilowatt hour (€ct/kWh). Any installations for self consumption with an output above this level were subject to a 40 percent levy. As a result, many farmers only installed PV systems below 30 kW, even though their electricity consumption for the ventilation of stables, milk cooling, milking robots and water purification systems as well as electric vehicle far exceeded this volume. Now that the EEG levy has been eliminated, it is worth investing in photovoltaics or expanding existing systems and storage devices.
Without the EEG levy, switching larger photovoltaic installations to self consumption is also becoming more attractive. It can make sense for farmers to use excess solar power for electrical heating (power-to-heat). In view of the high heating costs, it is often lucrative even if electrical heating rods are used without the support of a heat pump. A pellet heating system, a woodchip stove or a cogeneration plant can be shut down over the summer. 
With tractor and tracker - a trend towards dual use
While most farmers still stick to the use of PV on roof surfaces, there is a growing trend towards using agricultural surfaces to produce food and solar power at the same time. One way of doing this is with free-standing solar installations on fields and meadows. These installations are equipped with trackers that follow the sun, which increases the yield compared with conventional, fixed modules, by around 20 percent. The solar panels can also be moved out of the way of any working agricultural machinery.
Another option is elevated photovoltaics (PV), where the modules (partially) cover crops. This technology is interesting for growing fruit, berries, wine or herbs, and any plants that grow better in the partial shade. There is a number of pilot projects across a total of one hectare of land with semitransparent PV modules at a height of six meters. These "solar roofs" have the added benefit of doing away with conventional protection equipment such as hail netting and polytunnels, and of protecting the crops from drying out.
Free agricultural PV webinar
The free webinar Agricultural PV in Germany and France: Potentials and Challenges will be held on March 14, 2023 from 11pm-noon. "The speedy deployment of photovoltaics in Germany and France is essential in order to achieve the set targets for the expansion of renewable energies," explains Catherine Rollet, webinar host and speaker at the French-German Office for Energy Transition (DFBEW). "Over the coming years, solar energy is going to play an important role in agriculture, too. Agricultural PV not only contributes to making the energy transition happen - it also has benefits for agriculture and for farmers." Click here to register for the webinar.
Agricultural PV: Hot topic at Intersolar Europe
Join us at Intersolar Europe from June 14-16, 2023 in Munich to get up close and personal with photovoltaics in agriculture. On June 15 from 3.30pm-5pm, the session Agricultural PV in France and Germany: Potential, Business Models and Best Practice at the Intersolar Forum, booth A3.150 will be offering visitors an extensive overview of solutions and applications that already work. The many agricultural PV exhibitors at Intersolar Europe will provide an even more hands-on experience. Exhibitors include BayWa r.e. AG, Fraunhofer Institute for Solar Energy Systems (ISE), Next2Sun GmbH, Goldbeck Solar GmbH, SunFarming GmbH and many more. For the complete exhibitor list, please click here.
Intersolar Europe will be held from June 14-16, 2023 as part of The smarter E Europe 2023 at Messe München.
For more information, please visit:
www.Intersolar.de
www.TheSmarterE.de
Intersolar Europe
Intersolar Europe, the world's leading exhibition for the solar industry reflects the rapid growth the solar industry is currently seeing. For more than 30 years, a constant stream of the key solar energy players have been frequenting the event, all under the motto: Connecting solar business. This is where manufacturers, suppliers, distributors, installers, service providers, project developers and planners as well as start-ups network and get a front-row seat to the latest trends, developments and business models. Intersolar Europe will take place from June 14-16, 2023, at Messe München as part of Europe's largest platform for the energy industry, The smarter E Europe.
Visitors and exhibitors interested in a decentralized energy world benefit from the three additional energy exhibitions connected with Intersolar Europe, which cover storage technologies, charging infrastructure, e-mobility and digital networks. The Intersolar Europe Conference, where renowned experts showcase groundbreaking innovations for the international energy transition, is also taking place at the same time.
For three decades, Intersolar Europe has been committed to a sustainable energy system. This vision is now becoming a reality, and the potential of solar energy can be experienced at the exhibition. Each year, the key players of the solar industry get together to shape this growth.
Intersolar Europe is organized by Solar Promotion GmbH, Pforzheim, and Freiburg Wirtschaft Touristik und Messe GmbH & Co. KG (FWTM).
www.Intersolar.de
Featured Product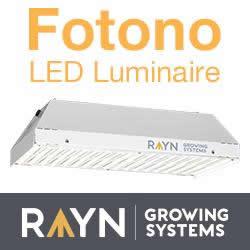 Fotono is a full spectrum LED horticultural luminaire designed to directly replace HPS lights in greenhouses. At 12 pounds, 20 inches long, and 5 inches high, Fotono's compact size makes installation simple while minimizing structural burden on greenhouses. This compact fixture packs energy-saving and yield-improving features, such as a high output, stepless dimming, advanced spectral capabilities, and more.