Trimble's Advanced Software Technology Enables Automated Machine Trajectory and Speed in Complex, Real-World Environments
Trimble (NASDAQ: TRMB) announced today its new advanced path planning technology. This software-based technology gives Trimble end users and equipment manufacturers the ability to optimize and automate the trajectory, speed and overall path design of industrial equipment to increase efficiency of work. Manufacturers worldwide can now provide their customers with an easy-to-integrate, automated solution that works not only with Trimble systems, but also with an equipment manufacturer's existing system. The technology will also be available within Trimble Connected Farm and Trimble Construction Cloud, offering a seamless, end-to-end experience to Trimble end users.

Traditional path planning options require manual set-up, which impacts productivity, consistency and execution. By contrast, Trimble's advanced path planning technology offers automated, full path, complete project trajectory from entry to exit, including logistics points. The technology allows plans to be created in the office and adjustments made in the field or worksite. In addition, it is optimized for complex fields, unique site shapes, obstacles and avoidance zones.
"Our new path planning technology is the next step in Trimble's vision of making fully autonomous solutions available across industries, regardless of brand, type of equipment or use case," said Finlay Wood, general manager, Off-Road Autonomy, Trimble. "With this easy-to-integrate solution, we've taken another significant step towards full autonomy. It enables our customers to reduce waste and simplify complex tasks, whether they are in the cab or not—part of our vision to meet operators where they are on their path toward fully autonomous solutions."
This new software capability will enable a broad range of autonomous applications across a variety of industries, including construction and agriculture. Once implemented, it can allow customers to meet their emerging product and operational goals no matter where each one is on the autonomy journey.
Trimble field tested the technology with HORSCH, one of the world's leading manufacturers of modern agricultural technology, integrating path planning technology into HORSCH's self-propelled PT and VL sprayer series to provide an autonomous, four-wheel-drive solution. Trimble is also currently field testing this technology with Dynapac, a leading supplier of high-tech soil and asphalt rollers, light equipment and pavers, as part of its autonomous compactor. This new technology was demonstrated at the Dimensions+ 2022 user conference in Las Vegas and BAUMA 2022 in Munich, Germany.
"Through our work with Trimble, we were able to test the latest path planning technologies in real-time on farms to understand how the technology performed in real-world environments," said Theo Leeb, managing director, HORSCH. "We had the opportunity to experience fully automated spraying for the first time ever. This is yet another example of how HORSCH is at the forefront of thought leadership for ag working practices. We're two high-tech companies changing the future."
To learn more, visit: autonomy.trimble.com/en/path-planning.
About Trimble Autonomy
Trimble Autonomy delivers leading positioning and orientation technology to major industrial markets worldwide. This approach to autonomy is built on decades of engineering expertise, system intelligence and field-proven solutions, covering billions of acres and millions of miles. Trimble's autonomous technology enables advanced action in any environment, designed to meet the unique needs of our customers no matter where they are on their autonomy journey. For more information, visit: autonomy.trimble.com.
About Trimble
Trimble is an industrial technology company transforming the way the world works by delivering solutions that enable our customers to thrive. Core technologies in positioning, modeling, connectivity and data analytics connect the digital and physical worlds to improve productivity, quality, safety, transparency and sustainability. From purpose-built products to enterprise lifecycle solutions, Trimble is transforming industries such as agriculture, construction, geospatial and transportation. For more information about Trimble (NASDAQ:TRMB), visit: www.trimble.com.
Featured Product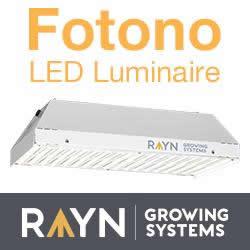 Fotono is a full spectrum LED horticultural luminaire designed to directly replace HPS lights in greenhouses. At 12 pounds, 20 inches long, and 5 inches high, Fotono's compact size makes installation simple while minimizing structural burden on greenhouses. This compact fixture packs energy-saving and yield-improving features, such as a high output, stepless dimming, advanced spectral capabilities, and more.