RAPTR, VYPR and Wireless Flex Dimming Solutions provide cultivators control over fluctuating European energy costs
Fluence, a leading global provider of energy-efficient LED lighting solutions for floriculture, medicinal cannabis and food production, is supporting sustainability and operational cost efficiency amid volatile energy market conditions in Europe.

Europe's soaring energy prices have affected many growers in countries like the Netherlands that primarily produce electricity via the gas-powered cogeneration method. Gas prices have historically balanced between €15 and €20 per megawatt-hour (MWh) but peaked at over €300 per MWh in 2022 because of volatility due to supply, storage and weather conditions. Current energy prices have dropped to €60 per MWh, remaining roughly three times higher than what many growers planned to pay for electricity.
Leading floriculture companies dedicated to delivering high-quality products to customers—including Bernhard Kwekerijen, Moerman Lilium, Deliflor Chrysanten, Beyond Chrysant and Ten Have Plant—have made the switch from high-pressure sodium (HPS) fixtures to Fluence's LED technology, which increase photon output and energy efficiency.
"As they confront the unpredictability of Europe's energy market, Dutch cultivators are increasingly focused on future-proofing their cultivation strategies by decreasing their dependency on fossil energy and engaging in sustainable practices," said Gert-Jan Goes, horticulture specialist at Fluence. "Fluence's RAPTR light fixture and Wireless Flex Dimming control panel help growers maximize their return on investment while increasing control over light intensity while increasing control over light intensity and dimming up and down creates maximum flexibility to profit from highly fluctuating energy markets."
Moerman Lilium, a lily cultivator, has 13 hectares of crops under full LED lighting and uses Fluence's RAPTR fixtures regulated via a Wireless Flex Dimming controller. The company—which monitors European energy prices very closely—uses Fluence solutions to react quickly and modify light intensity based on market conditions. Moerman Lilium expects to save at least 45% on electricity costs with the investment in Fluence's LED lighting solutions.
"LED lighting allows us to be more energy efficient while adjusting our electricity use based on fluctuations in energy prices," said Jan Moerman, co-owner of Moerman Lilium. "Switching to Fluence LEDs has saved us money and given us more flexibility in a constantly changing energy market."
Deliflor Chrysanten is the global market leader in breeding and propagating chrysanthemum varieties. The company was in search of a high-efficiency lighting solution featuring additional green light in the spectrum for better visibility and growth. Deliflor Chrysanten opted for Fluence's RAPTR Broad R8 spectrum in their recently renewed breeding facilities to guarantee the best circumstances for their newest varieties. The first flower trial grown under the Fluence's fixtures turned out very successful last January. Beyond Chrysant, a leading Dutch chrysanthemum cultivator, also chose Fluence's RAPTR solution for its customizability and high-visibility spectrum that create increased efficiency in its integrated crop management practices. Installing Fluence's LED technology has allowed Beyond Chrysant to gain greater control over the oscillating European energy market. The company was recently named a finalist for Stichting Tuinbouw Ondernemersprijs' "2023 Horticultural Entrepreneur Award."
Even in hybrid lighting environments, growers are seeing the benefits of using LED technology. Bernhard Kwekerijen—a rose, orchid and patio plant nursery—promotes a carbon-neutral and sustainable operation by using geothermal heat and its own photovoltaic field of solar panels to generate energy. By incorporating Fluence's RAPTR fixtures alongside legacy HPS solutions and maximizing light control with Wireless Flex Dimming, Bernhard Kwekerijen has elevated CO2-neutral cropping in its Phalaenopsis cultivation.
"Fluence's technology stands out because it affords the greatest flexibility in modifying energy consumption and light intensity according to energy market price instability," said Dennis Raadschelders, strategic account manager for commercial agriculture at Fluence. "Our Dutch floriculture growers have harnessed control over operational expenses without sacrificing product quality by emitting more light when energy prices are low, and quickly reducing light when energy prices rise."
Fluence's team of horticultural experts work closely alongside partners to design lighting programs based on operations-specific crop and sustainability goals. Ten Have Plant, one of the oldest potted plant nurseries in Westland, selected Fluence as its lighting solutions partner to achieve better crop and root development in addition to reducing costs and increasing energy efficiency. Ten Have Plant worked with Fluence's horticulture team to design a lighting plan to produce cyclamen for half the year and campanula in the other half, selecting VYPR 3p Broad R6 top lights to gain control over seasonal light conditions and electricity consumption year-round.
"Fluence LED fixtures are widely used by leading cannabis, commercial agriculture and floriculture companies across Europe, demonstrating the flexibility and universal benefit in transitioning to LED technology," said David Cohen, CEO of Fluence. "We are excited to work with Dutch floriculture growers who have deep roots in the industry and support their management of environmental conditions, sustainable operations and the highest quality crops."
For more information on Fluence, visit www.fluence.science.
About Fluence
Fluence Bioengineering, Inc. (Fluence) creates powerful and energy-efficient LED lighting solutions for commercial crop production and research applications. Fluence is a leading LED lighting supplier in the global cannabis market and is committed to enabling more efficient crop production with the world's top vertical farms and greenhouse produce growers. Fluence global headquarters are in Austin, Texas, with its EMEA headquarters in Rotterdam, Netherlands. Fluence operates as a business unit within Signify's Digital Solutions division. For more information about Fluence, visit www.fluence.science.
Featured Product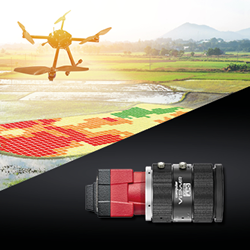 Allied Vision's compact and light weight Alvium SWIR (short wave infrared) cameras are the ideal choice to build cost-effective OEM systems used in embedded and machine vision applications. The cameras support a spectral range from 400 nm to 1700 nm at high quantum efficiencies. This allows to capture images in both the visible and SWIR spectra with a single camera and enables users to reduce overall system costs! Equipped with Sony's IMX990 and IMX991 SenSWIR InGaAs sensors, Alvium SWIR cameras deliver high image quality and frame rates. This makes them well suited for drones or handheld devices used in various industries such as, agriculture, mining, solar cell inspection or medical.