Separation will advance transformation of Kalera into a pure-play U.S. vertical farming company positioned for long-term growth and shareholder value creation; Reinforces Kalera's commitment to reduce cash burn and accelerate time to become a cash flow positive company in the U.S.
Kalera Public Limited Company ("Kalera" or the "Company") (Nasdaq: KAL), a vertical farming company headquartered in Orlando, Florida, announced today that in the course of the court-supervised process in Germany over Kalera GmbH, the Kalera International business has been acquired by Growy Holdings BV ("Growy"), a Netherlands based indoor farming company. The sale includes the headquarters in Germany, the farm in Kuwait and the farm under construction in Singapore. Kalera had announced on October 18, 2022, of its intention to divest its international business.

This marks a significant milestone in Kalera's reorganization, allowing Kalera's management to focus all efforts and capital to become one of the leading vertical farming companies in the United States. With a proprietary brand that continues to gain traction and market share across retail and foodservices customers across the states where Kalera operates, the uncoupling of the international businesses held by Kalera GmbH will accelerate long-term growth in attractive consumer segments with its loose-leaf, and whole-head products.
The transaction allows Kalera to maintain a clear focus on its core markets, creating value for customers, shareholders, other stakeholders, and associates.
"Completing the separation of the international assets allows us to focus all efforts to become a pure-play vertical farming company in the United States and concentrate our investments into existing farms and growing customer segments, where we see strong growth potential," said Jim Leighton, President and Chief Executive Officer of Kalera. "We look forward to continuing increasing capacity utilization at our Houston and Denver farms enabling consistent quality and quantity to our customers to drive profitable growth and deliver long-term value to our shareholders. We are pleased that our international business was acquired by an international company that shares our passion for vertical farming and the role it serves in our ever-changing world. We are also pleased that the acquiring company will employ a number of highly passionate people working in Germany, Kuwait and Singapore."
Through a pre-existing licensing agreement, Kalera retains an irrevocable, perpetual, and sublicensable right and license to Kalera GmbH's intellectual property, excluding the &ever®, Dryponics®, and HappyNest® trademarks owned by &ever GmbH prior to its acquisition by Kalera group.
Kalera expects to classify the international business as discontinued operations for the current and historical periods in Kalera's consolidated financial statements. The net proceeds, which were received by the court-appointed administrator, will be applied by the administrator to partially repay Kalera's outstanding Secured Convertible Bridge Promissory Note, as well as towards covering the costs of the court-supervised process and Kalera
GmbH's other existing liabilities.
In an additional effort to accelerate bringing Kalera to cash flow positive, the Company continues the process of divesting Vindara, its seed genetics business and expects to close prior to the end of Q1 2023.
About Kalera
As a leader in controlled environment agriculture, Kalera is driven by our belief that vertical farming can play an important role in securing access to fresh produce for a growing world population facing climate change and concerns about the future of traditional farming. Through our proprietary technology, we sustainably grow local, delicious, nutrient-rich, pesticide-free, non-GMO leafy greens year-round. Our automated, data-driven, hydroponic vertical farms produce higher yields and, use approximately 95% less water, and 99% less land than traditional farming. Sold under the Kalera brand, our leafy greens are "better than organic" and priced competitively, always with the end consumer in mind. Kalera is headquartered in Orlando, Florida with operating farms in Houston, Texas; and Denver, Colorado, with additional farms under construction or configuration updates in the States of Florida, Georgia, Minnesota, and Washington. More information is available at www.kalera.com.
Featured Product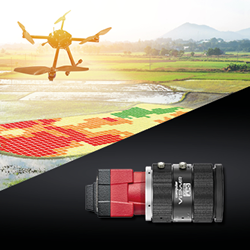 Allied Vision's compact and light weight Alvium SWIR (short wave infrared) cameras are the ideal choice to build cost-effective OEM systems used in embedded and machine vision applications. The cameras support a spectral range from 400 nm to 1700 nm at high quantum efficiencies. This allows to capture images in both the visible and SWIR spectra with a single camera and enables users to reduce overall system costs! Equipped with Sony's IMX990 and IMX991 SenSWIR InGaAs sensors, Alvium SWIR cameras deliver high image quality and frame rates. This makes them well suited for drones or handheld devices used in various industries such as, agriculture, mining, solar cell inspection or medical.