Creating a more seamless experience for ag retail and farmer users
Intelinair announced the addition of several new features to its AGMRI® flagship platform for 2023. These features will help Intelinair continue to deliver enhanced crop health imagery and analytics that more efficiently manage farmer and ag retailer businesses all season long.

"We're excited to roll out new features in the next several months in advance of the 2023 growing season," said Kevin Krieg, Director of Business Development for Intelinair. "These features are based on feedback from AGMRI customers, field scouts and advisors on how we could improve our platform. As we launch and use the new features in 2023, we look forward to learning more and continuing to elevate the AGMRI user experience."
Building on the platform, four categories of new product features for the 2023 growing season for the iOS and web app are planned:
Personalization - Organize and personalize information to quickly drill down to the details the user needs.
Configurable dashboard - Arranges the AGMRI homepage widgets to allow users to prioritize what matters most in an easy-to-use format.
Customized alerts - Users can snooze specific alerts or update them based on size or timing, which can be useful for alerts around weeds, replant and low emergence.
Advanced filter - Allows users to filter by users' needs, including precipitation, growth stage, crop type and more.
iPhone Updates - Puts information in the hands of the user, creating a more seamless experience.
Two-minute field scroll - Only have a few minutes? Quickly browse fields in a thumbnail view and swipe left or right to change the field layer.
Field card and grower card - Efficiently get scouting trips, alerts or details for individual fields or growers with this new feature.
Scouting Management - Manage scouting programs more effectively with the new management features.
Offline scouting - Leverage the scouting capabilities of AGMRI - even in an area with limited or no internet connectivity.
Assign fields - Efficiently deploy field scouts for assigned activities by specific field through the app.
Track and review reports - Allows for the user to track and review field activities and reports.
Weather Widget Overview - Review field conditions for potential action plans.
Weather conditions - See past, current and future weather conditions at field and regional levels.
Soil moisture - Displays a range of precipitation amounts over a given time period.
Infield application insights - Pinpoint areas to take action.
"We believe these new features will continue to help farmers and ag retailers efficiently make management decisions all season long," Krieg adds. "We're looking at saving time and helping everyone prioritize what matters most, which in the end impacts productivity across the board."
To learn more or schedule a demo of AGMRI, go to agmri.com.
About Intelinair
Intelinair elevates agronomic management decisions by providing insights all season long to farmers and ag retailers through its easy-to-use interactive platform AGMRI. High resolution aerial imagery from fixed wing airplane, satellite, or drones provides whole field views increasing efficiency by prioritizing fields and offering assurance that fields are monitored and reviewed for timely decision making and identifying sustainability opportunities. Intelinair analyzes millions of acres in the U.S. and several other countries from its headquarters in Indianapolis, Indiana. Take action through informed management decisions at agmri.com.
®Trademark of IntelinAir, Inc.
Featured Product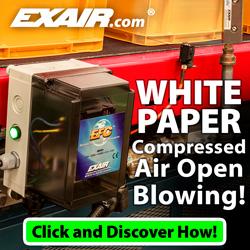 Compressed air is a limited resource that is generated in-house for the benefit of many operations within the manufacturing environment. Learn how to ensure all point of use applications are using your compressed air in the most effective and efficient way possible. Learn how much it costs to produce that compressed air and how Engineered Nozzles can help you use your air more effectively and efficiently.