-Greenlabs, an Agtech company selected as this year's WEF Global Innovator, will be delivering a speech at the Davos Forum on resolving food crisis through digital solutions. -The company plans to share its experiences with digital transformation for sustainable agriculture with leaders from around the world and discuss its global expansion plans.
Greenlabs will present strategies to address the food crisis, which will involve digital transformation of agriculture with data, in front of global leaders. The CEO of Greenlabs, Mr. Sang-hoon Shin, will participate in the Davos Forum in Switzerland (World Economic Forum Annual Meeting, WEF), which is a five-day event starting on the 16th.

On 19th, WEF has a scheduled session on " Feeding 10 Billion: How Will We Eat in 2050?" during which CEO Shin will be giving a speech on behalf of Greenlabs regarding the need for developing comprehensive and effective online solutions for all members of the agricultural community as the means to resolve the global food crisis. The aim of the event is to present ways to establish a sustainable food supply chain by forecasting supply and demand for agro-food products, maximizing resource efficiency and standardizing the agro-food system.
Additionally, Greenlabs will be having bilateral meetings with numerous officials from global agricultural companies, governments, and international organizations. The company will share information about its global platform services that involve farmers worldwide, and also talk about plans to expand services through collaborations with different organizations globally.
According to the CEO of Greenlabs, Mr. Sang-hoon Shin, he plans to "Promote ways to stabilize and establish the agri-food value chain by creating a global community through a digital platform." He also mentioned that "Greenlabs will play a significant role as a global innovator, acknowledged for its technology and ability to address the food crisis on the international stage."
The theme of this year's Davos Forum is 'Cooperation in a Fragmented World' with a special emphasis on energy and food issues. In the 'new era', raising awareness about ways to tackle energy and quantity shortages caused by various simultaneous crises such as climate change, COVID-19, and war in Ukraine, will be a major focus of discussion during the event.
About Greenlabs
With its vision of innovating humanity's food starting with agriculture, Greenlabs is taking the lead in digitalizing the agriculture and food industry for sustainable human life. It has transformed agricultural production and distribution and intends to convert all value chains from finance to trade so as to make them sustainable. Meanwhile, it is creating carbon-neutral solutions in the agrifood field so that it makes a better tomorrow for the world.
It has attracted investment about a cumulative total of 240 billion won in recognition of its success in digitalizing agriculture and its overwhelming potential in the market. The business operates the total agriculture data platform "Farm Morning," which has more than 900,000 members or over half of Korean farming households, and a platform for food material buyers called "Sinsunhi," which has over 30,000 members.
Featured Product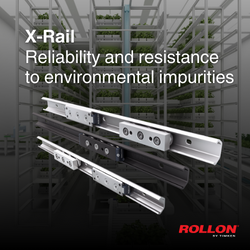 Rollon's X-Rail linear rails are a reliable solution in environments susceptible to impurities. Equipped with rolling elements with shaped and flat raceways, they are available in several versions: galvanized, nitrided or stainless-steel sheet metal. The latter version ensures total corrosion resistance, which is critical for hostile environments such as those found in vertical farming. Particularly innovative is the T + U configuration of the X-Rail linear rails, which can compensate for the parallelism errors of mounting surfaces. This simplifies installation and reduces costs.