The platform will officially launch January 9th, after two years of beta-testing with nearly 5,000 users from over 100 countries.
Agritecture is announcing the upcoming launch of Agritecture Designer, a first-of-its-kind online platform focused on controlled environment agriculture (CEA). Agritecture Designer is a data-driven solution to the economic uncertainty of the CEA industry and offers a new way for those looking to enter or learn more about the sector to do so via educational lessons, farm modeling tools, and support with equipment selection and financing.

The platform will officially launch January 9th, after two years of beta-testing with nearly 5,000 users from over 100 countries.
"Agritecture has proven its ability to blend technology with advisory services to accelerate project timelines and minimize risk," says Henry Gordon-Smith, Agritecture's Founder & CEO. "We are grateful to our strategic partners and investors, including Priva and seasoned tech investor Esther Dyson, as their support gives us the ability to grow and continue innovating faster."
Agritecture's digital solution and follow-on services are especially pertinent for today's economic environment, in which there have been consecutive months of indoor farm layoffs and shutdowns. "Unfortunately, our current economic reality has exposed the shortcomings of many growers and investors - mainly, an overreliance on hype and unrealistic growth scenarios," adds Gordon-Smith. "But with proper planning led by experts, controlled environment agriculture can still generate strong returns, both financially and environmentally."
As an example, of the farms modeled during Agritecture Designer's beta phase, 40% did not demonstrate a positive financial return. But as users worked with the Agritecture team to research and refine their models, many were able to find a viable path forward. Of those that did model a positive-ROI scenario, the average payback period was 4.6 years.
"We believe that the platform will simplify the first steps for entrepreneurs, with knowledge and expertise from the largest consulting firm in the market," says Max Chizhov, Co-Founder of iFarm - one of several equipment suppliers that has joined the Agritecture Partner Network. "Each vertical farm can and should be profitable. Agritecture Designer will help to find reliable solutions."
The primary features of Agritecture Designer include the following:
Knowledge Hub - includes multiple hours of educational video lessons taught by the Agritecture team and some of its partners on commercial urban farming best practices
Farm Modeling Tool - this tool allows users to create a comprehensive financial projection in seconds, which can then be continuously refined and exported to Excel.
Crop Pricing Tool - this tool calculates an appropriate sales price for the user's selected crop based on market research they enter, including information on product price, quality, labels, and sales channel.
Agritecture Partner Network - this network is composed of 16 equipment providers and 4 financing providers, all vetted by Agritecture. Users are offered exclusive discounts found only through the platform, as well as assistance with outreach and quote analysis.
Agritecture Designer will be available starting January 9, with paid plans beginning at $29/month. For more information on Agritecture Designer, visit design.agritecture.com.
About Agritecture
Agritecture is an advisory services and technology firm focused on climate-smart agriculture, particularly urban and controlled environment agriculture. Our mission is to accelerate the transition to smarter and more resilient agriculture.
Since 2014, Agritecture has worked with 200+ advisory clients and nearly 5,000 software users in more than 100 countries to assist with the strategy, research, design, and financial modeling of urban farms. Our services are backed by a data-driven methodology and a team of interdisciplinary experts.
Featured Product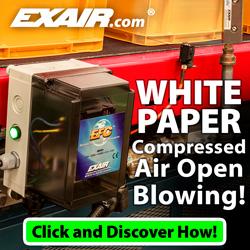 Compressed air is a limited resource that is generated in-house for the benefit of many operations within the manufacturing environment. Learn how to ensure all point of use applications are using your compressed air in the most effective and efficient way possible. Learn how much it costs to produce that compressed air and how Engineered Nozzles can help you use your air more effectively and efficiently.