Facility marks the first of 10 farms the company plans to build as part of its five-year roadmap
Crop One Holdings, an industry leader in technology-driven indoor vertical farming, today announced its second U.S. farm, located in Hazle Township, Pennsylvania. The strategic location allows Crop One to reach up to 50 million consumers within a 200-mile radius across the tristate and Mid-Atlantic areas, including customers in New York City, Philadelphia, and Baltimore. The news comes as the company continues to see strong growth, following its announcement earlier this year about the opening of the world's largest hydroponic vertical farm in Dubai, with an output of three tons per day.

The new facility, located at 405 Stony Creek Road in Hazle Township, will occupy more than 316,000 square feet and will produce 7 tons of produce per day once fully operational in 2024. The farm will create approximately 40 jobs for the local community, including both managerial and farm production roles.
"For more than half a decade, Crop One has perfected its growing operations, delivering local, safe and sustainable produce to consumers in the Northeast U.S. and Middle East. With this expansion into Pennsylvania, we're able to reach a new audience as we scale our business and execute on our ambitious five-year growth plan," said Craig Ratajczyk, CEO at Crop One. "This new farm will enable us to meet growing retailer demand, while simultaneously introducing new consumers across the tristate area to the benefits of hydroponically grown produce."
The commercial-scale farm will primarily grow romaine lettuce and spring mix, serving retailers, food service providers and other partners located within close proximity to the facility, ensuring produce is packaged and on store shelves within 24 hours.
"Controlled agriculture systems like Crop One help to diversify Pennsylvania's $132.5 billion ag industry," Pennsylvania Agriculture Secretary Russell Redding said. "These new job opportunities feed our economy and bring people with different abilities and skills to the table, putting climate-smart technology to work to feed consumer demand for fresh, local produce."
A long-term lease for the space has been negotiated with PNK group. Savills U.S represented Crop One in the transaction. Crop One is also working closely with CAN DO, a leading economic developer in Northeastern Pennsylvania, on facilitating relationships with local businesses and organizations.
"PNK group is thrilled to help Crop One kick off its U.S. expansion with the provision of a more than 316,000-square-foot, high-quality, fully insulated by design, industrial warehouse project," said Mark Stiles, U.S. Partner for PNK group. "The building boasts forty-foot high clear ceilings to allow for an increased volume of production on a smaller footprint and better economy of scale. We wish Crop One continued success as they institute sustainable, environmentally friendly vertical farms around the U.S., create jobs, and expand the economy of the region."
"CAN DO is proud to add Crop One to the wide array of industries located within Humboldt Industrial Park. Given the state-of-the-art technology that will be integrated into the facility as well as the 40 family-sustaining jobs that will be created, this project will provide an immediate impact to our community," said Joseph Lettiere, CAN DO President and CEO. "And, since Crop One will be developing a sustainable food source within a controlled environment, CAN DO will also be welcoming what can be considered the next generation of farming to Greater Hazleton."
Crop One currently operates a farm at its headquarters in Millis, Mass., which has been in continuous commercial operation since 2015, longer than any other vertical farmer. Learn more about Crop One here. https://cropone.ag/
About Crop One
Headquartered outside of Boston, Mass., Crop One is a technology-driven indoor vertical farming company on a mission to cultivate a sustainable future to meet global demand for fresh, local, and safe food. Through its Plants-First™ approach and industry-leading technology platform, Crop One grows fresh, delicious leafy greens using 95% less water than field-grown produce. Because the growth of crops takes place in entirely sealed and controlled environments, growing and harvesting can happen 365 days a year, regardless of the season. Crop One sells its fresh, local produce under the FreshBox Farms brand, available at a variety of retailers across southern New England, and brings its technology and infrastructure to ECO 1, the world's largest vertical farm, located in Dubai, UAE.
Featured Product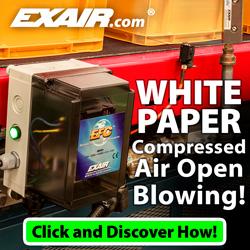 Compressed air is a limited resource that is generated in-house for the benefit of many operations within the manufacturing environment. Learn how to ensure all point of use applications are using your compressed air in the most effective and efficient way possible. Learn how much it costs to produce that compressed air and how Engineered Nozzles can help you use your air more effectively and efficiently.