KETOS SHIELD will be used across Kalera's vertical farming operations to help ensure the health and yield of crops
San Francisco, November 16, 2022 - KETOS, Inc., a water intelligence innovator, announced today that Kalera®, one of the leading hydroponic indoor vertical farming companies, is now using KETOS to autonomously monitor water quality in real-time across all of its vertical farming locations. The KETOS SHIELD solution will provide Kalera with lab-accurate water quality data to support crop yield, managing nutrient concentration while being efficient with water reuse.

As an enhancement to Kalera's existing rigorous water quality testing processes, KETOS will automate water sampling and testing, offering actionable real-time data across Kalera's network of farms. In addition, Kalera will be able to dial in nutrient solutions so that high-quality, nutritious greens and culinary herbs are consistently produced across all of its farms.
KETOS will also enable Kalera to reuse its water more effectively and efficiently, further improving its already impressive water reduction standards.
"Kalera has always conducted robust testing, including regular water sampling and lab tests with a committed focus on water quality because of its direct impact on produce yields, taste, quality and consistency," said Dr. Cristian Toma, Co-Founder and Chief Science Officer of Kalera. "Previously, water sampling and testing were performed manually, limiting the number of tests and the amount of data we could analyze daily or act on based on insights at our fingertips. KETOS will offer us greater breadth and depth, helping us manage this effort with larger efficiency across our network of farms."
Offering interoperability benefits, KETOS can be integrated with Kalera's proprietary HyCubeOS farm operating system to centralize data and maximize operational efficiency.
"We are pleased to work with Kalera, as they are one of the innovative leaders in the vertical farming industry," said Meena Sankaran, CEO & Founder of KETOS. "When it comes to practicing effective vertical farming, it's integral that growers ensure plants receive the right balance of nutrients. Rather than relying on manual testing and delayed data, Kalera now has access to lab-accurate water quality results in real-time, which will help its brilliant operators conserve water, be efficient with their time while producing healthier and more nutritious plants at a lower cost."
As a leader in controlled environment agriculture, Kalera is driven by the belief that vertical farming can play an important role in securing access to fresh produce for a growing world population facing climate change and concerns about the future of traditional farming. Through proprietary technology, Kalera sustainably grows local, delicious, nutrient-rich, pesticide-free, non-GMO leafy greens year-round. The company's automated, data-driven, hydroponic vertical farms produce higher yields and use 95% less water, and 99% less land than traditional farming.
Kalera is headquartered in Orlando, Florida with farms in Orlando; Atlanta, Georgia; Houston, Texas; Denver, Colorado; and Kuwait, with additional farms under development.
About KETOS
KETOS delivers smarter, safer, and more sustainable water solutions to change the way the world thinks about water. This is done through a comprehensive offering of industrial-grade patented hardware, an IoT communication framework, and a robust software platform to address global water management issues. Real-time monitoring and understanding of water, both quantitatively and qualitatively, helps address both water efficiency (leak-detection & usage) and water quality (safety), ultimately increasing water availability. With the power of actionable and predictive water intelligence on a global scale, KETOS seeks to solve a number of the world's water challenges with the goal of preserving this quintessential resource for generations to come. Learn more at www.ketos.co.
Featured Product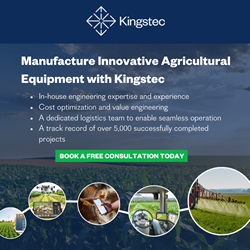 In the rapidly evolving agricultural landscape, leading AgriTech companies are increasingly leveraging the experience and expertise of strategic engineering and manufacturing partners to bring cutting-edge, cost-effective solutions to market. Kingstec is an all-in-one engineering, manufacturing, and logistics partner, with over 40 years of experience and 5,000 successfully completed projects. We can help you bring innovative, cost-optimized farm equipment, sensors, drones, components, and more to market quickly with in-house engineering and manufacturing expertise, a dedicated logistics team, and a network of world-class manufacturing and supply chain partners.