Keynote speaker Elizabeth Fastiggi of AWS discusses global trends
The digitisation of agriculture is enabling changes that are making the agrifood value chain more predictive and less reactive, Elizabeth Fastiggi of Amazon Web Services (AWS) has said at Agri-TechE's REAP conference on 8 November 2022. She highlights the complexity of the challenge - even a handful of soil is data rich - but also how a global trend of connecting low-cost sensors to the cloud to access real-time analysis is becoming a real game changer for decision support.

This year's geo-political influences, extreme weather events and uncertainties over payments have made technologies that can help 'make sense of agriculture' crucial to farmers trying to increase productivity and profitability. Advanced sensors and tools for modelling, forecasting and scenario planning - including digital twins - are all topics of discussion at the REAP conference.
"Now is the time for agrifood to take a lead in finding the solutions, and it is exciting," she says, citing recent developments in AI and machine learning, along with platform technologies capable of ingesting and aggregating data in diverse formats, as coming of age. "At AWS, we are working across the value chain and we are seeing closer collaborations that will enable sharing of best practices and transparency up and downstream."
The REAP conference attracts non-traditional players to agriculture, bringing fresh ideas from different fields - and the rate of adoption of innovation is increasing. Dr Belinda Clarke is Director of Agri-TechE, the membership organisation that is facilitating a globally recognised agri-tech innovation ecosystem, and she says that the agrifood industry has an innovation mindset.
"The need for increasing productivity - to do more, with fewer inputs and less environmental impacts - is now widely accepted and this has opened a window to the possibility of alternative futures," Dr Clarke says.
"In the Technology Exhibition, we have examples of machine vision and robotics being used in the field for precise delivery of inputs or per plant treatments, automated with a high degree of accuracy. These developments have been made possible by close collaboration with farmers. In the Start-Up Showcase we have novel solutions from electronics, engineering and microbiology for tackling universal challenges. Judging by previous REAPs, we know many will attract significant finance."
Investment in early-stage agri-tech is at an all-time high. Fourteen of the companies featured in the Start-Up Showcase at previous REAP conferences have collectively gone on to raise £92M.
John Barrett, of Sentry, is chair of the Agri-TechE Stakeholder committee and a farmer himself. He says the REAP conference is the best place to engage in discussions of how technologies are performing in the field and to gain an overview of the emerging agriscience.
"A big picture view of the technology trends provided by Amazon Web Services gives an indication of where things are going, but ensuring farmers and growers have a strong presence at REAP on the Farmer Insights Panel means we keep a grounded view on how to generate 'actionable insights' from sensors and data. The wider discussion is invaluable for future-proofing investments."
The REAP 2022 Start-Up Showcase features:
• ALVÁTECH - A solar powered on-farm water treatment device that reduces salinity by 50% while improving soil health.
• Antler Bio - A tool for livestock breeders and farmers that analyses the gap between genetic potential and actual performance of dairy cows, tripling the amount of produce while reducing methane production.
• SugaROx - A novel biostimulant that protects wheat yields by 40% after drought.
• FLOURISH - An alternative to antibiotics that makes 'bad bacteria' self-destruct and that is applicable to many diseases - it can reduce tomato canker by 99% and double the yield.
• Tremap - The first global platform for tree recording for land managers that engages citizen scientists to ground-truth satellite imagery.
• WASWARE - A seed protection that increases germination, repels pests, enhances growth and leaves no chemical residues.
• Deep Planet - AI to help vineyard growers improve decision-making with a two-week prediction window.
About REAP (reapconference.co.uk)
REAP 2022: 'Making Sense of Agriculture' - Tuesday 8th November 2022
From yield mapping and precision livestock through to digital twins and cloud computing, at REAP 2022 we will be exploring the technology and looking at the implications from a field to landscape level. Making technology farm-centric is core to Agri-TechE's mission so a key feature of the conference will be a panel of farmers and producers discussing the emerging technologies and future scenarios.
About Agri-TechE (agri-tech-e.co.uk)
Agri-TechE is a business focused membership organisation that supports the growth of a world-leading network of innovative farmers, producers, scientists, technologists, and entrepreneurs who share a vision of increasing the productivity, profitability, and sustainability of agriculture.
Featured Product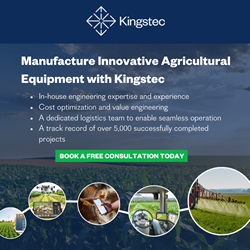 In the rapidly evolving agricultural landscape, leading AgriTech companies are increasingly leveraging the experience and expertise of strategic engineering and manufacturing partners to bring cutting-edge, cost-effective solutions to market. Kingstec is an all-in-one engineering, manufacturing, and logistics partner, with over 40 years of experience and 5,000 successfully completed projects. We can help you bring innovative, cost-optimized farm equipment, sensors, drones, components, and more to market quickly with in-house engineering and manufacturing expertise, a dedicated logistics team, and a network of world-class manufacturing and supply chain partners.