AppHarvest Foundation brings big business opportunities to the classroom
CLEVELAND, November 8, 2022—United in the belief that future generations need solutions like controlled environment agriculture (CEA) to help feed the world, Current has donated $10,000 to the AppHarvest Foundation to support the AgTech Education Program. The program introduces high school students to CEA opportunities that grow tomorrow's farmers and futurists by teaching entrepreneurship and high-tech indoor agriculture.

"This program brings cutting-edge agricultural practices into Central Appalachia classrooms, providing students a head start into one of the fastest-growing industries," said Bruno D'Amico, Director for Current's Arize® brand of horticulture lighting solutions." As a manufacturer that studies the science of grow lighting, we are proud to accelerate technology's role in elevating CEA to new heights, starting with the people who will cultivate tomorrow's bigger, better crops."
Where fresh food is scarce, negative health outcomes can result. To tackle these issues, a direct approach to preparing upcoming generations with tools to address the need is paramount. The AppHarvest Foundation aims to introduce STEM themes in a hands-on environment and address food insecurity across Appalachia by providing educational opportunities for Kentucky students.
Through the AgTech education program, schools and partners in Central Appalachia are paired with training and set up with a high-tech hydroponic environment to provide the infrastructure to grow fresh food, in place, and for the community. AppHarvest also uses Current's LED grow lights to benefit its own indoor farms that can yield up to 30 times that of traditional agriculture on the same amount of land.
"The AppHarvest Foundation and partners like Current are feeding the future from the heart of Appalachia through innovative, community-led initiatives like the AgTech Education Program," said AppHarvest Foundation Director and AppHarvest Vice President of Community Outreach Amy Samples. "Through this program, student farmers grow food and apply skills they are learning in these farm classrooms to sustainably grow fruits and vegetables in a way that is good for people and the planet."
With its Arize® brand of horticulture lighting and controls options, Current is challenging growers to rise above old limits to commercial-scale indoor farming and embrace never-before-possible methods for increased yields. Donating to the AppHarvest Foundation is one way Current can help ensure that enthusiasm for CEA development matches the growing demand ahead.
See all the ways we support food cultivation as an avenue to ending hunger at gecurrent.com/brands/arize. To directly support bringing cutting-edge agricultural technologies into Kentucky classrooms, visit AppHarvestFoundation.org.
###
About Current
At Current, we are Always On and working to improve lives with the industry's most expansive portfolio of sustainable advanced lighting and intelligent controls that reliably meet our customers' needs. Learn more at gecurrent.com.
About AppHarvest Foundation
The AppHarvest Foundation, a charitable fund supported by AppHarvest, is committed to growing the next generation of Farmers + Futurists by providing hands-on Ag Tech educational opportunities teaching entrepreneurship and controlled environment agriculture through a STEM-based curriculum. The program inspires youth and adults to learn more about opportunities in one of the fastest growing industries by introducing AgTech education to them. For more information, visit www.appharvestfoundation.org.
Featured Product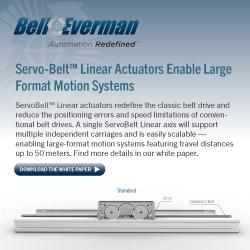 Manufacturing and packaging operations that still depend on manual material or parts handling operations can reap immediate benefits from a type of automation based on long-travel Cartesian robots with custom end-of-arm tooling (EOAT) and advanced sensing capabilities. These robots can support a variety of machines - performing otherwise manual tasks such as machine tending or transferring in-process parts - making long-travel Cartesian transfer robots a major upgrade to processes and operations. Download the White Paper from Bell-Everman