The tech company will be showcasing its latest products and partnerships at the landmark event, November 9-13, 2022, in Bologna, Italy
xFarm Technologies (https://xfarm.ag/), a tech company helping the agri-food sector to go digital, is ready for the 45th edition of the International Exhibition of Agricultural Machinery, taking place Nov. 9-13 in Bologna, Italy. EIMA International is one of the leading events in agricultural mechanics, where international exhibitors display their state-of-the-art technologies and innovations.

xFarm Technologies will showcase its latest product updates and partnerships and meet with industry professionals, media and visitors to create new synergies. The tech company will be in Hall 37, stand B/37.
During the exhibition, xFarm Technologies will introduce the latest smart farming opportunities for interconnected equipment. The latest updates to its app enable even more accurate and comprehensive machinery and equipment data management. The platform offers farmers task dispatch to machinery, automatic logging of activities performed by equipment, and predictive maintenance. Its interface provides a unified view of all the most important machinery, regardless of brand. It allows farmers to see what is happening on the farm, even in the case of large fleets. It also enhances the telemetry visualization of all vehicles.
xFarm Technologies offers a single platform to manage multi-brand fleets directly from its app. It aims to promote the interconnection of agricultural ecosystems and address technology fragmentation. To this end, xFarm Technologies has involved over 50 partners. Some of them will showcase new solutions during EIMA International.
The exhibition will also provide an opportunity to raise sustainability awareness among participating supply chain operators. Agricultural equipment is a major data source on any farm, and its interconnection is an opportunity for the entire supply chain. Farms can make smart use of decision support systems (DSS) to rationalize the use of inputs. Stockists, cooperatives, and producer organizations (POs) keep track of production trends. Agribusinesses can have a unified view of the environmental indicators of all providers. All this allows stakeholders to communicate sustainability to consumers innovatively and analytically. That is why interconnected equipment in a broader ecosystem is not only necessary for visualizing performance and telemetry data but also enables a broader supply chain pathway that can benefit all stakeholders.
The company will also unveil new features related to agronomic management. xFarm is the first platform integrating smart irrigation systems for remote management of irrigation systems; during EIMA International, xFarm Technologies will also showcase the Insect Module, which, thanks to a machine learning algorithm, allows remote monitoring of insect catch trends, providing predictions about their population development. Thanks to these tools, farmers can know easily and in real-time when is the best time to act in the field, optimizing irrigation and treatments.
The exhibition will also provide an opportunity to meet other farmers and professionals attending EIMA International: xFarm Technologies is now organizing the xFarm Meetup events for its community, which today numbers more than 120,000 farms.
"This edition of EIMA International provides a major showcase for us. There is more and more interconnectivity in agriculture and data is the glue of the digital ecosystem that is developing. We will introduce the projects we are working on together with our partners, share the latest technology for sustainable agriculture that we have implemented, and host events to share impactful stories driving agriculture towards efficiency and sustainability" said Matteo Vanotti, CEO of xFarm Technologies.
xFarm Technologies will showcase its updates and partnerships during the exhibition so visitors can learn about the latest news and advantages of Agriculture 4.0.
xFarm Technologies
xFarm Technologies is a tech company helping the agri-food sector to go digital, providing innovative tools that support farmers and stakeholders in managing their businesses. As of today, xFarm Technologies supports the work of 120,000 farms belonging to over 30 agri-food supply chains and covering 1.7 million hectares in more than 100 countries around the world.
Featured Product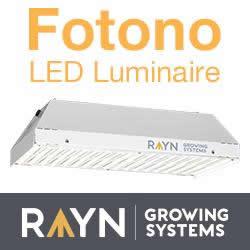 Fotono is a full spectrum LED horticultural luminaire designed to directly replace HPS lights in greenhouses. At 12 pounds, 20 inches long, and 5 inches high, Fotono's compact size makes installation simple while minimizing structural burden on greenhouses. This compact fixture packs energy-saving and yield-improving features, such as a high output, stepless dimming, advanced spectral capabilities, and more.