After years of R&D, a breakthrough in aeroponic irrigation is unveiled, along with an extensive whitepaper covering aeroponic benefits and new opportunities for the CEA sector.
Baltic Freya introduces proprietary Solid-State Aeroponic irrigation technology, which delivers nutrient aerosol without pressure pumps and small-orifice nozzles. The smart aerosol generators eliminate maintenance and offer previously-unseen productivity and crop manipulation capabilities. Offering next-gen features such as self-cleaning, nozzle-level interval control, and droplet diameter adjustment, Baltic Freya helps growers retrofit their existing systems. Baltic Freya also continues to focus on growing its complete systems development for greenhouses and indoor farms.

"After years of stealthy R&D, we are very excited to introduce our technological breakthroughs. In our own aeroponic research, we have been able to outperform deep-water culture hydroponics by up to 54% in terms of yield - while using 2-3 times less water and fertilizer, and 30% less energy. We can finally offer system retrofitting - and have very exciting products coming soon, including an organic aeroponic cannabis cultivation platform as well as greenhouse A-Frames", said Vilmantas Rastutis, Chief Technology Officer at Baltic Freya. Forthcoming greenhouse systems are expected to hold up to 50 lettuce heads per 1m2 and contain moving aeroponic units.
Aeroponics science
Baltic Freya, together with KAPPA AgTech (Virginia, US) and AgriTech Consultants (London, UK), unveil an extensive whitepaper in support of aeroponic cultivation and new technology introduction.
Aeroponics is the most effective irrigation method, offering 10-50% yield gains with 2-3 times less water and fertilizer when compared to incumbent hydroponic techniques. Despite the benefits, adoption of aeroponics has been slow due to underlying problems of available technologies. Baltic Freya's next-generation aeroponic technology eliminates the key barriers of adoption and enables significant productivity gains in the CEA sector, while significantly reducing water and fertilizer use.
"The CEA sector, including indoor farms and greenhouses, is under growing pressure to increase productivity while conserving resources. The precipitous reduction in the cost of aeroponics enabled by Baltic Freya e-Nozzles, and other solid-state aeroponics equipment have finally made aeroponics the most attractive choice for commercial scale operations. Where aeroponics had previously outpaced competitors in quality and speed, they can now also compete aggressively on price and OPEX with legacy hydroponics operations", said Schuyler Milton, CEO at KAPPA AgTech and whitepaper co-author. KAPPA AgTech develops new products for the CEA sector - their most recent innovation is silicone substrate, which increases productivity in CEA operations by eliminating waste and labor. Moreover, this Solid-State Substrate enables USDA-Organic certification and increases produce downstream marketability.
The whitepaper is the most extensive summary of the biological, technological and operational aspects of aeroponics in recent years. The co-authors invite the readers to consider aeroponics as the new default irrigation choice for new CEA projects and retrofits/upgrades of legacy operations.
"Aeroponics: The Next Generation" is now available HERE (https://whitepaper.balticfreya.com)
About Baltic Freya
Baltic Freya is an agtech developer focusing on aeroponic precision irrigation technologies. The company has developed highly scalable aerosol generators, enabling increased productivity and reduced resource use for the Controlled Environment Agriculture sector.
Learn more at www.balticfreya.com
Featured Product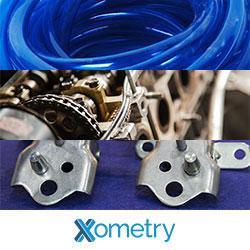 Xometry is your source for custom parts. Now, in addition to getting instant quotes on 3D Printing, CNC Machining, Sheet Metal, and Injection Molding, customers can create and send RFQs for die casting, stamping, and extrusion work to our nationwide network of pre-vetted manufacturers with just a 2D drawing. You will receive and be able to review responses from qualified shops within 7 days on an advanced web-based RFQ management platform. To learn more go directly to our site to issue and RFQ today. Stop wasting time managing RFQs through email and by phone, and start issuing RFQs at scale and in the cloud.