Fall Applications Can Stem the Tide, Says Chappell Grain Farmer
Imperial, Neb. (AgPR) Nov. 1, 2022 - Weather conditions in Western Nebraska and other parts of The Plains have brought a "tsunami of weed pressure" to crop producers there, agronomists say. And, they add, it's something that could get worse in the years to come given the prolific nature of resistant weeds such as Palmer amaranth.

"We've been fighting Palmer amaranth a long time, and it has been adapting faster than our ability to control it," says Ben Sauder, vice president of agronomy for Frenchman Valley Coop, (FVC) as he walks through the dryland corner of a soybean field under a center-pivot near Imperial, Nebraska. "We're going to have to really work hard in the next several years to get these weeds back under control because we've lost 20 years of weed control in just this one past year."
One (Palmer amaranth) plant, without competition, can put on 1.3 million seeds, explains Kevin Reiss, Syngenta Field Agronomist, later at the edge of a weedy cornfield near Grant. "In competition with the crop, it can still put on several hundred thousand seeds. Herbicide control (of these weeds) this year, in my 25 years of experience, is probably the worst I've ever seen it."
This kind of prolific seed setting ability, Reiss says, is what makes having the right weed control strategy so critical. "We need to change how we attack these weeds to get the most out of what we are investing in weed control."
Reiss says growers may actually be able to use less herbicide and less money per acre by attacking the weeds at a different time with a fall application and other overlapping applications. "Right now, we are losing the battle and there are a lot of acres that won't get harvested."
Jeff Wessels, FVC Research Agronomist, stands in a field showing the weed-reducing power of a fall burndown program. At right in the photo is the fall burndown portion of the field. The left portion with the denser weed population was treated only in the spring.
Jeff Wessels, research agronomist and precision ag manager at FVC, has been testing the effect of fall application on Palmer amaranth over the past several years. He's seen the benefit of fall applications. "Here's the line in this field," Wessels says, as he points down a row of corn stubble in an FVC research field. "On one side, we've only used a spring application. On the other, we've been applying some fall herbicide. As you can see, there's a high level of control on the fall application side. There are still some little seedlings, but nothing like what's on the other side."
Near Chappelle, Neb., Doug Moffatt, who grows multiple dryland grain crops, walks through a field of milo just a week away from harvest. The rows are clear of weeds for the most part, just a scant few short ones poking up few and far between. He says the fall application is key to this harvest being a cleaner one. "When we use a fall application, we don't have near the weed pressure in the spring to contend with in that first pass," he says. "It's a lot easier to kill a few weeds than a whole bunch of them, especially kochia and marestail, that are tough to get with Roundup."
"If we don't get control of this, by not even letting it germinate, or even emerge, this problem will keep compounding, it will be like a tsunami of weed pressure," says Sauder. "Now you've got millions of plants making millions of seeds, then next year, you've got billions of plants making millions of seeds; we've got to get ahead of it by not even letting these things emerge."
One silver lining, says Sauder, is the ability to tank-mix Carbon Cycle, a Platte Peak product for residue breakdown and nutrient release with the fall herbicide application. Carbon Cycle can help pay for the application by releasing nutrients, reducing skips at planting and eliminating a tillage pass.
"Research shows that, on average, every 200-bushel corn crop will produce 4.5 Tons of per acre of residue containing more than 200 pounds of nutrient value in NPK," says Sauder. "By breaking down the residue quickly with Carbon Cycle, he says, those nutrients can be made available for next year's crop. "It certainly makes the fall application trip even more valuable. You need the weed control, and you get the fertility bonus." Sauder says those wishing to arrange field scouting and a better prescription for weed control, residue management and other crop care solutions, should connect with Frenchman Valley Coop and/or visit PlattePeak.com.
Frenchman Valley Cooperative (www.fvcoop.com) is a full-service cooperative on call to serve farmers with crop inputs, precision ag services, grain storage, grain marketing, energy, feed and hardware. Frenchman Valley has been serving members for more than 100 years and now has 21 locations serving growers in southwest Nebraska, northwest Kansas, the Nebraska Panhandle, northeast Colorado and Wyoming.
Featured Product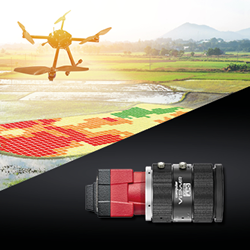 Allied Vision's compact and light weight Alvium SWIR (short wave infrared) cameras are the ideal choice to build cost-effective OEM systems used in embedded and machine vision applications. The cameras support a spectral range from 400 nm to 1700 nm at high quantum efficiencies. This allows to capture images in both the visible and SWIR spectra with a single camera and enables users to reduce overall system costs! Equipped with Sony's IMX990 and IMX991 SenSWIR InGaAs sensors, Alvium SWIR cameras deliver high image quality and frame rates. This makes them well suited for drones or handheld devices used in various industries such as, agriculture, mining, solar cell inspection or medical.