GREENFIELD INCORPORATED expands upon its existing partnership with Canidae to provide dogs and cats with chemical-free, carbon-negative, nutrient-dense ingredients from U.S. farms. Canidae plans to become the first company to utilize GreenField's upcoming Grassbot™, which may eradicate the need for glyphosate and all other herbicides in food production.
GREENFIELD INCORPORATED, the company offering Robots-as-a-Service to broad-acre farmers and delivering regenerative agriculture ingredients at scale, announced today its first consumer-packaged goods (CPG) partnership with premium pet food company Canidae™ to supply regeneratively-farmed grain sorghum harvested by GreenField's F2F© | FLEET-TO-FARM BOTony™, which uses a mechanical approach to significantly reduce the need for broadleaf herbicides in broadacre agricultural applications.

Current weed control methods in broadacre farms - which encompasses nearly 250 million acres nationwide - hinge on herbicides and tillage, which are some of the greatest roadblocks to scaling regenerative agriculture. GreenField's revolutionary BOTony™ provides a healthier alternative by leveraging robotics to eliminate weeds.
"I have personally worked with Canidae since 2015 to build a regenerative grain and legume supply chain, and we're proud to formally partner together to reduce and eventually eliminate farm chemicals from their ingredients," said Clint Brauer, GREENFIELD INCORPORATED CEO. "We look forward to collaborating with more CPG brands as we work toward completely eliminating chemicals in pet and human food."
As part of the partnership, Canidae benefits by being one of the first companies to utilize GREENFIELD INCORPORATED's upcoming Grassbot™, which is currently in development to completely eliminate the need for herbicides in no-till broadacre food production.
"From our sustainably-produced, nutritionally-dense food to our environmentally-friendly packaging, Canidae is proud to continue its 25-year-long commitment to providing America with dog and cat food that is good for both pets and the planet," said Dana Paris, Canidae's Chief Marketing Officer.
Canidae products are available nationwide in thousands of Independent Pet Specialty stores, as well as, at national pet retailers such as Petco, Petsmart, Amazon.com, and Chewy.com.
About GreenField Incorporated
GreenField | Bots, not Chems! GREENFIELD INCORPORATED uses robots to replace chemicals. Eat, Make and Grow Food without all the chems! GREENFIELD INCORPORATED provides ingredients without all the chems to manufacturers who make healthy food for families and pets. GreenField's Fleet-to-Farm delivers robots to farmers who replace chemicals and improve profits. GREENFIELD INCORPORATED helps you manage the adoption curve of regenerative agriculture. Wherever you are, and wherever you want to go, we can help.
GREENFIELD INCORPORATED is the leader in making regenerative farming work for consumers, ingredient manufacturers, and farmers at scale. GreenField's SourceSolve© matches food manufacturers with the chem-free ingredients they need for clean, nutrient-dense food. GreenField's BOTony™ | Chem-free, Carbon-Negative Regenerative Process coordinates the forthcoming suite of GreenField bots to deliver chemical-free, carbon-negative, nutrient-dense ingredients. GreenField's GreenField F2F© | FLEET-TO-FARM product is applicable to over three hundred million acres of broad-acre farming. GreenField's 6C>Chems© | MORE CARBON, LESS CHEMS not only sequesters carbon but also removes chemicals for a holistic approach to environmental management.
Food manufacturers interested in sourcing ingredients to make food without all the chems, farmers interested in robots as a service to grow food without all the chemicals, and third-party manufacturers interested in licensing GREENFIELD INCORPORATED agricultural robotics technology platform can learn more at: http://www.GREENFIELDINCORPORATED.com
About Canidae Pet Food Company
From the first truckload of food delivered to the latest batch of pet food cooked in their Pet Nutrition plant in Brownwood, Texas, Canidae's story is one to be proud of. Canidae® was founded in 1996 by two pet owners who knew they could make pet food better. Better nutrients. Better flavor. Better for our dogs and cats and better for us all. They've been committed to quality ever since. That commitment is upheld today in more than just their nutrient-rich, premium pet food. It inspires everything they do, from the land they harvest and the farmers they work with, to the people they employ and the local pet food stores they partner with. All of Canidae's products are vet-reviewed high-quality and perfectly balanced for optimal health at an affordable price point with no fillers, artificial flavors or artificial preservatives. Canidae is partnering with US farmers and green technology companies to bring new, sustainable practices to pet food including lowering pesticide use, reducing runoff and adopting regenerative farming practices.
For more information, please visit http://www.canidae.com
@canidaepetfood · @canidaepetfood · @canidaepetfood
Featured Product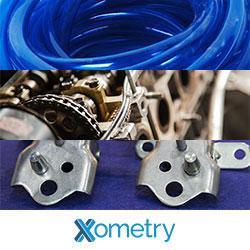 Xometry is your source for custom parts. Now, in addition to getting instant quotes on 3D Printing, CNC Machining, Sheet Metal, and Injection Molding, customers can create and send RFQs for die casting, stamping, and extrusion work to our nationwide network of pre-vetted manufacturers with just a 2D drawing. You will receive and be able to review responses from qualified shops within 7 days on an advanced web-based RFQ management platform. To learn more go directly to our site to issue and RFQ today. Stop wasting time managing RFQs through email and by phone, and start issuing RFQs at scale and in the cloud.