Entered into Agreement for $23.3 million PIPE with Fidelity Management & Research Company, BNP Paribas and other existing investors including management
Local Bounti Corporation (NYSE: LOCL, LOCL WS) ("Local Bounti" or the "Company"), a breakthrough U.S. indoor agriculture company combining the best aspects of vertical and greenhouse growing technologies, today announced an equity raise to support the continued scale-up of its organization and build-out of its network of innovative Controlled Environment Agriculture ("CEA") facilities that leverage its proprietary Stack & Flow Technology™ to significantly improve crop turns, increase output and improve unit economics.

"We are pleased to enter into this equity investment with the support of many of our marquee long-term shareholders, including our management team," commented Kathleen Valiasek, CFO of Local Bounti. "We are very focused on delivering high quality, great tasting produce grown locally and closer to the consumer and this financing allows us to continue to strategically expand our national footprint to meet robust demand from our existing customer base."
The Company arranged a $23.3 million private investment in public equity (PIPE) investment (the "Offering") in the Company with significant investment coming from existing investors, including Fidelity Management & Research Company and BNP Paribas. Under the terms of the Offering, Local Bounti has agreed to issue and sell in a private placement an aggregate of approximately 9.3 million shares of the Company's common stock at a price per share of $2.50, the closing price of the Company's common stock on October 20, 2022.
The securities sold, or to be sold, in the Offering are being made in a transaction not involving a public offering and have not been registered under the Securities Act of 1933, as amended, and may not be offered or sold in the United States except pursuant to an effective registration statement or an applicable exemption from the registration requirements. Concurrently with the execution of the securities purchase agreement, Local Bounti and the investors in the Offering entered into a registration rights agreement pursuant to which the Company has agreed to file a registration statement with the SEC registering the resale of the securities sold in the Offering.
About Local Bounti
Local Bounti is redefining indoor farming with an innovative method - its proprietary Stack & Flow Technology™ - that significantly improves crop turns, increases output and improves unit economics. Local Bounti operates advanced indoor growing facilities across the United States, servicing approximately 10,000 retail doors with its two brands: Local Bounti® and Pete's®. We grow healthy food utilizing a hybrid approach that integrates the best attributes of controlled environment agriculture with natural elements. Our sustainable growing methods are better for the planet, using 90% less water and land than conventional farming methods. With a mission to 'bring our farm to your kitchen in the fewest food miles possible,' Local Bounti's food is fresher, more nutritious, and lasts longer than traditional agriculture. To find out more, visit localbounti.com or eatpetes.com, or follow Local Bounti on LinkedIn for the latest news and developments.
Featured Product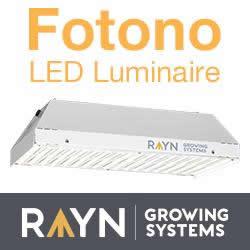 Fotono is a full spectrum LED horticultural luminaire designed to directly replace HPS lights in greenhouses. At 12 pounds, 20 inches long, and 5 inches high, Fotono's compact size makes installation simple while minimizing structural burden on greenhouses. This compact fixture packs energy-saving and yield-improving features, such as a high output, stepless dimming, advanced spectral capabilities, and more.