IFPA attendees can sample and experience chef-inspired, grab-and-go salads utilizing Local Bounti's sustainably and locally grown lettuces
Local Bounti Corporation (NYSE: LOCL, LOCL WS) ("Local Bounti" or the "Company"), a breakthrough U.S. indoor agriculture company combining the best aspects of vertical and greenhouse growing technologies, today announced it will showcase its recently launched chef-inspired, grab-and-go salads at The International Fresh Produce Association (IFPA) Global Produce & Floral Show in Orlando, Florida on October 27-29, 2022.

"We are excited for IFPA attendees to sample and experience our new restaurant quality grab-and-go salads, which utilize our innovative method of indoor farming to sustainably grow fresher and more flavorful leafy greens," said Brian Cook, President of Local Bounti. "We believe our Stack & Flow Technology™ is the future of farming and the reason behind our rapid growth into one of the largest CEA companies in the United States. With our high-tech greenhouse facilities around the U.S., we are able to provide consumers across the country with our superior produce varieties and salads that are grown sustainably with sunlight, use 90% less water and land, and last longer in your fridge."
Local Bounti's two recently launched salads focus on the following flavor profiles to meet the needs of the increasing number of flexitarian consumers:
Poppy Power (240 calories) - Local Bounti's Northwest-grown Romaine Crisp and Bok Choy are topped with antioxidant-packed cranberries and a colorful carrot and broccoli slaw. A powerful blend of seeds—pepitas, sunflower and flax—adds a satisfying crunch that is finished with a craveable poppy seed dressing.
Modern Greek (230 calories) - Local Bounti's Northwest-grown Romaine Crisp topped with fresh tomatoes, feta, hearty quinoa, red onion, crunchy chickpeas, and chopped olives is finished with a bright and savory Tzatziki dressing, bringing a refreshing take on a timeless Mediterranean classic.
IFPA attendees can visit Booth #3253 to sample Local Bounti grab-and-go salads and to learn more about its grab-and-go salad program, which is currently available in the Pacific Northwest with plans to expand into the Southeast and West regions early next year.
About Local Bounti
Local Bounti is redefining indoor farming with an innovative method - its proprietary Stack & Flow TechnologyTM - that significantly improves crop turns, increases output and improves unit economics. Local Bounti operates advanced indoor growing facilities across the United States, servicing approximately 10,000 retail doors with its two brands: Local Bounti® and Pete's®. We grow healthy food utilizing a hybrid approach that integrates the best attributes of controlled environment agriculture with natural elements. Our sustainable growing methods are better for the planet, using 90% less water and land than conventional farming methods. With a mission to 'bring our farm to your kitchen in the fewest food miles possible,' Local Bounti's food is fresher, more nutritious, and lasts longer than traditional agriculture. To find out more, visit localbounti.com or eatpetes.com, or follow Local Bounti on LinkedIn for the latest news and developments.
Featured Product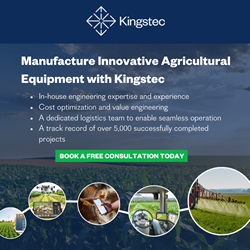 In the rapidly evolving agricultural landscape, leading AgriTech companies are increasingly leveraging the experience and expertise of strategic engineering and manufacturing partners to bring cutting-edge, cost-effective solutions to market. Kingstec is an all-in-one engineering, manufacturing, and logistics partner, with over 40 years of experience and 5,000 successfully completed projects. We can help you bring innovative, cost-optimized farm equipment, sensors, drones, components, and more to market quickly with in-house engineering and manufacturing expertise, a dedicated logistics team, and a network of world-class manufacturing and supply chain partners.