Upcoming event in San Diego, California aims to promote innovation in agriculture, encourage collaboration and establish Escondido as a hub for AgTech startups
Escondido, Calif., September 27, 2022 - The City of Escondido and online tech community Fresh Brewed Tech have announced the details for San Diego's first-ever AgTech Hackathon, which will take place October 21-23, 2022. The event will bring together entrepreneurs, farmers, investors, students and community leaders for three days of brainstorming and problem-solving at Escondido-based coworking center Synergy Center. Entrants will have the opportunity to learn from some of San Diego's top AgTech industry leaders while working with them to develop solutions for some of the pressing issues facing California's agricultural industry and food supply.

During the three days, participants will pose, recruit, and build a team to advance an AgTech idea while receiving guidance from a group of hand-picked facilitators and mentors. Each team will prepare a pitch for a panel of judges and winners will receive cash prizes and more. Speakers at the event will include San Diego County District 5 Supervisor Jim Desmond, Escondido mayor Paul McNamara and Steve Beck from venture capital firm Serra Ventures, a leading AgTech-focused venture fund. Creating Coding Careers, an apprentice-based code school and non-profit, will provide resources and aid during the event.
"As an investor and a community organizer, I'm excited to organize an event that brings together two strong local business communities, agriculture and technology, to collaborate and find solutions that could have a worldwide impact," says Neal Bloom, founder of Fresh Brewed Tech and managing partner at San Diego's venture capital firm Interlock Capital. "We invite early and late-stage startups to come together with some of the smartest minds in agriculture and technology, as we figure out ways to ensure the sustainability of our food supply and keep the industry moving forward."
The hackathon kicks off an ongoing campaign by the City of Escondido, one of San Diego County's key farming hubs, to support agricultural innovation and attract early and late-stage AgTech startups to the region.
"Escondido has a rich farming history, and the agriculture industry remains a significant contributor to our local economy," says Jennifer Schoeneck, Deputy Director of Economic Development for the City of Escondido. "We see AgTech as a key driver of economic growth in Escondido and the region, so we are here to support and provide resources for entrepreneurs looking to tackle some of the big challenges the agriculture industry is facing."
The City of Escondido has already demonstrated its commitment to sustainable innovation and the farming community by announcing the construction of a $50 million recycled water plant, which will deliver water to farmers. In 2021, the city broke ground on a new MFRO (Membrane Filtration Reverse Osmosis) facility, which will be used to treat Escondido's recycled wastewater so that it is usable for agriculture. The facility is due to be completed later in 2023.
"As an agricultural hub of the county, we're encouraged to see the City of Escondido offering programs and resources that will further the sustainable production of healthy food," says Oli Bachie, Ph.D., County Director and UCCE Agronomy and Weed Management Advisor for San Diego, Imperial and Riverside Counties. "Most of our San Diego growers are in the northern part of the county, and events like these that encourage industry collaboration and demonstrate new practices and technology can help facilitate more sustainable economic growth in San Diego County and beyond."
For more information and to purchase tickets, go to https://freshbrewedtech.com/san-dieg-agtech-startup-hackathon/ or email events@freshbrewedtech.com.
About Escondido
Incorporated in 1888, Escondido is a safe, clean, and efficiently managed city of nearly 150,000 residents in San Diego County. Escondido is home to a growing number of businesses and a wide range of cultural, educational, healthcare, tourism, and recreation amenities, making the City the ideal destination in which to live, work and play. https://escondido.org/
About Fresh Brewed Tech
Founded in 2018 by investor and community organizer Neal Bloom, Fresh Brewed Tech is a media company that aims to amplify San Diego's vibrant and innovative tech ecosystem through multiple channels including a blog, podcast and events. By supporting and highlighting the founders, talent and companies throughout San Diego's diverse tech community, Fresh Brewed aims to encourage economic and job growth and a better quality of life for the region. https://freshbrewedtech.com/
Featured Product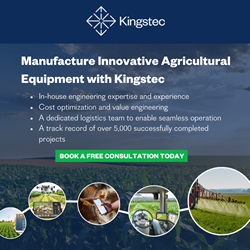 In the rapidly evolving agricultural landscape, leading AgriTech companies are increasingly leveraging the experience and expertise of strategic engineering and manufacturing partners to bring cutting-edge, cost-effective solutions to market. Kingstec is an all-in-one engineering, manufacturing, and logistics partner, with over 40 years of experience and 5,000 successfully completed projects. We can help you bring innovative, cost-optimized farm equipment, sensors, drones, components, and more to market quickly with in-house engineering and manufacturing expertise, a dedicated logistics team, and a network of world-class manufacturing and supply chain partners.